State National Bank
Introduction
The former State National Bank building is both significant for its architecture and the role it played in El Paso's economic development during the early 20th century. Notable local architect Henry C. Trost designed the bank in the Second Renaissance Revival style and the building is an excellent example of that style. Constructed in 1922, the building features two-story arched windows, classical molding details, and decorative elements such as cartouches and floral motifs. It was added to the National Register of Historic Places in 1980.
Images
The old State National Bank building was erected in 1922 and continues to symbolize the city's rapid growth during the early 20th century.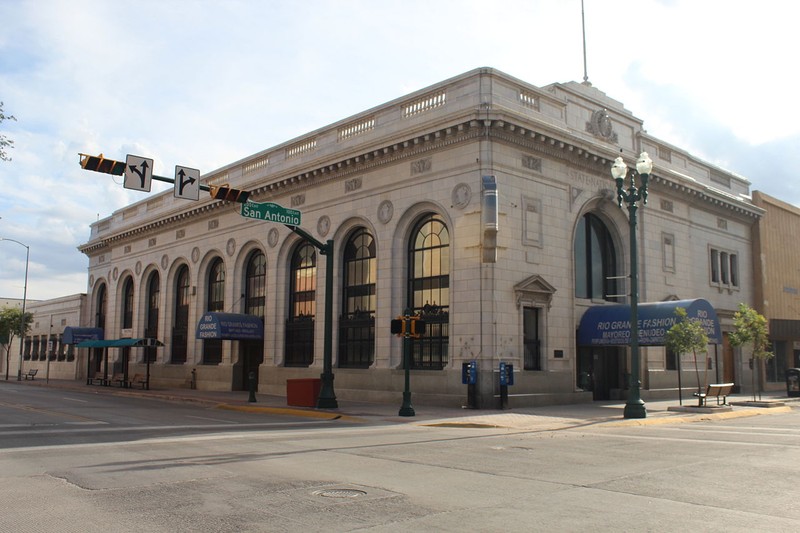 Backstory and Context
A group of prominent businessmen including O.T. Bassett, Joseph Magoffin, and C.R. Morehead founded State National Bank in 1881. These men were instrumental in laying the foundation on which El Paso stands today (Bassett owned a lumber mill and served as city councilman; Magoffin served as mayor for four terms and held other civic positions; and Morehead also served as mayor). The bank earned a good reputation; however, it did not expand until new bankers, including Bassett's son, Charles, assumed control around the turn-of-the century. They hired Trost to draft plans for the current structure in 1920 and construction began the next year. It officially opened in June 1922. It was expanded in the 1940s. At some point by the 1980s, it became the location of a home mortgage company, which restored the old building. Today, it is home to a store called Rio Grande Fashion.
Sources
"State National Bank." National Park Service - National Register of Historic Places Nomination Form. September 24, 1980. https://atlas.thc.state.tx.us/NR/pdfs/80004114/80004114.pdf.
Additional Information