O. T. Bassett Tower
Introduction
The O. T. Bassett Tower was built in 1930 and is significant as an early example of skyscraper construction in the city and a fine example of Art Deco architecture. It is named after the father of its builder, Charles N. Bassett, who was a prominent El Paso banker. For his part, O.T. Bassett was a lumberman, banker, and served as the city councilman. Architect Henry Trost, of the firm Trost & Trost, designed the building, which stands 15 stories tall (215 feet high). The building features setbacks at the tenth and thirteenth floor; terra cotta, art stone, marble, granite, and geometric decorative elements; stone eagles and gargoyles; and an elaborate main entrance with a portrait bust that is believed to be Trost. The building was converted to a hotel in 2018.
Images
The O.T. Bassett Tower was built in 1930.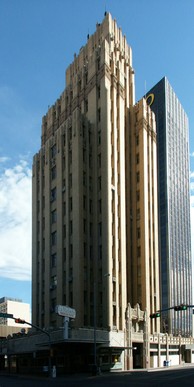 Backstory and Context
Both O.T. and Charles Bassett played a large role in developing El Paso. O.T. arrived in El Paso in 1880 with his friend Charles Morehead to buy land for the Texas and Pacific Railroad. The next year, they co-founded the State National Bank. O.T. also established a lumber mill which provided lumber for the growing city. In addition to business, O.T. was also concerned with civic affairs. He helped establish the first school district in 1882 and became president of the school board, and, as mentioned above, he also served as city councilman.
Charles Bassett followed in his father's footsteps. He took over the lumber business and became vice president and later, in 1921, president of State National Bank (he would become chairman of the board in 1944). Charles also had business interests in real estate and ranching. He built the tower after a group of El Paso physicians, who owned the property on which it now stands, asked him in 1928 to erect a building there. The next year, Charles decided to that the building would be constructed in his father's honor. After it was completed, the physicians occupied the 6th floor. The building was added to the National Register of Historic Places 1980.
Sources
Kolenc, Vic. "Aloft Hotel set to open in historic Bassett Tower in Downtown El Paso." El Paso Times. May 24, 2018. https://www.elpasotimes.com/story/money/business/2018/05/21/aloft-hotel-opening-renovated-historic-bassett-tower-downtown-el-paso/617016002.
"O.T. Bassett Tower." National Park Service - National Register of Historic Places Nomination Form. September 24, 1980. https://atlas.thc.state.tx.us/NR/pdfs/80004101/80004101.pdf.
"O.T. Bassett Tower, El Paso, Texas." Henry Trost Historical Organization. Accessed Septmeber 9, 2019. https://www.henrytrost.org/buildings/o-t-bassett-tower.
Image Sources
Wikimedia Commons: https://en.wikipedia.org/wiki/National_Register_of_Historic_Places_listings_in_El_Paso_County,_Texas#/media/File:Bassett_Tower.jpg

Additional Information