Introduction to Coopers Rock State Forest
Introduction
Established in 1936 and boasting over 12,000 acres of land, Coopers Rock State Forest is the largest state forest in West Virginia. It spans parts of both Monongalia and Preston counties and offers panoramic views of the region. The park is rich in national, local, and geologic history. These days, Coopers Rock is a popular destination for iconic Appalachian vistas and a variety of recreational pursuits. It is one of West Virginia's most valuable state parks in terms of revenue generated and sees almost 300,000 visitors a year. It is also host to research and conservation efforts through West Virginia University.
Images
Raven Rock is a popular destination at Coopers Rock, with gorgeous views worth the moderate hike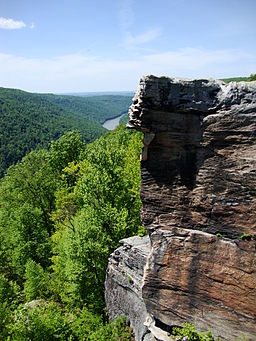 A lone figure standing on the overlook, undated but before 1936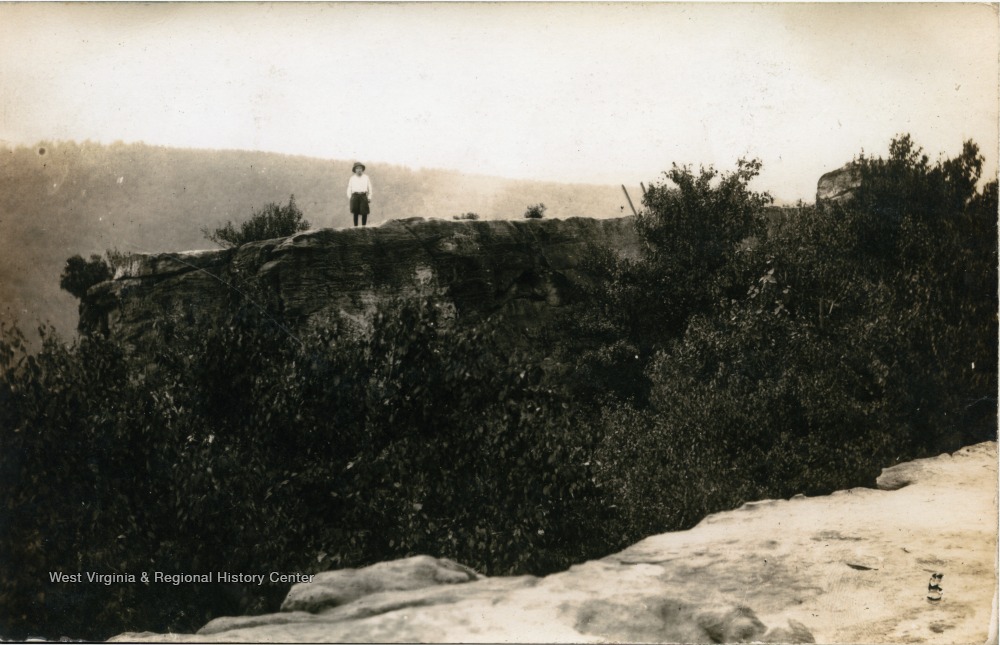 Family standing on the newly completed overlook, 1941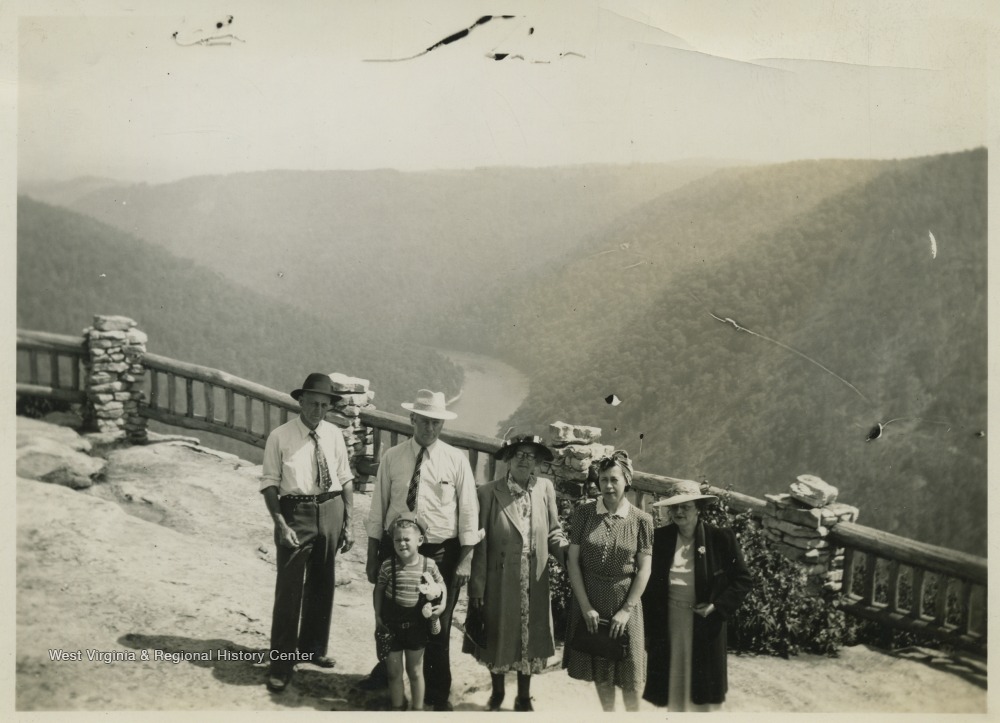 View of gorge and the Cheat River from the Coopers Rock Overlook, which is a short walk from the park's main parking area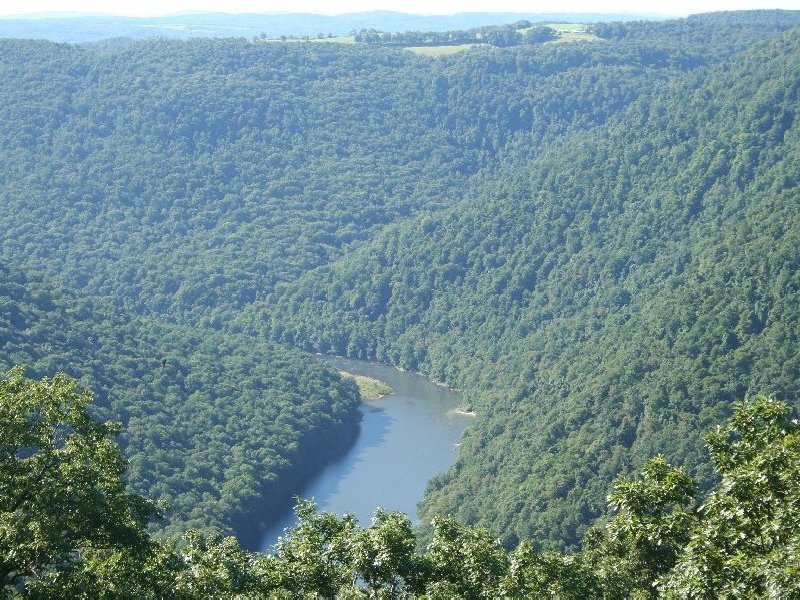 The Henry Clay Furnace operated until around 1838 and is the only remaining structure left of a village in the mountains. Today it is accessible by hiking the Clay Furnace Trail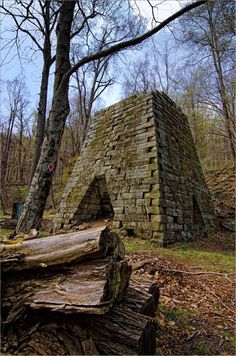 Backstory and Context
Approximately 250 million years ago, sandstone deposits were thrust upward forming the sandstone cliffs now known as Coopers Rock. The erosion resistant sandstone weathered the flow of the Cheat River while it cut through softer rocks, leading to the deep gorge in front of the cliffs. By the 1700s, the unparalleled views of the area these cliffs offered were known to local settlers – and to George Washington, who surveyed the Cheat River area. During the 1800s, people began referring to the formations as Coopers Rock. The name purportedly comes from the profession of a fugitive who hid near what is now the main overlook. The fugitive was a cooper – someone who makes barrels by trade. The fugitive continued to make barrels from their forest hideout and sold them to the burgeoning iron industry that was appearing in the area. Remnants of the iron industry appear throughout the park, most famously at the Henry Clay Iron Furnace.
As far back as the 1800s, Coopers Rock served as a sort of local tourist attraction. Morgantown residents frequently chose to travel to Coopers Rock as an adventurous activity. This entailed a seven-mile ride on horseback from Morgantown to Ice's Ferry – near where the I-68 bridge spans Cheat Lake now. After crossing the water, the horses would have been left at the edge of the lake while adventurers began their climb past the Henry Clay Iron Furnace and eventually up to the cliffs. Once at the base of the cliffs it would have been necessary to scale them by hand. Despite the grueling journey to Coopers Rock from Morgantown, it would be a mistake to think that the area was sparsely inhabited. In fact, the Cheat Mountains were heavily populated by iron workers and Ice's Ferry was a major industrial hub. However, the iron industry rapidly declined after 1850 and the last iron in the area was smelted in 1868.
In 1925, the West Virginia Game and Fish Commission began purchasing land throughout West Virginia to secure scenic places before they were despoiled by profitable ventures. Two years later, the West Virginia legislature acted on the commissions' recommendation and secured extensive tracts of land throughout the state. The land Coopers Rock sits upon was owned by the Lake Lynn Lumber and Supply Company, but they initially refused to sell the land to the state. It was not until 1936 that the land was acquired and Coopers Rock State Forest was established. Following the park's creation, many structures were built by the Civilian Conservation Corps (CCC) under Franklin Roosevelt's New Deal. These include the main overlook, picnic shelters, and superintendent's residence.
These days, Coopers Rock offers a variety of outdoor activities including fifty miles of trails, climbing and bouldering sites, cross-country ski trails, trout fishing, rafting, camping, and hunting. The park, like all WV state parks, is free for day use thanks to Kermit McKeever. As chief of the West Virginia Division of Parks and Recreation from 1948-1977, McKeever fought tirelessly to keep WV parks free for all. In addition to serving as a recreational site, Coopers Rock State Forest is the site of forestry research, timber management, and watershed and wildlife protection through West Virginia University (WVU). The forest also hosts three eco-sculptures made by WVU BFA sculpture graduate Ben Gazsi. Giant, Bear and Turtle, are made of wild grapevine, leaves, hay, chicken wire, and hypertufa, and were constructed between 2012 and 2014. They have been left to naturally degrade and be consumed by the forest.
Sources
About the Forest, The Coopers Rock Foundation. Accessed July 13th 2020. https://coopersrock.org/about-the-forest/.
Andrews, Donald R. State Parks, The West Virginia Encyclopedia. May 3rd 2013. Accessed July 13th 2020. https://www.wvencyclopedia.org/articles/569#.
Coopers Rock State Forest, West Virginia State Parks. Accessed July 13th 2020. https://wvstateparks.com/park/coopers-rock-state-forest/.
Crockett, Maureen F. Kermit McKeever, The West Virginia Encyclopedia. December 7th 2015. Accessed July 13th 2020. https://www.wvencyclopedia.org/articles/1648.
Kermit McKeever, American Academy for Park & Recreation Administration. Accessed July 13th 2020. http://www.aapra.org/pugsley-bios/kermit-mckeever.
Redmond, Pamela Ball. Coopers Rock State Forest Historic Resources, National Register of Historic Places. April 3rd 1991. Accessed July 14th 2020. https://npgallery.nps.gov/GetAsset/7b0d8406-fce1-47f8-af4a-ab41cb9a4921.
Tan, Caitlin. How Did Cooper's Rock Get its Name?, West Virginia Public Broadcasting. June 14th 2019. Accessed July 13th 2020. https://www.wvpublic.org/post/how-did-coopers-rock-get-its-name#stream/0.
Vincent, Magnini P. The Economic Significance and Impacts of West Virginia's State Parks and Forests, West Virginia State Parks. December 1st 2015. Accessed July 15th 2020. http://wvstateparks.com/EconomicResearch2015.pdf.
Washington, George. Diary Entry: 25 September 1784, Founders Online. Accessed July 14th 2020. https://founders.archives.gov/documents/Washington/01-04-02-0001-0001-0024.
Image Sources
West Virginia & Regional History Center

West Virginia & Regional History Center

Additional Information