Carter G. Woodson Birthplace
Introduction
Carter G. Woodson, prominent educator and publisher as well as the "Father of Black History" was born in/around New Canton, VA, located in Buckingham County. No home or address has been preserved to indicate the exact location. Woodson lived here from December, 19, 1875 (day he was born) to 1892 to seek employment with mines and railroads as well as seek education in Huntington, WV and surrounding areas.
Images
Portrait of African-American historian Carter Godwin Woodson as a young man. Courtesy of the New River Gorge National River website, National Park Service, Department of the Interior, United States Government.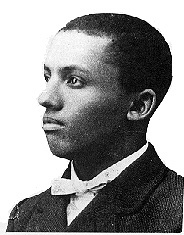 Backstory and Context
Carter G. Woodson, known by many as the "Father of Black History" was born in New Canton, Buckingham County, Virginia in 1875 to former slaves. His father, James Henry Woodson was enslaved on the Toney Plantation near Richmond. When the Civil War broke out, James fled his master and came across a Union cavalry unit, which unit took him back to his master to only, according to Woodson family oral history, tied up Master Toney and whipped him. After this event, James Woodson would stay with this same unit of cavalry and act as a scout. One such mission concluded with the destruction of Confederate supplies. After marrying Anne Eliza Riddle, they moved to Buckingham County, VA (western Virginia) when land in the area became available for freed slaves. James and Anne would raise a large family and generate a decent, but not highly profitable, farm life Carter Woodson was the eldest son of the family with 8 other siblings. He was sickly through most of his youth and was oft times considered his mother's favorite child. Woodson and his siblings were only able to attend school four months out of the year at a one-room school house because their help was needed on the family farm. In 1892 he left Buckingham County for West Virginia to seek employment in the coal mines of Fayette County as well as furthering his education since that was not possible at the time where he lived. Woodson moved to Huntington, West Virginia in 1895.
Sources
Romero, Patricia Watkins, Carter G. Woodson: A Biography. Ann Arbor, University Microfilms International 1986. 1971 Doctoral Dissertation (copy can be found at http://www.marshall.edu/special-collections/#gsc.tab=0) Goggin, Jacqueline, Carter G. Woodson: A Life in Black History. Baton Rouge Louisiana State University Press 1993
Additional Information