Cambrian Hotel
Introduction
Built by Edwin Jones and designed by Frank L. Pickard, the Cambrian Hotel represented the growth of the city of Jackson as an iron processing center and transportation hub at the turn of the century. Construction of the hotel began in 1900, and the hotel opened in 1902. The word "Cambrian" is a reference to Cambria, the name for Wales in the medieval period, reflecting the area's Welsh heritage. Though it currently serves as an apartment complex, the architecture and relative grandeur of this building serve as reminders of the growth of the city and the prosperity of those affiliated with the iron industry. Prior to the construction of the hotel, this site was home to the Isham House which hosted Confederate Brigadier General John Hunt Morgan when he stayed one night in Jackson during Morgan's Raid.
Images
The Cambrian Hotel opened in 1902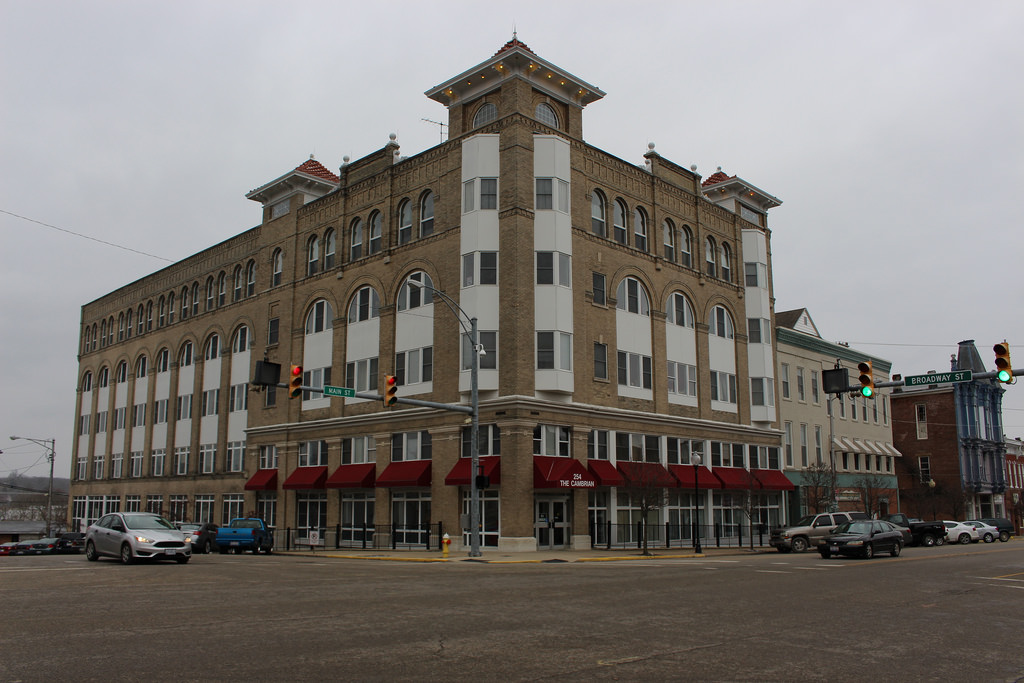 Backstory and Context
Hotel owner Edwin Jones was the grandson son of Thomas T. Jones, one of the founders of Jefferson Furnace and founder of the Globe Iron Company. Edwin Jones was heavily involved in the Jackson community, and at one time, he served as mayor of Jackson and as a councilman. He was an economic developer in the city, and after the Cambrian was completed, he sold the building and moved on to other projects. The Cambrian had several owners and was restored in 1984.2 The building is no longer a hotel but is still the most striking feature of downtown Jackson.

This location was originally the site of the Isham House, which served as one of the two hotels in Jackson during the 1860s along with the Gibson House. During Morgan's Raid, Brigadier General John Hunt Morgan stayed at the Isham House on the night of July 16, 1863, when he and his raiders came through Jackson. The next morning, Morgan and his men split forces and left the city. One brigade went southeast to Galia County, while Morgan and the rest headed east where they met 1,500 Ohio militiamen at Berlin Crossroads. As Morgan approached the town, a Confederate scout was shot and killed by an Ohio militiaman. Morgan retaliated by bombarding the militia's position for two hours before attacking. The battle at Berlin Crossroads lasted a total of three hours, and, although the Morgan was outnumbered three to one, militia commander Benjamin Runkle was forced to retreat.
Sources
1. Malone, Megan. What is the Lillian Jones E. Museum. Lillian E. Jones Museum. . . http://www.jonesmuseum.com/about-us.
2. Megan Malone (Director of the Lillian E. Jones Museum), interview about historical sites in Jackson County, February 10, 2018.
3. Morgan's Raid. Ohio History Central. . . http://www.ohiohistorycentral.org/w/Morgan%27s_Raid.
4. Our Town: Jackson. United States of America. WOUB Public Media, 2017. DVD.


Additional Information