The Peery Hotel
Introduction
The Peery Hotel was built in 1910. It was an ideal area for the rich residents of Salt Lake City. The building's original purpose was to provide services for the elite like providing banking and supply services to the minefields. However, this historic landmark hosted 156 rooms for guests to stay in. The Peery Hotel has now become an iconic landmark in Salt Lake City and is one of the top, historic hotels in Utah.
Images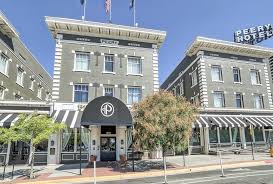 Backstory and Context
The Peery Hotel opened in 1910. It was created during a period of growth in the west. Utah was experiencing a great migration boom, and the state was beginning to gardner wealth through mining. The Peery family was prominent among the elites of Salt Lake City. They financed the construction of the Peery Hotel. The hotel was meant for the upper class and would supply services for mining companies as well as lodging. The hotel was near The Rio Grande Depot, making it an ideal location for the wealthy to stay.
The hotel was originally built with 156 rooms and no private baths. It opened around the time of other prominent, Salt Lake City hotels like the Hotel Utah and the Newhouse Hotel. The Peery Hotel featured natural light in all the guest room corridors, setting it apart from other inns in the area. It was originally built for around $150,000 with a distinguished "E" shape architecture. This helped allow the natural light to fill the walkways of each corridor.
In 1947, the Peery Hotel was bought by Henry K. Miles. Miles had previously leased the hotel, and upon buying it, he changed the building's name to the Miles Hotel. The hotel then became an apartment complex until it was purchased by the Kimball brothers in 1976. The Peery Hotel was listed in the National Historic Register.
The Peery Hotel is now owned by Hilton. Residents and tourists alike can stay in the hotel that's located in the heart of Salt Lake City's Arts District. It's two blocks from the city's convention center and next to the Rose Wagner Performing Arts Center.
Sources
Peery Hotel Grand Opening, Visit Salt Lake . September 6th 2016. Accessed July 9th 2020. https://www.visitsaltlake.com/blog/stories/post/peery-hotel-grand-opening/.
The Peery Hotel , Peery Hotel . Accessed July 10th 2020. https://www.peeryhotel.com/the-hotel/.
Additional Information