Naval Depot and Storehouse and U.S. Coast Guard Headquarters
Introduction
The former Naval Depot and Storehouse and U.S. Coast Guard Headquarters building was erected between 1856 and 1861, making it the oldest brick building on Key West. It was also the first permanent Naval building on the island. Today it is called the Clinton Square Market and is home to a variety of retail shops. In terms of design, it features buttressed piers, arched window recesses, and large arched entrances at either end. The building was listed on the National Register of Historic Places in 1973.
Images
Built in 1861, the former Naval Depot and Storehouse and U.S. Coast Guard Headquarters building is the oldest brick structure in Key West.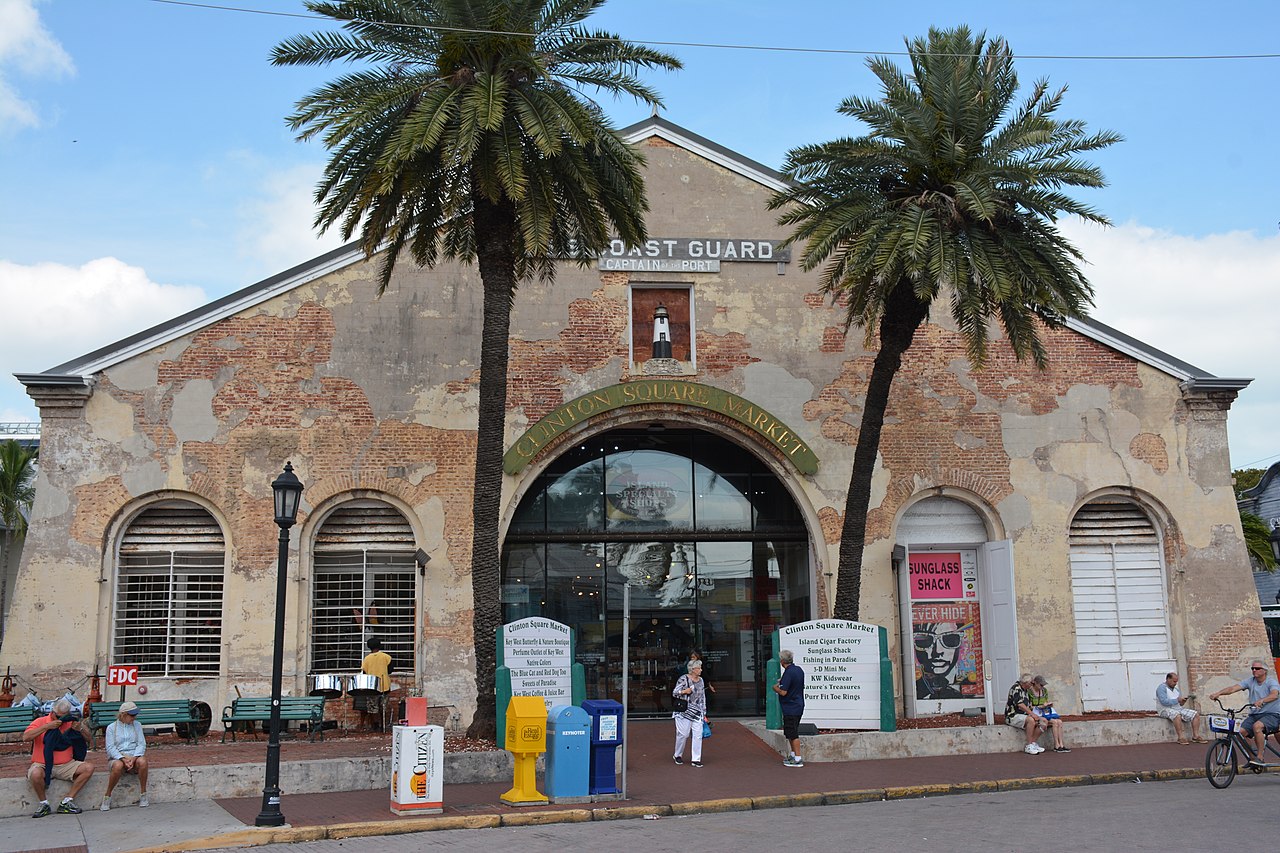 Backstory and Context
Although the old depot was built in the late 1850s, the federal government bought the property on which it stands in 1833. It is not clear why the property remained empty for so long but nevertheless, Congress authorized the construction of the depot in 1852 and it was called the Number One Building when it was built. During the Civil War, the Navy used it to support the East Gulf Blockade Squadron, which was based in Key West and a component of the Union's strategy to prevent the Confederacy from conducting trade and acquiring supplies. Known popularly as the "Anaconda Plan," the purpose of the strategy was to metaphorically "suffocate" the South and help the Union win the war. The building also played a role in the Spanish-American War (1898).
It appears that from the end of the war and until 1923, the building operated as a Naval Administration Building. It then became the headquarters of the 7th Lighthouse District of the Lighthouse Service, which was a federal agency tasked with overseeing lighthouses for the county. It later merged with the United States Coast Guard in 1939. At that point, the Coast Guard began using the building as its Key West headquarters. When the Coast Guard vacated the old depot is unclear but it occurred sometime after at least the early 1970s.
Sources
Greer, Diana & Evans, Mary. "U.S. Coastguard Headquarters, Key West Station." National Park Service - National Register of Historic Places Nomination Form. October 15, 1973. https://npgallery.nps.gov/GetAsset/4b2c090f-69fc-45a5-822f-3d455b8d652f.
"Naval Depot and Storehouse-Building One-U.S. Coast Guard Headquarters." The Historical Marker Database. Accessed March 22, 2021. https://www.hmdb.org/m.asp?m=128058.
Image Sources
Judson McCranie, via Wikimedia Commons: https://commons.wikimedia.org/wiki/Category:U.S._Coast_Guard_Headquarters,_Key_West_Station

Additional Information