Oldest House Key West Museum
Introduction
Built between 1825 and 1829, this is the oldest surviving house in southern Florida and also home to a local history museum. For decades, this was the home for Captain Francis and Emeline Watlington and their seven children. Francis arrived in Key West from New York in 1840 to work as a wrecker, a flourishing enterprise that involved ships racing to meet other ships that ran aground. As a reward or settlement, the wreckers gained possession of a percentage of the cargo, which they sold for profit. In addition to artifacts from the Watlington family and other Key West items, the museum also offers items related to the storied history of the shipwrecking industry.
Images
Key West Oldest House Museum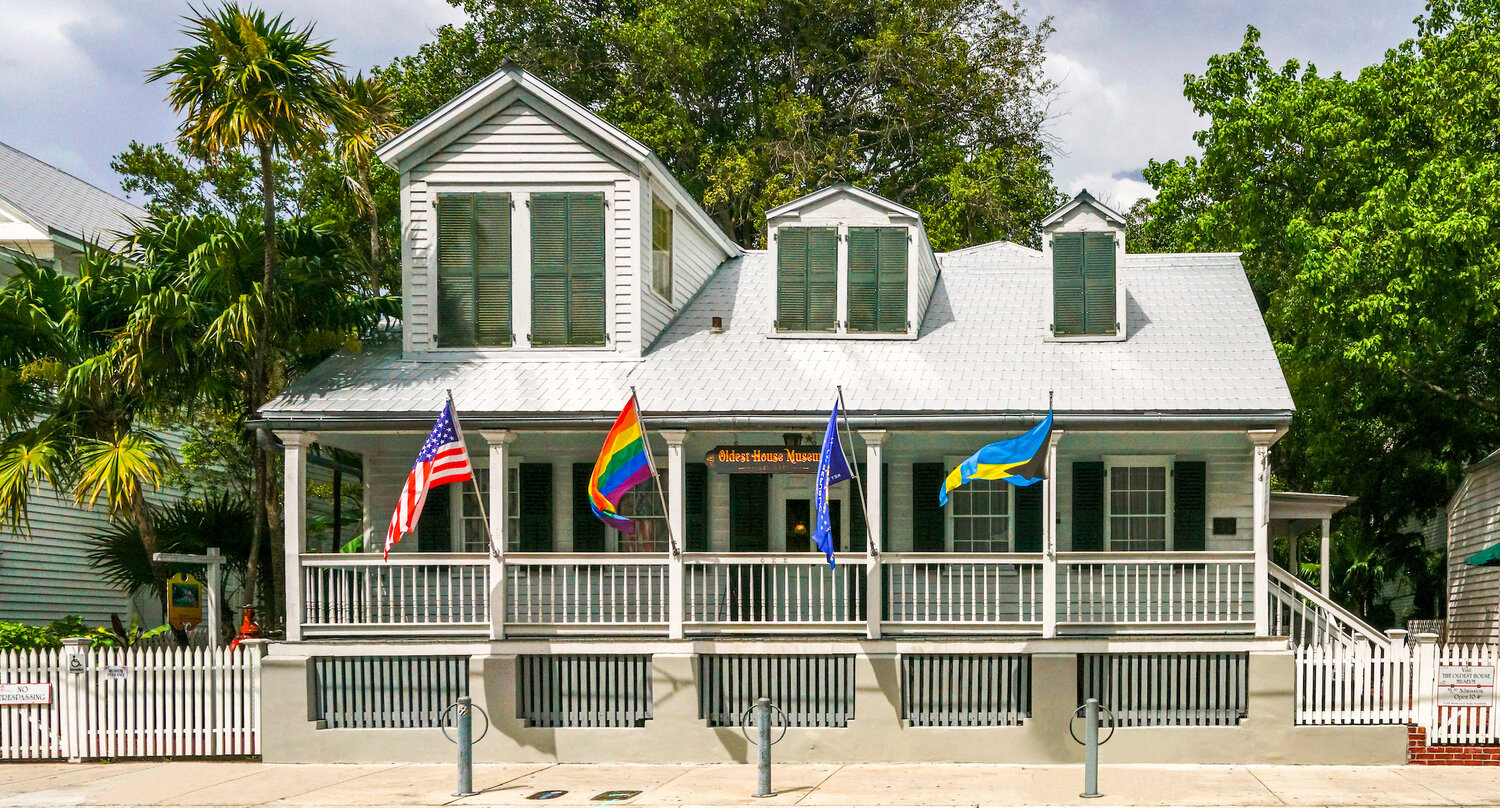 Backstory and Context
Much like icebergs whose mass mainly lie below the sea, the Keys and nearby Caribbean island represent the viewable portion of a vast stretch of rock and coral south of the Florida peninsula, providing hidden dangers to passing ships during the 1820s. Together with the Gulf Stream, the area was home to many potential dangers and few lighthouses. Ships often ran aground in the Florida Keys, creating a perfect environment for wreckers whose mission it was to assist wrecked ships -- for a price. The wreckers took possession of most of the goods on the vessel -- a dangerous and sometimes deadly mission -- and sold them at auction. This grew into a lucrative industry in Key West. One successful wrecker, Captain Francis Watlington, lived with his wife and children in the historic house (now known as The Oldest House Museum) for several decades. 
A marine carpenter named Richard Cussans built the home between 1825 and 1829 and then moved it to its present location sometime between 1832 and 1836. Francis Watlington's in-laws gained possession (details about dates are sketchy), who then rented it to Captain Watlington and his wife Emiline in 1840; she became the owner in 1868. The home exemplifies the colonial-architecture design, typical of houses built by wealthy residents throughout the Caribbean during the early nineteenth century. The home also has a detached kitchen, typical of the era because it offered protection against kitchen fires and kept the main building from overheating in the Key West climate. 
Today, the house -- the oldest house in southern Florida -- serves as a museum and garden, spanning more than 15,000 square feet. Guests can view salvaged gold, paintings, and other goods seized by wreckers. While the home is known for its chief residents, the Watlington family, it's also a museum to wrecking history. Captain Francis engaged in the enterprise a little after its glory days of the 1820s but gained success nonetheless.
Indeed, the wrecking industry boomed after the U.S. took possession of Key West in the early 1820s, and a subsequent, albeit modest, building and population boom commenced. As wreckers viewed it, the more people that arrived and the more buildings that arose on Key West, the more ships would need to come to Key West, which meant more wrecks. As Maureen Ogle noted in her book, Key West: History of an Island of Dreams, "Key Westers studied the horizon constantly, pacing the rooftop decks of their houses, waiting for signs of a ship aground. And when someone spotted a wreck, bedlem ensued as wrecking crews raced to arrive at the site first and control the cargo." Wreckers unloaded nearly half of a million dollars worth of goods each year in Key West. 
As profits mounted (and claims of piracy and fraud ran amok), government officials stepped in and began to create regulations. By the time Captain Francis Watlington moved to Key West in 1840, wrecking required a license, and the government regulated the process of seizing and selling goods. Still, Watlington managed to make a handsome living under the regulated system. Additionally, Watlington worked as a harbormaster, served as a Florida State senator, and joined the Confederate navy in 1863. 
Watlington and his wife Emeline, and their seven (of nine) surviving daughters, lived in the house for several decades. Fortunately for the family, the home stood as one of eight homes to survive a devastating hurricane in 1846. Francis Watlington never owned the house, but Emiline eventually did (and not as a widow, which was uncommon in the nineteenth century). The couple moved from New York to Key West in 1840 and rented the house from Emiline's sister and brother-in-law, who also lived in New York. After Francis joined the Confederate Navy, Emiline's brother-in-law and sister transferred ownership to her; she likely supported herself and her daughters by taking in boarders. Emeline then bequeathed the home to her daughters. 
Sources
Alex-Sands, Nicolette. "Key West home ownership a challenge, history shows." Ladies of the House. oldesthousemuseum.com. September 8, 2018. http://oldesthousemuseum.com/ladiesofthehouse. The blog article is a reprint of a Citizen Newspaper article written by Barbara Bowers on December 2, 2017.
Historic American Buildings Survey. "Captain Francis Watlington House, 322 Duval Street, Key West, Monroe County, FL." Library of Congress. loc.gov. Accessed March 19, 2021. https://www.loc.gov/item/fl0153/.
Ogle, Maureen. Key West: History of an Island of Dreams. Gainesville: University Press of Florida, 2006. 
"Oldest House Museum." Old Island Restoration Foundation. oldesthousewest.com. Accessed March 19, 2021.
Image Sources
https://www.oldesthousekeywest.com/

Additional Information