Saint Martin De Porres Hospital
Introduction
Saint Martin De Porres Hospital was a segregated Black hospital in Mobile, named for a mixed race Spanish-African American saint born in Lima, Peru in 1597. The hospital began in 1941 and continued through 1971. In 1976 it was reopened as the current facility, Allen Memorial Home. This location stands as a testament to segregation in Jim Crow South.
Images
Sister Mary Celeste, R.S.M., first administrator, and nurse's aides (no date, pre-1964)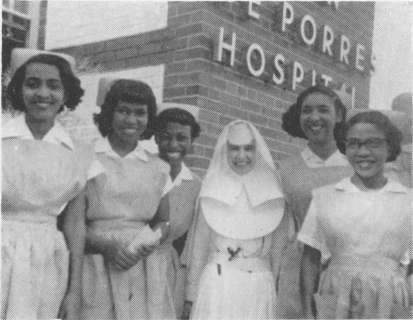 Saint Martin De Porres Hospital, no date, pre-1964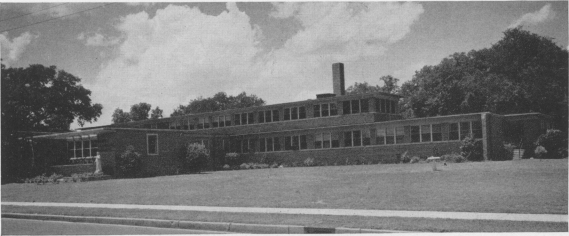 Original maternity hospital in use 1941-49

Backstory and Context
Mobile's segregated hospital for African Americans began with just five beds in one room for maternity services in 1941. This location was opened in 1950. The history of Saint Martin de Porres Hospital is quite complicated in that it offered services to help an impoverished African American community under Jim Crow laws, but this help was only needed because of the terrible conditions of segregation.

Saint Martin de Porres was a Catholic hospital operated by the Sisters of Mercy, an organization of nuns in charge of nearly a hundred hospitals across the United States during the hospital's time. Mother Veronica, Provincial of the Sisters of Mercy, and Bishop Toolen, Bishop of Mobile-Birmingham, began medical work in Mobile in 1941. When they came to Mobile there were only four beds available to any African American maternity patients. They were able to expand this to nine beds quickly, but worked to further expand the medical facilities in Mobile.

This location was the second medical facility organized and administered by the Sisters of Mercy in Mobile. About a third of Saint Martin de Porres was paid for by the government, the rest was raised through local African American organizations and Catholic charity. Desperate to improve the facilities which could only afford to service about 34% of Mobile's African American population, Bishop Toolen sought outside help. A radio celebrity of the time named Monsignor Fulton J. Sheen who hosted the Catholic Hour broadcast nationwide in the 1950s, talked about this hospital regularly on his program. He later revealed that he received donations from every state in the union for the hospital.

The facility not only improved the health of African Americans in the community but also hired African American physicians at a time when such jobs would not be easy to come by, especially in the South. In fact, Saint Martin de Porres had one of the only bi-racial hospital staffs in the South at the time! The hospital also worked with local African American organizations, placing representatives on an advisory board so that the community could be informed of the hospital's work and the hospital could receive advice on issues in the community.
Sources
http://www.cityofmobile.org/news.php?view=full&news=1062 http://www.ncbi.nlm.nih.gov/pmc/articles/PMC2610728/ http://testaae.greenwood.com/doc_print.aspx?fileID=RBP&chapterID=RBP-517&path=books/greenwood
Additional Information