2nd Lieutenant Walter V. Dial
Introduction
(NOTE: Dial is the farthest east tree and soldier on the north side of Memorial Boulevard.) 2nd Lieutenant Walter V. Dial; Born 29 Dec 1894 - Branchland, WV; Died 4 Oct 1918 – France; Co. B, 2nd Machine Gun Battalion, 1st Infantry Brigade, 1st Division - US Army
Images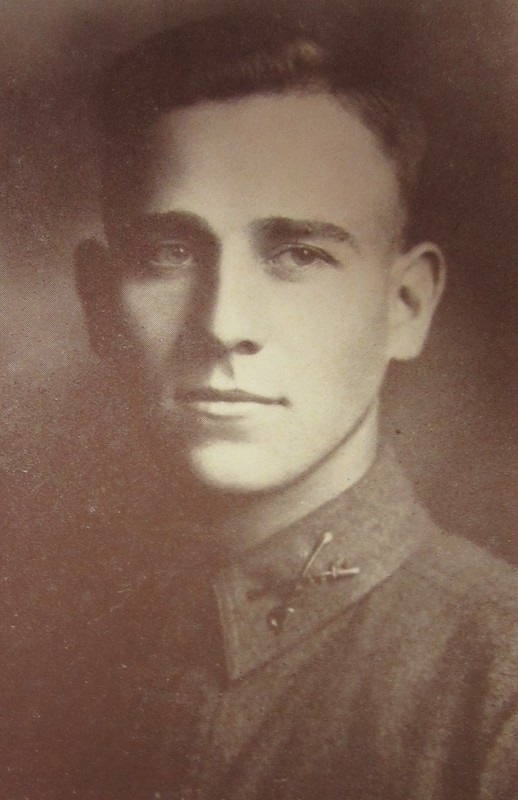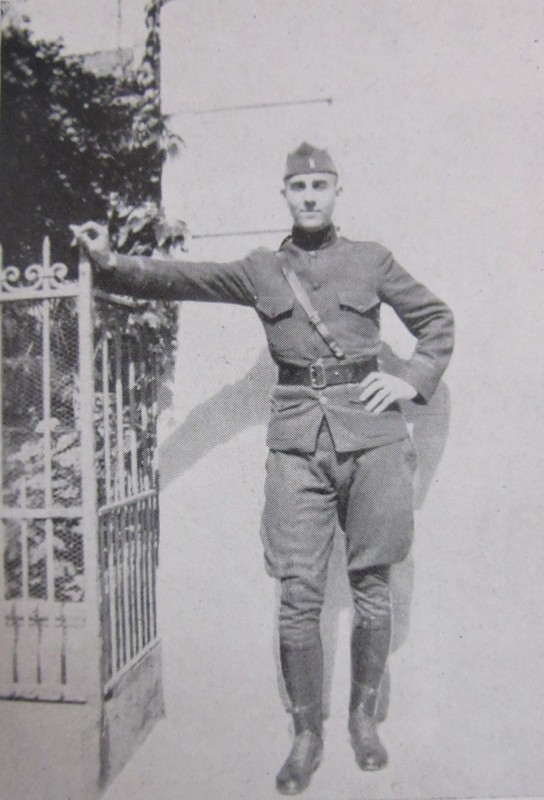 Walter V. Dial - 1913 Huntington High School Yearbook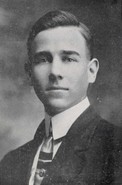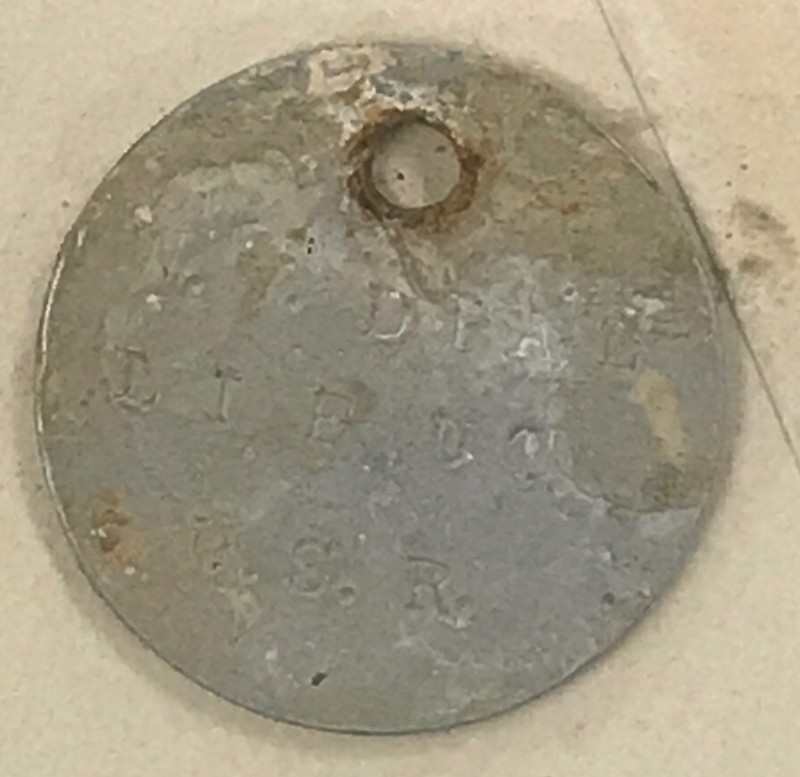 Backstory and Context
Walter Verlin Dial was born on December 29th, 1894, in Branchland, Lincoln County, West Virginia, to Albert Gallie and Letha Francis Dial. He was a 1913 graduate of Huntington High School, an employee of Mead Hardware Company, Superintendent of Boys' Work at First Presbyterian Church, and Scoutmaster of Huntington's Boy Scout Troop No. 4. He lived at 1676 Third Avenue in Huntington. He entered service on May 10th, 1917, for the first Officers' Training School at Fort Benjamin Harrison. He was commissioned as a Second Lieutenant in the Cavalry (but transferred to the Machine Gun service) and volunteered for immediate overseas service, leaving Huntington in August (along with fellow Cabell casualty Henry W. Davis) and sailing for France from New York City on September 11th, 1917, on the MONGOLIA. He caught pneumonia while training overseas and was in the hospital several months, but, upon recovery, was sent to the front. He served with Company B of the 2nd Machine Gun Battalion, 1st Infantry Brigade, 1st Division, US Army, and was in action from July 12th, 1918, to the time of his death. It was reported that he was promoted to First Lieutenant:
PROMOTION WON BY VERLIN DIAL
HUNTINGTON BOY IS MADE FIRST LIEUTENANT
Is Said to be First Local Officer to be Promoted After Arriving In France
Huntington friends of Verlin Dial learned yesterday that the young officer, who is now serving with the American expeditionary forces in France, has been promoted from second to first lieutenant. Lieutenant Dial is said to be the first Huntington officer to win promotion while serving with the overseas forces, although a number serving in American cantonments have been elevated.
Lieutenant Dial is one of the youngest of the Huntington officers. He was commissioned second lieutenant following a course of training at the first officers' reserve training school at Fort Benjamin Harrison.
Prior to the entry of the United States into the war Lieutenant Dial was an employee of the Huntington Hardware company and scoutmaster of a local troop of Boy Scouts.
 – Huntington Herald-Dispatch, February 18th, 1918
However, this promotion is unlikely, as official records state that he was still a Second Lieutenant upon his death.
He received a letter from one of his Sunday school students at First Presbyterian, John McVay, in July 1918, and wrote him back. A short excerpt follows:
France, August 22, 1918
Dear John 'Ugly':
You can't realize how glad I was to get your letter of July 8. It had been a long time since I had heard from you. Well, I guess you have gone to Lake Geneva [a church camp] and come back by now….Guess I'll be there next year.
It is almost a year now since I left Huntington, isn't it John. I believe it was August 26, 1917. You and some more of the boys were at the station. I have a seen a lot of things since then. You're right about our boys showing the Huns how to fight. They sure are….
Haven't much time now John. Write when you can.
Always your friend, Dial.
John did not write him back until November 2. He opens with:
Dear Dial, Have been working hard now for three weeks as school has been closed four weeks on account of the "Spanish Influenza" that we have here.
He goes on to tell him about their football games and other news of home. However, this letter never reached the intended recipient. It was returned to sender and stamped "DECEASED" in large brown letters.
According to one of Dial's comrades, First Lieutenant James G. Lusk:
2nd Lt. Walter V. Dial was killed in the Argonne attack in the Montabeau Woods on Oct. 4th, 1918, at 5:30 AM while trying to set up a machine gun tripod. He was shot through the head by a machine gun bullet which caused instantaneous death. He was buried where he fell.
For his actions on that day, Dial was posthumously awarded the Distinguished Service Cross, second only to the Medal of Honor for valor and extraordinary heroism in action. The citation reads as follows:
The President of the United States of America, authorized by Act of Congress, July 9, 1918, takes pride in presenting the Distinguished Service Cross (Posthumously) to Lieutenant (Infantry) Walter V. Dial, United States Army, for extraordinary heroism in action while serving with 2d Machine-Gun Battalion, 1st Division, A.E.F., near Fleville, France, 5 October 1918. Lieutenant Dial displayed exceptional courage in leading his platoon in attacking and breaking up German machine-gun nests under heavy artillery and machine-gun fire. Although he was wounded, Lieutenant Dial refused to be evacuated and continued to advance until he was killed.
His remains were later moved from the field of battle to American Cemetery No. 2 in France.
His parents were not notified of his death until November 25th, 1918:
OFFICIAL WORD RECEIVED HERE OF DIAL'S DEATH
Young Business Man and Boy Scout Leader Killed in Action on October Fourth
RECEIVED COMMISSION AT FORT HARRISON IN 1917
Contracted Pneumonia After Arrival in France, But Recovered And Went to Front
An unofficial communication was received yesterday by Mr. and Mrs. A.G. Dial, 1672 Third avenue, announcing the fact that their son, Lieutenant Verlin Dial, was killed in action in France on October 4.
Lieutenant Dial was one of the best known men who went from Huntington to take part in the Great War. He was a recognized leader among his school mates at Huntington High school, and after he left school his leadership continued to express itself in the Boy Scouts, in which he was master of Troop No. 4, in the International Sunday school camp at Lake Geneva, where he was a leader, and in the Sunday school of the First Presbyterian church of this city, where he was superintendent of boys' work.
After his graduation from the Huntington High school in 1914 he became connected with the Mead Hardware company, where he rose rapidly until he attained the position of assistant secretary.
He was admitted to the Officers' Training School at Fort Benjamin Harrison in 1917, and emerged with a lieutenant's commission. He was assigned to the cavalry but was transferred to the machine gun service. He volunteered for immediate overseas service and sailed on September 1 with a group of other Huntington lieutenants. While training in France he contracted pneumonia and as a result was in the hospital for some time. Following his recovery he went to the front and remained there almost continuously, participating in the great work of freeing the soil of France from the feet of the foe until he fell dead on the battlefield.
A very unusual circumstance in connection with his death was that a letter from a comrade brought the news to Huntington in advance of the official communication. The comrade wrote that he knew he was dead because he had seen him lying dead on the field.
He is survived by his parents, one brother, Collie C. Dial, now attending the University of West Virginia as a member of the student army training school, and two sisters, Misses Maymie and Mabel Dial.
So far as has been reported he is the only one of the large number of officers who went from Huntington to be killed in action or to die from wounds received on the battlefield. News of his death has aroused anew the anxiety of many Huntington mothers, only a few of whom have as yet received word of the safety of their sons following the cessation of hostilities.
 – Huntington Herald-Dispatch, November 26th, 1918
The family quickly made plans for a memorial service, fittingly scheduled on what would have been his 24th birthday:
DIAL MEMORIAL
Services Will Be Held December 29 For Huntington Officer Who Fell In Action
The memorial service for one of the city's most beloved young patriots, Lieutenant Verlin Dial, who made the supreme sacrifice, will be held at the First Presbyterian church on the night of the twenty-ninth of December, which is the anniversary of his birth.
 – Huntington Herald-Dispatch, December 5th, 1918
DIAL MEMORIAL ON ANNIVERSARY
FALLEN LIEUTENANT WOULD HAVE BEEN 24 SUNDAY
Dr. Mauze Will Preach Special Sermon For Memorial Service on Sunday Evening
A memorial service for Lieutenant Verlin Dial is to be held at the First Presbyterian church on Sunday evening, December 29. Had he lived the gallant officer would have been twenty-four years old on the twenty-ninth. For many weeks, however, he has slept beneath the soil of France, a white cross marking his grave. As Huntington well remembers he fell in battle, shot down by the hun.
The Boy Scouts of whom he was Troop Master, will attend the service in a body.
Dr. J. Layton Mauze, pastor of the church, will deliver the sermon, his subject being "Our Soldier Dead – Should We Pray For Them?"
 – Huntington Herald-Dispatch, December 27th, 1918
The touching ceremony was described by the newspaper for those who could not be in the packed service:
PAY BEAUTIFUL HONOR TO LATE LT. VERLIN DIAL
Memory of Soldier, Teacher and Leader Consecrated in Service
FOUR SPEAKERS DELIVER TRIBUTE IN MEMORIAM
First Presbyterian Church Crowded Last Night at Impressive Meeting
DEAD AT HIS POST
"Dead at his post of duty!
What finer eulogy? All the boast
Of pomp and glory seems but idle breath,
Beside the calm, quiet of death,
Where death and duty meet
Is found solution most complete
Of all life's problems! It's enough,
Dead and at his post."
FOR OUR DEAD
For you, our dead, beyond the sea,
Who gave your lives to hold us free,
By us, who keep your memory,
What can be said?
We cannot sing your praises right
Lost heroes of the endless fight,
Whose souls into the lonely night
Too soon have fled.
We can but honor, cherish, bless
Your sacred names; No words express
The measure of our thankfulness
To you, our Dead!
·        Sir Sidney Low, in the London Chronicle.
Simple, beautiful tribute to the life and character of Lieutenant Verlin Dial, lately fallen on French soil "in line of duty" was paid last night by the First Presbyterian church by those of his former life who knew the man – his work and his undying influence on the lives of others.
No drama, no verbal pyrotechnics or false flights of a falser oratory, but ringing, eloquent testimony in memoriam was offered from four elements of the life that Verlin Dial lived. The churchhood, the boys work, the masculinity of his life and the permanent shrine he has in the hearts of the motherhood he has in the hearts of bespoked by Rev. J. Layton Mauze, Walter Brown, Howard H. Cammack and Mrs. Frank N. Mann.
"All hail – and farewell" from Mrs. Mann, as two men in uniform reverently replaced the blue star in the service flag with a gold one. Taps, the requiem of the soldier on the field, sounded consecrating for all time the work of the man and the soldier.
Dr. Mauze in the opening remarks of the service referred to the profound gratitude of the church that of the 112 stars in the flag but three denoted that the supreme price had been paid: David S. Noble, John D. Harmon, Verlin Dial. The lines by Sidney Low "For Our Dead" were read and the pastor presented Walter Brown, of the Fourth Trop, Boy Scouts, who delivered a short eulogy.
"It is with sorrow and with pride that we hold this memorial," young Brown said, "with sorrow that we have lost a friend and a citizen, with pride that we pay honor to his memory. At this time we contemplate a noble life, nobly lived. At the Camp Conference, at Lake Geneva, Dial was awarded the supreme emblem of the four-fold life, the R.S.M.P. insignia. Dial was head of the Boys' Department of this church – his friends were innumberable, he was a true sportsman and a clean player on the athletic field, where his supremacy was often manifest. In May, 1917, he left for the officers' training school at Ft. Benjamin Harrison. In August, 1917, he was a commissioned officer in France, where he was fighting for one year until his death. We have been told that virtue is no shield for the errors of death. We have the legacy of Dial's bright example, the memory of his deeds to cherish."
Cammack Memoriam.
"Howard H. Cammack, one of Dial's closest friends next spoke. He said that few people really knew Dial – they admired and trusted and loved him but that his character was too deep for the casual acquaintance to realize. He gave a brief history of the years in which he had known Dial, of the similarity of their work that had formed a chain of understanding and friendship around them. He lauded that quality which lingers most in the memory of Dial's friends, that indefinable something that for lack of better designation we call "leadership." "Dial always made good," he said, "He was the best sportsman in the game – losing or not." That "leadership" caused him to be selected for immediate duty overseas at the expiration of his term of training. That "leadership" gives us to know Dial died going forward.
"He was a man about whom you can always think. His presence in a crowd tempered it – refined it – there was no dross superficiality, but the deep, intense influence of his own being, the delicacy of his refinement, the strength of his manhood, the nobility of his ideals.
"Dial is not dead – he never will be dead, but will live in the lives of thousands who will "carry on" under the incentive of his clean cut life."
Mrs. Frank T. Mann.
"It was hard to see him go," spoke Mrs. Mann, "we needed him so here at home. Our flag will ever be dearer to us because he fought for it and died for it. The memory of the compelling wistfulness of his smile, the frank Sir Galahad face will keep him alive in our hearts." Mrs. Mann's remarks were classically beautiful, uttered with a sincerity of feeling that found its way even to those in the immense audience that did not know Dial personally.
Scouts Attend.
There was a predominance of men in the church, young men and old, and a detachment of Dial's Troop of Boy Scouts in uniform. The first floor held its capacity, the balcony was opened and the surplus filed in. It is doubtful that if ever before at a single memorial service was such an audience in hearing. The honor of attendance weighed in upon the congregation, there was spell-bound interest in every word, note or act of the meeting.
Dr. Mauze's Remarks.
"Whosoever shall save his life shall lose it" – the philosophy of life in these words were spoken by the pastor of the church, the Rev. Dr. J. Layton Mauze, in the course of his sermon "Our Soldier Dead – Shall We Pray For Them?"
"There is no need for our intercession – to be absent from the body id to be present with the Lord. Their salvation with Jesus Christ is complete. Dial died in unflinching loyalty to an ideal. Spiritual values are higher in material things – the glory of self-sacrifice a tale of the ages. The progress of the human race has been by way of the blood stained cross. With the sacrificial offering of Dial and his kind there has been purchased a higher order of civilization. No, Dial is not dead, the physical death relates only to the body – his spiritually was independent of his body or frame, neither dependent on his brain or body. He lives on and will never die – we must carry on to do honor to him and his kind."
The service was closed with a hymn to his memory – in appreciation of our country and with gratitude to God – the singing of "America."
 – Huntington Herald-Dispatch, December 30th, 1918
As an alumnus, he was honored at Huntington High School's remembrance ceremony:
FOUR GOLD STARS APPEAR ON FLAG FOR SERVICE MEN
Cox, Anderson, Dial and Davis Honored by Sunday Afternoon Program
CLASSMATES PLACE GOLD STARS IN FLAG
Tears Flow Freely as Eloquence of Attorney D.W. Brown Stirs Gathering
Touching and inspiring to such an extent as to leave a lasting impression on the minds of those who gathered for the occasion, was the memorial service was held at the high school auditorium yesterday afternoon for four members of the Alumni who paid the supreme price of devotion to God and country during the great war. The men honored were:
Chase Cox, ev '15
Lane Anderson, ex '15
Verlin Dial, '13
Henry Winter Davis, '05
Personal tribute was paid to these fallen by members of the classes to which they belonged, and a stirring memorial address was delivered by Attorney Douglas W. Brown. There was also an impressive musical program rendered by the high school chorus under the direction of Miss Sara E. Galloway.
The opening was a piano prelude, by Miss Esther Ripley, who presided at the instrument throughout the program, followed by "The Star Spangled Banner," and the 'Marseillaise," sung by the chorus.
The Scripture lesson was the Forty-sixth Psalm, read by Rev. J.W. Yoho, pastor of the Madison Avenue Church of Christ.
A tender and eloquent prayer was offered by Dr. M.L. Hood, pastor of the Fifth Avenue Baptist Church.
This was followed by the anthem "Zion Awake," by Rossini, rendered by the chorus….
…Homer Gebhardt, also in uniform, that of the army, paid the tribute to Lieutenant Dial, who was killed in action. He spoke of his association with Verlin Dial as one of the privileges of his life, and added that he knew that the going of this friend of his had been as he himself might have wished it – to fall with his face to the foe, so gallantly that a grateful government should reward him its highest decoration. And he, too, expressed his belief in the immortality of his friend as he placed the golden star above the blue one….
…The chorus then sang "Crossing the Bar."
This was followed by the address of Mr. Brown, which is given in full in another column.
In closing the chorus sang a hymn, "It Came Upon the Midnight Clear," and a medley of war songs.
The benediction was pronounced by Rev. J.W. Yoho, and from the wings the bugle sounded taps for Davis, Dial, Anderson and Cox.
 – Huntington Herald-Dispatch, February 17th, 1919
His official citation was also given in their 1919 yearbook, followed by these words:
Let the above tell the story of the death of a man who stood up straight, four corners square to the world. Verlin Dial was clean, mentally, morally, and physically clean.
Words seem very feeble! It is assured that Verlin Dial will ever live in our memory for he was truly one of earth's young noblemen.
Dial's remains were not sent home from France until October 14th, 1921, when they sailed from Antwerp on the USAT CANTIGNY. The newspaper reported their expected arrival in Hoboken, New Jersey:
LIEUT. DIAL'S BODY ARRIVES AT HOBOKEN
American Legion Will Conduct Funeral Rites for Popular Lad
(By SAM LOVE)
("***Although he was wounded Lieutenant Dial refused to be evacuated and continued to advance until he was killed." – From official citation.)
The body of Lieutenant Walter Verlin Dial, who was awarded the Distinguished Service Cross in recognition of the exceptional bravery that cost him his life in the Argonne offensive on October 5, 1918, is to arrive from France at a Hoboken pier today. A telegram conveying this information was received by his mother, Mrs. A.G. Dial, 1676 Third avenue.
The remains of this young soldier are to be given a military funeral when the casket arrives in this city. Yesterday no definite plans for the funeral service had been made, but it was stated that arrangements for the rites will be placed largely in the hands of the American Legion and World War veterans who were numbered among the close friendship of Lieutenant Dial. These say a firing platoon of uniformed veterans will be formed as the military escort of the body. Selection of pallbearers, who are to be Huntington young men who were associates of Lieutenant Dial in civil life and in the Army, has not yet been made. His body is expected to be received in the city during the present week.
Word of the death of Lieutenant Dial received here shortly before the signing of the armistice, was a potent factor in bringing the grimness of war home to Huntingtonians. Although not quite 22 years old when he was killed, Lieutenant Dial was widely known here both for his athletic prowess and his activities. He was among the youngsters a scoutmaster and superintendent of the boys' department of a local church, among associates of his own age a welcome addition to amateur athletic teams or in social activities, and among members of the commercial circles of Huntington as a young business man of unusual ability.
When the first officers' training camp was organized in the spring of 1917 at Fort Benjamin Harrison, he volunteered and was commissioned a second lieutenant of the cavalry upon completion of the course. Upon the close of what is called "the first camp," Lieutenant Dial was selected as a member of the first small contingent of American officers to be sent overseas. After additional training, he transferred into the Second Machine Gun battalion of the First Division, and fought in the many campaigns of the first until his death.
In the last great push of the war, that which ended in victory for the allied arms, he was killed. Lieutenant Dial was leading his platoon in the attack, his men having been assigned the task of silencing machine gun nests that had been hampering the advance. Under heavy artillery and machine gun fire, Lieutenant Dial was wounded early in the day, but would not allow himself to be taken back to a dressing station. Instead, he continued to direct the fire of his own machine guns until instantly killed by a bullet that passed through his head. According to members of his platoon, he was killed when he exposed himself to the German fire while attempting to relieve a "jam" in one of his machine guns.
In recognition of his bravery, he was awarded the Distinguished Service Cross posthumously, and the medal is in the care of his parents, Mr. and Mrs. A.G. Dial of Third avenue. Upon a wall of their residence also hangs, protected by glass and frame, the following citation:
"W. Verlin Dial, deceased, lieutenant Second Machine Gun Battalion, for extraordinary heroism in action near Fleville, France, October 5, 1918. Lieutenant Dial displayed exceptional courage in leading his platoon and attacking and breaking up German machine gun nests under heavy artillery and machine gun fire. Although he was wounded, Lieutenant Dial refused to be evacuated until he was killed. Next of kin, A.G. Dial, father, 676 Third avenue, Huntington, W.Va."
Lieutenant Dial was born December 29, 1894, at Branchland, Lincoln county. He is survived by his parents, a brother, Collie Dial, of this city, and two sisters, Miss Mabelle Dial of 1776 Third avenue, and Mrs. J.R. Henson of 1728 Eleventh avenue.
 – Huntington Herald-Dispatch, October 22nd, 1921
Dial was finally buried in Huntington's Woodmere Cemetery. He is also honored on the First Infantry Division Memorial in Saint-Juvin, France.
[From In the Service of Their Country - used with permission of the author]
Sources
Woodard, Benjamin. In the Service of Their Country: The Story of the Soldiers from Cabell County, West Virginia, Who Gave the Ultimate Sacrifice in the Great War. Sixth Printing. Benjamin Woodard - Lulu, 2019.
Image Sources
Honor Roll of Cabell County, W.Va. - Author's Picture (Benjamin Woodard)

1919 Huntington High School Yearbook - Courtesy of Mike McVay

1913 Huntington High School Yearbook - Cabell County Public Library Online Local History Collection

Burial File, NPRC - Courtesy of Nancy von Behren

Burial File, NPRC - Courtesy of Nancy von Behren

Additional Information