Corporal Moss F. Stone
Introduction
Corporal Moss F. Stone; Born 20 Aug 1893 – Logan County, WV; Died 11 Mar 1918 – Camp Lee, VA; Battery D, 315th Field Artillery Regiment, 155th Field Artillery Brigade, 80th Division – US Army
Images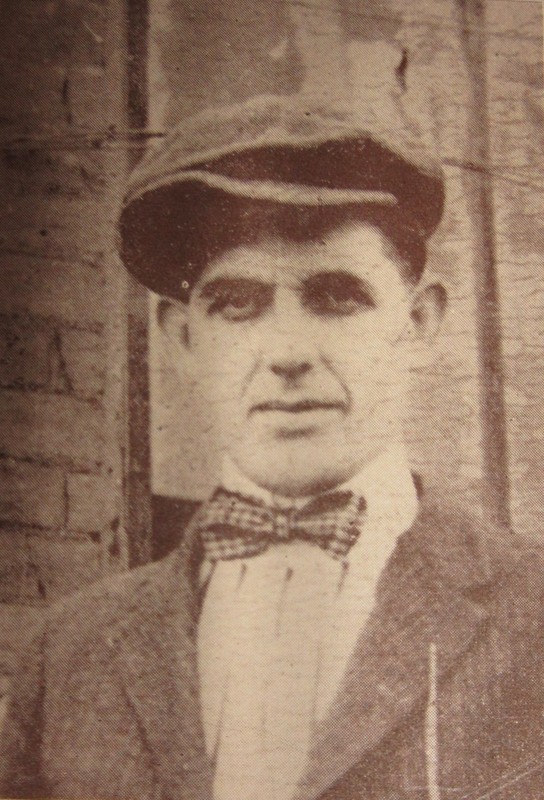 Headstone at Spring Hill Cemetery
Backstory and Context
Moss French Stone was born on August 20th, 1893, in Logan County, West Virginia, to Ed and Minnie Stone. He lived in Logan, West Virginia, was married to Constance (Cowherd) Stone, and worked as a pressman for Logan Printing Company. He entered service on October 5th, 1917, and he trained at Camp Lee, Virginia. He was assigned as a Corporal, serial number 1836535, to Battery D of the 315th Field Artillery Regiment, 155th Field Artillery Brigade, 80th Division, US Army. This unit operated 155mm artillery pieces. He died of nephritis at the Camp Lee Base Hospital on March 11th, 1918.
STONE FUNERAL TO BE HELD THURSDAY
HUNTINGTON BOY DIES AT CAMP LEE.
Body Will Arrive This Afternoon on No. 1 – Went Into Service Last October.
The funeral of Corporal Moss Stone, aged 24 years, who died at Camp Lee Monday, will probably be held on Thursday afternoon at 2:30 o'clock. The services will be held at the Central Christian church, of which Mr. Stone was a member. The body will arrive this afternoon on C.&O. train No. 1.
Corporal Stone is well known in Huntington. He was a printer by occupation and had received recognition here as a singer.
He is survived by his widow, who was Miss Constance Cowherd before her marriage; his mother, Mrs. Cunningham, of West Seventh street, and three brothers, Paul, Andrew and Holly Hall Stone.
 – Huntington Herald-Dispatch, March 13th, 1918
He was buried in Huntington's Spring Hill Cemetery after a funeral in town:
WILL ATTEND FUNERAL
Miss Sadie Chapman has issued a call for the members of the Women's Relief Corps to attend the funeral of Corporal Moss Stone, the first Huntington soldier to meet death. The funeral will take place at two thirty at Central Christian church this afternoon.
 – Huntington Herald-Dispatch, March 14th, 1918
Military Funeral For Moss Stone Suggested By Patriotic Friends
As First Huntington Soldier to Die for Cause of Humanity, Fitting Honors to His Memory and Service Have Been Proposed
Patriotic men and women suggested last night that military honors be done the remains of Moss Stone, the popular young Huntington soldier, who died of disease in cantonment. Under the existing conditions, however, the difficulties of bringing about this greatly desired end were fully recognized. There is at present no military unit in Huntington, and no soldiers here except for those attached to the recruiting office and the few who may chance to be in the city on furlough.
It is probable that the matter will be placed before Major Stuart, head of the recruiting service in West Virginia, with headquarters here, to see whether he cannot solve the problem as desired.
Feeling that a military escort for the remains and a military burial be provided if at all practicable, seemed to be unanimous among those who discussed the matter last night. The remains have been delayed in arrival for more than twenty-four hours, and will probably not reach Huntington until late today.
 – Huntington Herald-Dispatch, March 15th, 1918
ONE GOLD STAR ON THIS SERVICE FLAG
AFFECTING SERVICE OVER REMAINS OF LATE MOSS STONE.
Central Christian Church Was Filled Yesterday Afternoon With Friends of Deceased
The funeral of Corporal Moss Stone, who died Monday at Camp Lee, Va., was largely attended yesterday afternoon at 2:30 o'clock at the Central Christian church, Dr. M.L. Wood, of the Fifth Avenue Baptist church, officiating. The deceased was a member of the Central Christian church and his widow was associated with the Fifth Avenue church, and on account of the illness of Dr. Sheffer, the service was conducted by Dr. Wood. Both Corporal Moss and his wife belonged to the choirs in their respective churches.
It was a touching service in every way. The young soldier had a host of friends in Huntington and the church was filled to its capacity with those who knew him well and loved him well. Dr. Wood's sermon dwelt largely on the sacrificial spirit exemplified by this young man, this soldier of Christ, who had left his home and loved ones to fight for his country's ideals.
The most striking feature of the obsequies was the one gold star on the service flag of the church, signifying as it did that Corporal Moss is the first of the twenty-one soldiers of the church to make the sublime sacrifice.
The pallbearers were twelve young friends of the young man, six of them bearing the casket and the other six carrying the flowers, a bountiful and beautiful offering of the richest flowers.
 – Huntington Herald-Dispatch, March 17th, 1918
[From In the Service of Their Country - used with permission of the author]
Sources
Woodard, Benjamin. In the Service of Their Country: The Story of the Soldiers from Cabell County, West Virginia, Who Gave the Ultimate Sacrifice in the Great War. Sixth Printing. Benjamin Woodard - Lulu, 2019.
Image Sources
Honor Roll of Cabell County, W.Va. - Author's Picture (Benjamin Woodard)

Author - Benjamin Woodard

Additional Information