Corporal Herbert J. Witzgall
Introduction
(NOTE: Witzgall is the farthest west soldier and tree on the south side of Memorial Boulevard.) Corporal Herbert J. Witzgall; Born 9 Sep 1888 – Huntington, WV; Died 4 Oct 1918 – France; Co. F, 318th Infantry Regiment, 159th Infantry Brigade, 80th Division – US Army
Images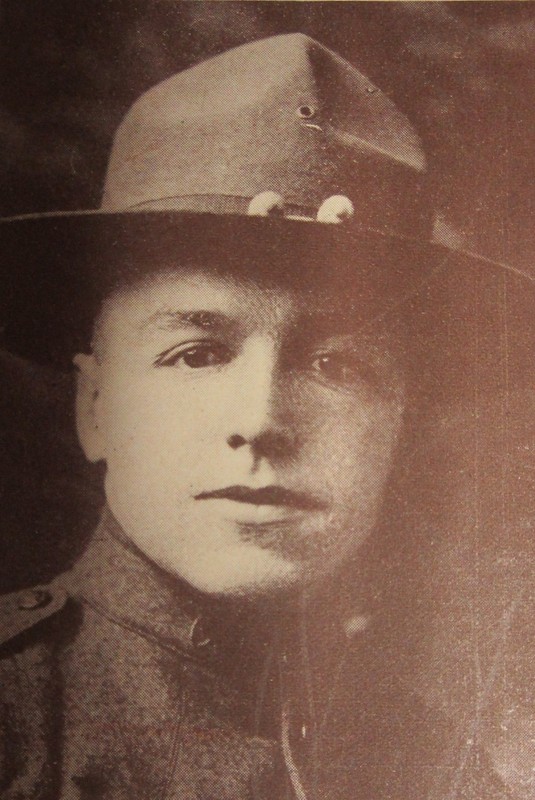 Headstone at Spring Hill Cemetery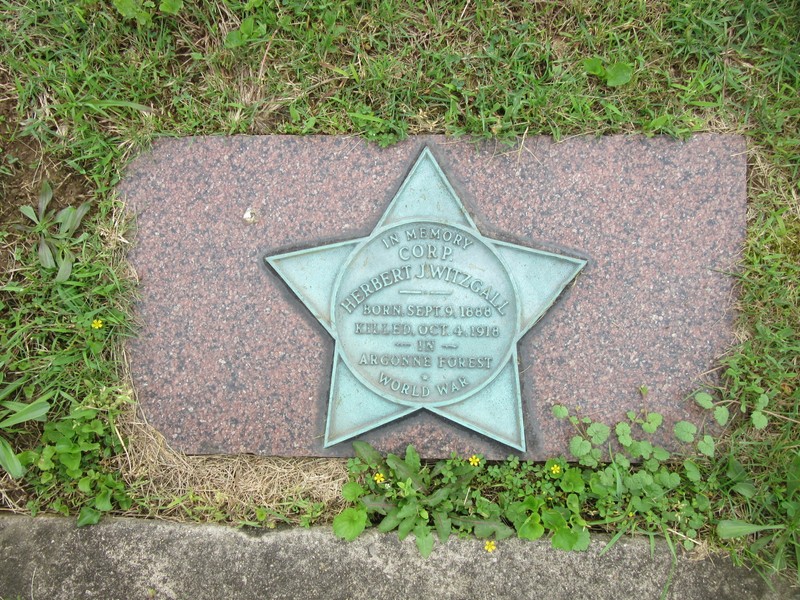 Backstory and Context
Herbert Joseph Witzgall was born on September 9th, 1888, in Huntington to Chris and Elizabeth Witzgall. As of June 5th, 1917, he had 1 year of service in the West Virginia National Guard, lived in Big Island, Bedford County, Virginia, and worked as a farmer. He entered service on September 1st, 1917, and was sent to Camp Lee, Virginia, for training. He was assigned as a Private, serial number 1821490, to Company F of the 318th Infantry Regiment, 159th Infantry Brigade, 80th Division, US Army. He sailed for France from Hoboken, New Jersey, on the LEVIATHAN on May 22nd, 1918. He was on the front line for 5 months before he was killed in action on October 4th, 1918, during the Meuse-Argonne offensive in France.
COMRADE WRITES OF HEROIC DEATH OF HERB WITZGALL
Son of Mr. and Mrs. C. Witzgall of Walnut Hills Makes Supreme Sacrifice
MASS FOR SOUL WILL BE SAID THIS MORNING
Public Mass Will be Said as Soon as Official Notification of Death Is Received
Word was received here yesterday of the death in France of Corporal Herbert J. Witzgall, son of Mr. and Mrs. C. Witzgall of Walnut Hills. He was killed in battle. His parents have received a communication from a comrade who was with him in his last days.
Corporal Witzgall was born and raised in Huntington. He was 30 years old. For several years before he went to the army he worked in the Virginia Barber Shop at Lynchburg, Va.
He was a member of the Knights of Columbus and of the Elks at Lynchburg.
He leaves his parents, a brother, Louis J. Witzgall, of this city, and one sister, Mrs. L.P. Bowen, of Covington, Ky.
Mass will be said for him by Rev. Father Henry B. Altmeyer of St. Joseph's Catholic church this morning at 8 o'clock.
Public mass for the repose of his soul will be said by Father Altmeyer as soon as official notification is received from the war department.
The comrade's letter follows:
"Your daughter wrote to Herbert before we left camp and suggested that before we left we exchange addresses so that in case of an accident we would notify the family. So it has fallen my lot to write the said news of your son's death on October 4, 1918. I guess you will be officially notified before you get this, but, nevertheless, it is my duty to write. He was one of my best friends and his death is a terrible loss to me.
"Mrs. Witzgall I know there is nothing that I can write that will comfort you to a great extent, but you should be proud of Herbert because he died the death of a true American soldier. I only wish I could express my sympathy to you and your family in this great hour of trouble. But words are very weak in trying to express my love for him and his dear mother. We were always like brothers and I will always like him every day of my life. We had planned such a good time when the war was over and we were both back home. Herbert was a good soldier and did his duty until the end. He gave his life for a noble cause, for his country and loved ones at home. The glorious part of it was, he was glad to give up his life for the great cause that we are fighting for and hope to win. I will never forget you and your family, and can imagine what a happy family you were around the fireside at home, and what a terrible blow the vacant chair will be, but the Lord knows best. I will have to stop to get this in the mail today. I hope this will find you all well and try to find solace in the thought that you will meet him in a better world.
"With best of love to you all, I am your devoted friend,
"CORP. EDWARD L. WHITE,
"Co. F, 318th Infantry, A.E.F."
Lynchburg, W.Va.
 – Huntington Herald-Dispatch, November 16th, 1918
His remains were sent home from Antwerp on the USAT WHEATON on August 6th, 1921, and they arrived in Hoboken, New Jersey. He was buried in Huntington's Spring Hill Cemetery.
[From In the Service of Their Country - used with permission of the author]
Sources
Woodard, Benjamin. In the Service of Their Country: The Story of the Soldiers from Cabell County, West Virginia, Who Gave the Ultimate Sacrifice in the Great War. Sixth Printing. Benjamin Woodard - Lulu, 2019.
Image Sources
Honor Roll of Cabell County, W.Va. - Author's Picture (Benjamin Woodard)

Author - Benjamin Woodard

Additional Information