Private 1st Class Earl W. Shank
Introduction
Private 1st Class Earl W. Shank; Born 20 Nov 1887 – Dayton, OH; Died 7 Oct 1918 – Camp Upton, NY; 7th Co., Ordnance Replacement Battalion, 3rd Regiment – US Army
Images
Earl W. Shank - June 14th, 1918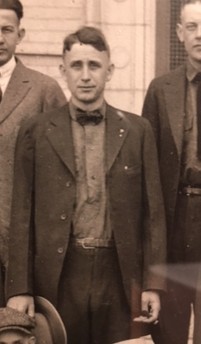 Backstory and Context
Earl Wesley Shank was born on November 20th, 1887, in Dayton, Ohio, to Frances and Fannie Shank. He lived at 6450 5th Avenue, Huntington, and worked as Head Paper Ruler for Standard Printing & Publishing Company. He entered service on June 14th, 1918, as part of Draft Call No. 594 and was sent to the mechanical training camp at Morgantown, where he was assigned to the Training Detachment, University of West Virginia. He trained to be an automobile mechanic. Upon completion of his training, he was sent to Camp Hancock, Georgia, then Camp Upton, New York. He was assigned as a Private, serial number 3439390, to a provisional ordnance unit on September 10th, 1918, and he was promoted to Private First Class on September 16th. He caught influenza and developed pneumonia, dying at 6 AM on October 7th, 1918, at the Camp Upton Base Hospital.
EARL SHANK DIES AT TRAINING CAMP
The many friends of Earl W. Shank were grieved to learn of his death which occurred at Camp Upton, Monday morning at six o'clock. He left Huntington July 14, with the boys who went to the mechanical training school at Morgantown, and had recently been sent to Camp Upton. It is supposed he was a victim of the Spanish influenza, although the message received here did not state the cause of his death. He was employed for over two years at the Standard Printing and Publishing company, and was a well known young man. He was a member of the Huntington lodge of Masons and Elks. Before coming to Huntington his home was in Dayton, O.
 – Huntington Advertiser, October 8th, 1918
He was buried in Dayton's Lower Miami Cemetery after a funeral in town:
SHANK'S MOTHER IS 72 YEARS OLD
REARS UP BRAVELY UNDER HER SON'S DEATH.
Huntington Elks Return from Dayton Where Funeral of Brother Was Held Last Friday.
Secretary A.R. Hunt and W.W. McCue, of Huntington lodge, No. 313, B.P.O. Elks, have returned from Dayton, O., where on Friday they attended the funeral of Earl Shank, a member of the lodge, who died at Camp Upton, N.Y., of pneumonia, brought on by the Spanish influenza.
The Dayton Elks offered kindly service to their visiting brothers, leaving nothing undone to make their stay comfortable and to soften the grief of the bereaved family.
The dead soldier is survived by his mother, 72 years of age, two brothers and three sisters. The young man was employed during several years' residence in Huntington by the Standard Printing & Publishing Co., and everyone that knew him was his friend.
 – Huntington Herald-Dispatch, October 14th, 1918
As he was an Elk, he was honored at their memorial service:
ELKS MEMORIAL THIS YEAR HAS DOUBLE MEANING
It Will Honor Ninety-seven Members In Service In Addition to Eighty-One Deceased.
FOUR GOLD STARS ON SERVICE FLAG
Program Completed for Exercises to be Held In Lodge Room Sunday Afternoon at 2:30
While the annual memorial service of Huntington Lodge, No. 313, B.P.O. Elks, will be more simply conducted this year than formerly, the occasion will bring its greatest significance to the members of this order. The day is to have a double meaning; in addition to being a memorial to the "absent brothers," it will take account of those others who went out from the fraternity to answer the call of their country.
Four gold stars will shine on the service flag of the lodge for Earl Shank, Fred Duncan, C.V. Mankin and O.D. Jackson. This flag contains ninety-three blue stars….
 – Huntington Herald-Dispatch, November 28th, 1918
[From In the Service of Their Country - used with permission of the author]
Sources
Woodard, Benjamin. In the Service of Their Country: The Story of the Soldiers from Cabell County, West Virginia, Who Gave the Ultimate Sacrifice in the Great War. Sixth Printing. Benjamin Woodard - Lulu, 2019.
Additional Information