Private Isaac L. Landis
Introduction
Private Isaac L. Landis; Born 2 Oct 1900 - Unknown; Died 2 Jul 1918 – France; 6th Co., Camp Shelby June Automatic Replacement Draft – US Army
Images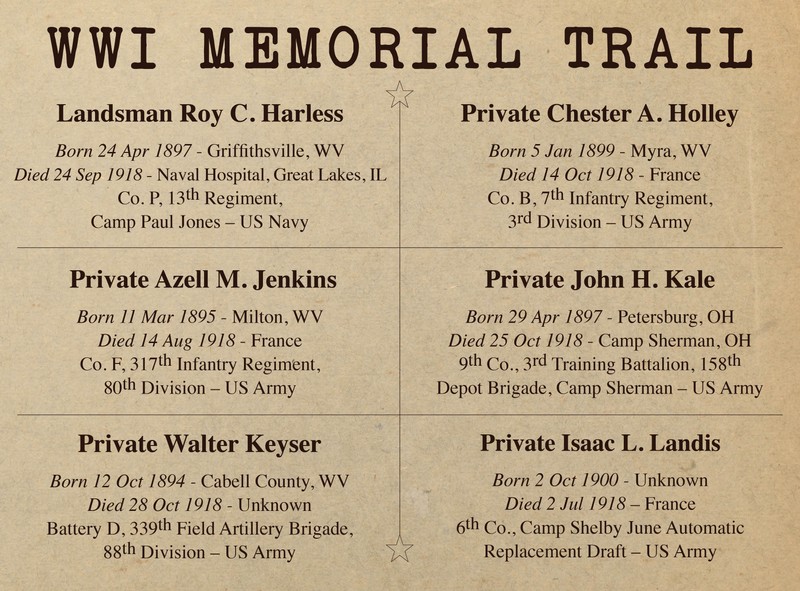 Backstory and Context
Isaac Lewis Landis was born on October 2nd, 1900, to Rebecca Landis. He lived in Cressmont, Clay County, West Virginia, and entered service on June 17th, 1917. He was assigned as a Private, serial number 1559769, to the 6th Company of the Camp Shelby June Automatic Replacement Draft and sailed for France from Hoboken, New Jersey, on the ANCHISES on June 12th, 1918. He died on July 2nd, 1918, in France because of a railroad accident. He was first buried the same day in an American Cemetery. His remains were sent home from St. Nazaire on the USAT SHERMAN on August 31st, 1920, and they arrived at Hoboken on September 11th. He was buried in Asbury Cemetery, Enoch, Clay County.
[From In the Service of Their Country - used with permission of the author]
Sources
Woodard, Benjamin. In the Service of Their Country: The Story of the Soldiers from Cabell County, West Virginia, Who Gave the Ultimate Sacrifice in the Great War. Sixth Printing. Benjamin Woodard - Lulu, 2019.
Image Sources
Author - Benjamin Woodard

Additional Information