Hobart Hall
Introduction
Author-Uploaded Audio
Hobart Hall is a Tudor Revival style academic building located on the campus of the American Baptist Seminary of the West. It was designed circa 1919 by the Berkeley-based architect, Julia Morgan, the first licensed female architect in the state of California. Hobart Hall features detailed brickwork and an elegant façade with an arched entryway. The building was designated as a City of Berkeley Landmark in 2007 and a historical plaque was placed at the site.
Images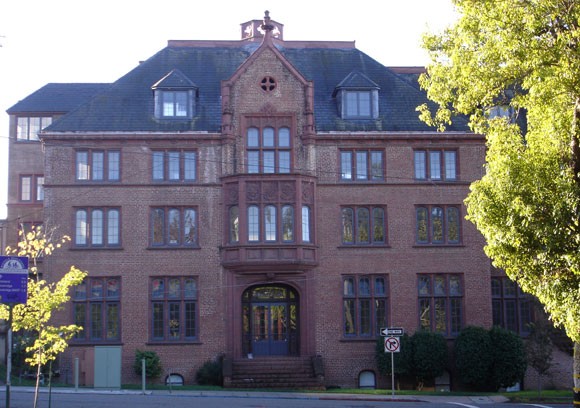 Hobart Hall at the American Baptist Seminary of the West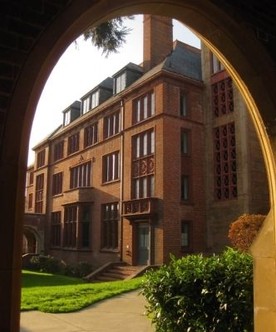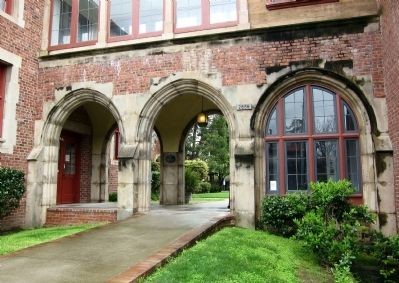 Hobart Hall Historical Marker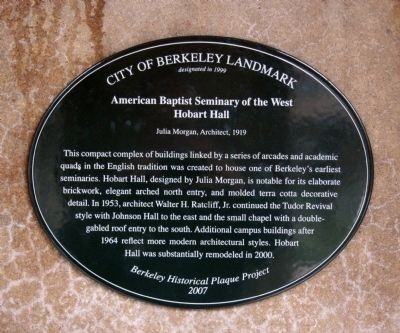 Grassy academic quad and sidewalk leading towards the arcade next to Hobart Hall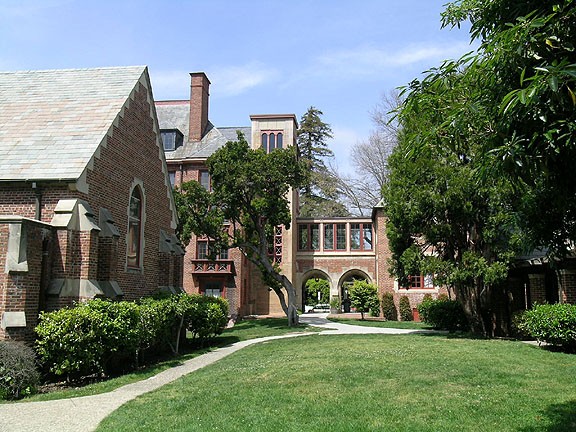 Hobart Hall, view from the northwest, showing the Chapel adjacent to Hobart Hall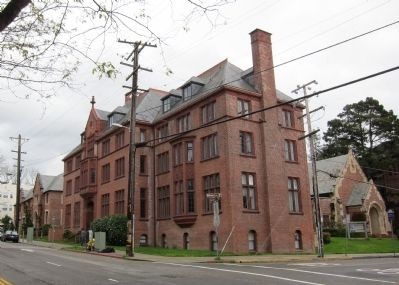 Backstory and Context
Author-Uploaded Audio
The esteemed Berkeley architect Julia Morgan was the first licensed female architect in the state of California. She designed hundreds of buildings throughout her prolific career. In 1918, Morgan was commissioned to design Hobart Hall, currently located on the campus of the American Baptist Seminary of the West. This seminary was then known as the Berkeley Baptist Divinity School. Hobart Hall was completed in 1920, and it served as the main administration building for the seminary.
Julia Morgan designed Hobart Hall in the Tudor Revival style, which was associated with the early twentieth-century Arts and Crafts Movement. The notable architectural features of Hobart Hall include ornate brickwork, decorative terra cotta detailing, leaded glass windows, as well as an arched entry way. In addition, there is a slate roof, which is accented by dormers. This elegant building is four stories tall. Julia Morgan also designed two other Tudor Revival buildings at the nearby campus of the University of California in Berkeley. This university was her alma mater, where she graduated with a degree in engineering in 1894.
After graduating with her degree from the University of California at Berkeley, Morgan studied under the prominent Berkeley-based architect, Bernard Maybeck, who saw great potential in Morgan and encouraged her to continue her studies. In 1902, Morgan graduated from the Ecole des Beaux-Arts in Paris, as the first woman enrolled in this esteemed school's architecture program. After returning to the United States, Morgan then became the first woman in California to receive a license to practice architecture from the state of California.
During the next forty years of her prolific career, Morgan designed or contributed to at least 800 separate commissions. Many of these building were located in the San Francisco area, while some were located elsewhere in California. After opening her own architectural practice in 1904, San Francisco was devastated by the Great Earthquake of 1906, which destroyed many of the buildings and neighborhoods in the city. Thereafter, Morgan received many commissions to design new buildings in the area to replace what was lost. Like other highly-regarded architects of the time, Morgan worked to essentially rebuild the city of San Francisco from the ground up.
Steady work continued, and in 1919, Morgan was commissioned by the publishing magnate William Randolph Hearst to design a private residence for his family in San Simeon, California. At Hearst's request, Morgan designed an extravagant, elaborate retreat where the newspaper tycoon could display his collections of art and antiques, while also putting his overall wealth on display through the over-the-top design of his private home. This became known as Hearst Castle.
The Hearst Castle commission kept Morgan busy for 28 years, and it remains one of her best known works. However, Morgan was also known as a versatile architect who could design in different styles. In addition, her work was known for ensuring top-notch craftsmanship, including superb exterior and interior detailing. These features were true to the Arts and Crafts ethos, which was also exemplified in her commission for Hobart Hall on behalf of the divinity school. Hobart Hall was remodeled in 2000, and it was designated a City of Berkeley Landmark in 2007. Following this designation, a historical plaque was also placed on the building.
Sources
"Baptist Seminary of the West", Berkeley Historical Plaque Project. Accessed March 8th 2020. https://berkeleyplaques.org/plaque/baptist-seminary/.
"Julian Morgan: American architect", Encyclopedia Britannica. Accessed March 8th 2020. https://www.britannica.com/biography/Julia-Morgan.
Ruppenstein, Andrew. "American Baptist Seminary of the West - Hobart Hall", The Historical Marker Database. Accessed March 8th 2020. https://www.hmdb.org/m.asp?m=50801.
Wilson, Mark Anthony. Julia Morgan: Architect of Beauty. Layton, Utah. Gibbs Smith, 2007.
Image Sources
R. Kelmann, Berkeley Historical Plaque Project

Andrew Ruppenstein, The Historical Marker Database

Andrew Ruppenstein, The Historical Marker Database

Andrew Ruppenstein, The Historical Marker Database

Berkeley Landmarks, Berkeley Architectural Heritage Association

Andrew Ruppenstein, The Historical Marker Database

Additional Information