Earle Town House
Introduction
The Earle Town House is perhaps the oldest home in Greenville and may date to 1810. A celebration of the house's centennial was held in 1910. The David family purchased the home from the Earle family in 1856, when one son, Charles A. David, was about three years old. Charles A. grew up to be a merchant and lived in the house until 1922. The Oliphant family owned the home from the 1920's until the 1980's and was the long-time home of a published historian. The Earle Town House was listed on the National Register in 1969. A grandiflora magnolia tree still living in 1969 was said to have been planted in 1856. No word on whether the owner in 2010 threw a bicentennial birthday bash for the house.
Images
2014 photo of Earle Town House (Foxe)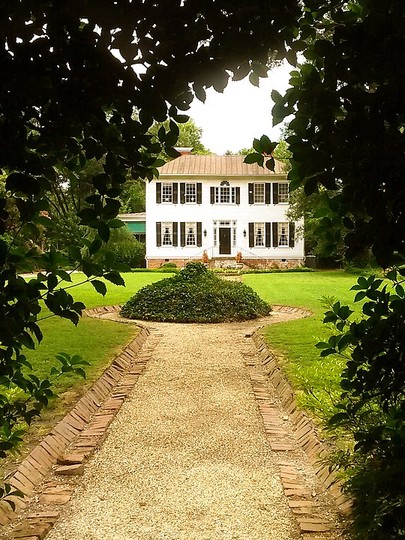 Photo of Earle Town House circa 1900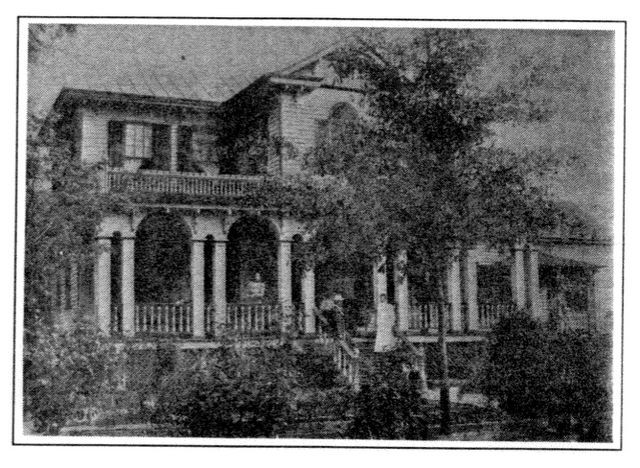 Backstory and Context
The Earle Town House is said to date from 1810 when it may have been constructed by George Washington Earle. Records corroborating the date have not been located and the house may be about 15 years younger. A will dated 1826 mentions a house that is presumed to be this building. The home was built on the Earle family plantation but it may have been constructed during the ownership of the land by Samuel Green. The land was bought back from Green by an Earle in 1834, Elias Drayton Earle. A judge and U.S. Senator, Joseph Haynsworth Earle, was born in the home.
James A. David bought the house on a 35-acre lot in 1856. When he died in the 1880s, his son, Charles A. David, inherited the home. Charles A., a merchant, resided in the home until 1922. When he was a young man, Charles A. worked at Stradley & Barr's Dry Goods Store on Main Street. An essayist and artist as a hobby, his cartoons were published in Harpers Weekly in 1885. He began writing a column for the local newspaper, the Greenville News, in 1926, called "Greenville of Old." Charles A. lived until 1934.
Albert Drane Oliphant purchased the Earle Town House in 1927. He had married Mary Chevillette Simms in 1917 and the couple resided in Columbia, where Mr. Oliphant worked for the state's board of charities. In 1920 the couple and their children moved to Greenville. Mrs. Oliphant, a historian and author, was a granddaughter of the poet and novelist William Gilmore Simms. Like her grandfather, Mrs. Oliphant penned a history of South Carolina for schoolchildren. One version, A Simms History of South Carolina, was in use in its 9th edition until the mid-1980's. She hired an architect named Willie Ward who renovated the house to a Georgian style, removing a wing and a colonnaded porch. Three rooms were added to the second floor and a staircase was moved. Mrs. Oliphant was active in local historical organizations including the Upper Carolina Society and the Historical Records Committee.
Mr. Oliphant died in 1935. The home continued to be occupied by Mrs. Oliphant, her three children, and two of her sisters with their children (no wonder they needed extra rooms upstairs!). In 1937, Mrs. Oliphant began publishing the papers of her grandfather to prepare to write his biography. Mrs. Oliphant and her daughter, Mary Simms Oliphant, authored a state history text for third graders in 1947. From 1956 to 1958, Mrs. Oliphant was the director of the South Carolina State Public Library Association.
The Earle Town House was one of the first National Register of Historic Places listings in Greenville and was added in 1969, when the house's name may have been invented by Mrs. Oliphant. The house has been part of the Colonel Elias Earle Historic District since 1982. The two-story, white frame structure with a piazza on its west side is surrounded by decorative gardens and currently hidden from the road behind tall hedges. The iron grillwork gate is present in a gap in the hedges. Fine interior details remaining from the nineteenth century include hand-carved mantels and paneled doors. Mrs. Oliphant still owned the Earle Town House when she passed away in 1988 at age 97. The privately-owned residence is not open to the public.
Sources
Anonymous. "Purely Personal." The Union Times (Union, SC) February 23rd 1917, 5-5.
Anonymous. "Purely Personal." The Union Times (Union, SC) November 15th 1917, 5-5.
Anonymous. "Personal Mention." The Union Daily Times (Union, SC) September 26th 1921, 1-1.
Anonymous. "Eugene Drane Dies." The Union Daily Times (Union, SC) November 18th 1921, 1-1.
Anonymous. "Fair Forest Chapter Entertained." The Union Daily Times (Union, SC) February 8th 1922, 4-4.
Anonymous. "Humorist Grew Up with Greenville in 1800s." Greenville News (Greenville, SC) March 27th 2017. online ed.
Anonymous. "Origin of Earle Town House is Murky." Greenville News (Greenville, SC) August 11th 2017. online ed.
Baker, Bruce E.. Oliphant, Mary Chevillete Simms, South Carolina Encyclopedia. March 27th 2017. Accessed December 14th 2019. http://www.scencyclopedia.org/sce/entries/oliphant-mary-chevillete-simms/.
Lister, Mrs. Tony. Fant, Mrs. James W.. NRHP Nomination Form for Earle Town House. Washington, DC. National Park Service, 1969.
Image Sources
https://en.wikipedia.org/wiki/Earle_Town_House#/media/File:EarleTownHouse2014.jpg

https://en.wikipedia.org/wiki/Earle_Town_House#/media/File:Earle-DavidHouse.jpg

Additional Information