Whitehall
Introduction
Whitehall was built by Henry Middleton, one of the Charleston area elites, as a summer home in the upcountry to escape the oppressive heat and humidity of the lowcountry. Middleton purchased the land from Elias T. Earle in 1813. Middleton sold the property in 1820 to George Washington Earle, the son of Elias. One of a handful of antebellum homes surviving in Greenville, it is one of only two that are still in their original location. The home's Barbadian style is an adaptation that creates an outdoor covered porch or piazza for catching the breeze while sipping some Carolina style sweet tea. Descendants of Earle still owned and occupied Whitehall when the mansion was listed in the National Register in 1969. It has been part of the Colonel Elias Earle Historic District since the 1980's.
Images
2012 photograph of Whitehall by Bill Fitzpatrick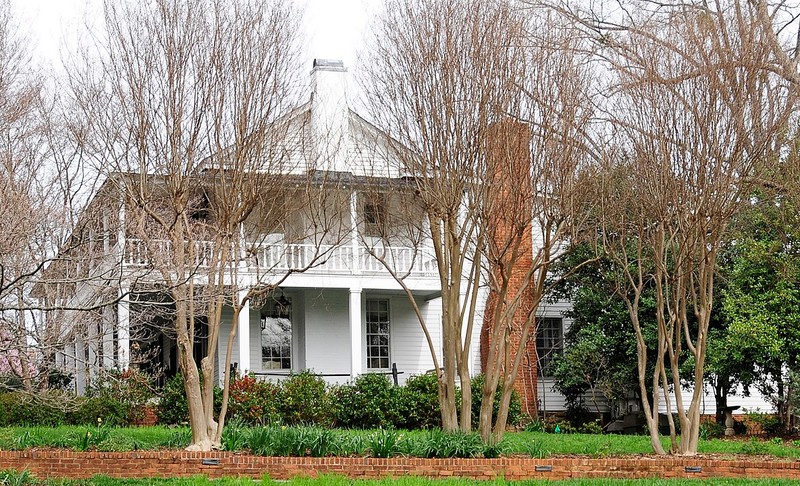 Backstory and Context
Henry Middleton was one of the most prominent men in South Carolina in the early nineteenth century. His father, Arthur, signed the Declaration of Independence, and Henry served at various times in the South Carolina House of Representatives, as Governor of South Carolina, as a U.S. Senator, and as Minister to Russia. Henry Middleton bought the land where he would build Whitehall, his summer home, from Elias T. Earle in 1813. Middleton's two-year term as Governor ended the prior year. Middleton needed to escape the heat and humidity of his palatial plantation home, Middleton Place, on the Ashley River near Charleston, in the swampy lowcountry. The higher elevation and relatively drier and cooler air of the upcountry part of the state drew Middleton to Greenville.
Middleton only held onto the Whitehall property for seven years until he sold it to the son of Elias, George Washington Earle. George W. Earle was an attorney who was born in 1777 and worked as the clerk of the local court in Greenville. When George W. died in 1821, he left a wife, Elizabeth, and seven minor children. When one of the late George W. Earle's daughters, Sarah, married an attorney in 1835, her dowry included a large farm and thirty-five enslaved persons. The Whitehall property passed to another one of his daughters, Eugenia Earle and her husband, Charles Stone in 1840. Their son, Eugene E. Stone and his wife, Floride Lydia Croft, became the new owners in 1880. In March 1899, the 400 acres surrounding Whitehall were platted and divided among heirs of the Stone's, and some of the land was developed by the Stone Land Company. This was the beginnings of the city's North Main neighborhood. Stone, Wilton, and Earle Streets run through former parts of the Whitehall property.
The two-story white frame house began as a simple structure with a detached kitchen. Around 1870, the owners added shutters to the windows and outdoor covered spaces or piazzas on the first and second stories. The piazza served as an outdoor living rooms to catch cool breezes when it was just too uncomfortable to be indoors. This Barbadian style of architecture became popular in the Charleston area in the eighteenth century, and piazzas were added to many existing buildings or made part of new construction.
Descendants of George W. Earle (Mr. and Mrs. Cyrus B. Dawsey) still owned and lived at Whitehall when it was listed in the National Register in 1969. They owned the home by the mid-1950's. Cyrus Bassette Dawsey lived from 1909 to 1986. His wife, Agnes Stone Dawsey, was born in 1907, married in 1939, and passed away in 1997. She is the Earle descendant and the daughter of Charles B. and Priscilla B. Stone. The Dawsey's are buried in Christ Episcopal Church Cemetery in Greenville. The house is part of the Colonel Elias Earle Historic District, one of the first NRHP historic districts in the city, listed in 1982. The City of Greenville recognizes the district as an historic overlay district.
Sources
Anonymous. "Whitehall is a historic landmark in Greenville." Greenville News (Greenville, SC) July 10th 2017. online ed.
Bainbridge, Judith A.. Attorneys & Law in Greenville County: A History. Charleston, SC. The History Press, 2015.
Dixson, Robin Farley. Agnes Stone Dawsey (1907-1997), Find a Grave. February 9th 2004. Accessed December 14th 2019. https://www.findagrave.com/memorial/8370142/agnes-dawsey.
Liene. Whitehall - Historic North Main, Femme au foyer, blog. February 12th 2014. Accessed December 9th 2019. http://femmeaufoyer2011.blogspot.com/2014/02/whitehall-historic-north-main.html.
Lister, Mrs. Tony. Fant, Mrs. James W. NRHP Nomination form for Whitehall. Washington, SC. National Park Service, 1969.
SC Dept. of Archives and History. Whitehall, Greenville County, National Register Properties in South Carolina. Accessed December 6th 2019. http://www.nationalregister.sc.gov/greenville/S10817723002/.
MyHeritage. Cyrus Dawsey - Historical Records, MyHeritage. Accessed December 14th 2019. https://www.myheritage.com/names/cyrus_dawsey.
Image Sources
https://commons.wikimedia.org/wiki/File:Whitehall_Historic_Home_Greenville.jpg

Additional Information