The New York Public Library Children's Center (developed by Anne Carroll Moore)
Introduction
Anne Carroll Moore (1871-1961) was a librarian, writer, and advocate for children's literature. She worked as the first Superintendent of Children's Work at the New York Public Library from 1906 to 1941, where she was instrumental in developing library services to children. She established the first children's book room at the New York Public Library, encouraged publishers and authors to create books specifically for children, and strongly believed in the importance of reviewing children's books. Moore is remembered for her strong opinions and judgments, but also for her belief in children. Her work showed a desire to provide children with books that would enrich, entertain, and provide windows into other cultures.
Images
Anne Carroll Moore at the New York Public Library 1914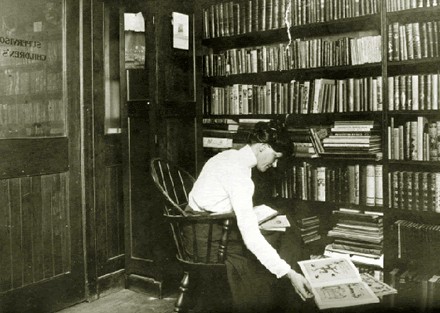 New York Public Library in 1908. Anne Carroll Moore worked in the Children's Room from 1906 to 1941.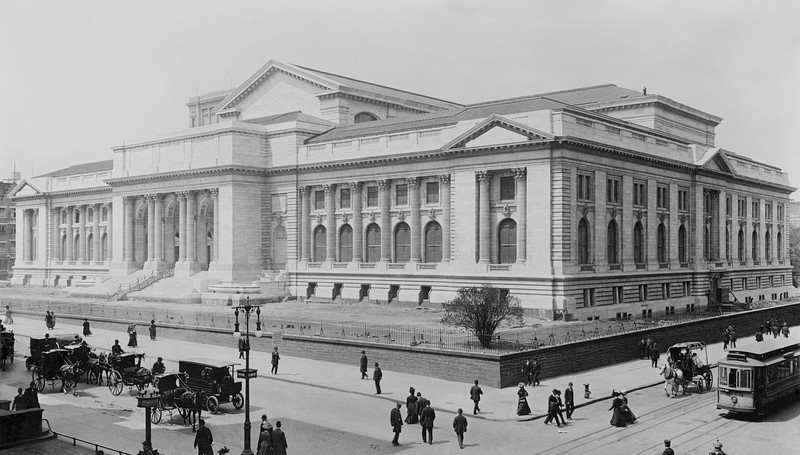 The New York Public Library's Children's Center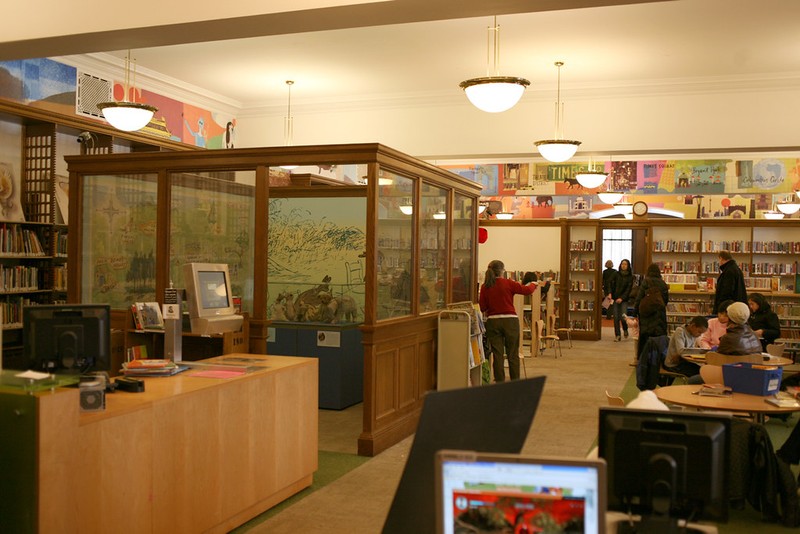 Backstory and Context
The late 19th and early 20th century showed a vast change in opinions about children's books and library services to children. Before this time, there were no specific publishers for children's books. Instead, authors wrote a variety of books, a few of which were for children. Children were rarely welcomed into libraries as they might be noisy or disruptive, and very few people even considered having library services catering to children. This quickly changed, however. In the 1870s there started being a flourishing of children's books reviews. There started being a children's library movement by the 1890s. In 1919 Macmillan set up a separate children's book department for their publishing house, and soon a half-dozen publishing houses added children's editors. This transformation is closely tied to Anne Carroll Moore and her work at the first Superintendent of Children's Work at the New York Public Library. Her work was made possible by this movement and, to a significant extent, her work made this movement possible.
Moore started her career by studying librarianship at the Pratt Institute in Brooklyn, New York. Upon graduating, she started working at the Pratt Institute Free Library, where she worked from 1896 to 1906. In 1906 she was hired by director Dr. John Shaw Billings of the New York Public Library as their Supervisor of Work with Children. In that role she oversaw work with children in all 36 branches of the New York Public Library and directed the children's room here, at New York Public Library's 5th avenue branch, until she retired in 1941 at the age of 70. The room welcomed children with comfortable furniture and children's book characters.
Moore's work was defined by her passionate beliefs. Moore recognized that children are curious and believed that books could enrich children and help them grow. She valued books which provided pleasure for children, rather than just education or moral lessons. Moore often worked with immigrant families arriving from Ellis Island. This helped her recognize that books let children learn about and experience the lives of others, opening their eyes to other countries, regions, customs, and cultures.
Specific to children's librarianship, Moore developed a set of standards, which she termed the "Four Respects." The first is respect for children. This means treating them as individuals worthy of respect and of being taken seriously. Next is respect for children's books. She felt that children's books should be well-written and should be either fantasy or factual and accurate, rather than a mixture of the two. Third is respect for fellow workers, respecting everyone who works in the children's library as being valid members of the library staff as a whole. Finally, she listed respect for the professional standing of children's librarians. She worked at training children's librarians and wanted to ensure that they had expertise in children's books and reading and that this expertise was recognized and valued.
During Moore's career at the New York Public Library, she significantly impacted the children's book industry. She reviewed children's books, starting with "The Three Owls" column in The New York Herald Tribune. Moore published book lists, such as "Seven Stories High" in 1932 and "Holiday Books for Boys and Girls," which started in 1912. She used her power as a reviewer and children's book critic to determine which books were fit for publishing and purchase. She may have even influenced which books won awards. Moore was instrumental in establishing the Newberry and Caldecott Medal awards and often the awards went to authors and illustrators with which she had corresponded or which she had favorably reviewed. Moore networked with a large number of children's book authors, illustrators, editors, publishers, booksellers, and librarians. She would offer advice to them, advising them on what sorts of books were needed and which ones did well in the library. To some extent she even acted as a literary agent, connecting and mentoring different people in the children's book industry.
Moore was firm and unyielding in her opinions. She considered herself to have all of the answers and often made harsh judgments. When she did not like a book she would pronounce it "trash" or "truck."Naturally, her advice was not always well received, and was sometimes simply wrong. The most notable, and often cited, case is that of E.B. White's Stuart Little. Moore had often communicated with the Whites, but upon reading the book found it disappointing and recommended that they withdraw its publication, rather than enduring the embarrassment she was convinced it would bring. She never officially reviewed the book, but, according to White, told them it was unfit for children. Another instance was the Little House books by Laura Ingalls Wilder. When the publisher approached Moore, she refused to talk to him directly, instead making him speak through Nicholas Knickerbocker, a little wooden Dutch doll who often accompanied her. Moore also disliked Charlotte's Web and Goodnight Moon, while lauding A Hole in the Wall by Rene d'Harnoncourt, and other books which have since been lost to obscurity.
Anne Carroll Moore had a lasting impact in transforming children's libraries and the children's book publishing industry. During her career at the New York Public Libraries she oversaw children's library services, founded Children's Book Week, and was a strong voice in determining which children's books would be written and read. She was firm in her beliefs about the value of children and about what constituted well-written children's books. While her judgments weren't always perfect, she raised the standards for children's literature and helped to make modern children's libraries possible. 
Sources
Bader, Barbara. Only the Best: The Hits and Misses of Anne Carroll Moore. Horn Book Magazine, vol. 73520 - 528. Published September/October, 1997. Library Literature & Information Science Full Text.
Cummins, Julie. Moore than Meets the Eye. School Library Journal, vol. 45, no. 726 - 29. Published July, 1999. Library Literature & Information Science Full Text.
Martens, Marianne. The Librarian Lion: Constructing Children's Literature Through Connections, Capital, and Criticism (1906-1941). Journal of Education for Library & Information Science, vol. 54, no. 4307 - 319. Published 2013. Library Literature & Information Science Full Text.
Martens, Marianne. LINWORTH/ALISE 2010 Youth Services Paper. Library Media Connection, vol. 30, no. 142 - 46. Published August/September, 2011. Library Literature & Information Science Full Text.
McElderry, Margaret K.. Remarkable Women: Anne Carroll Moore & Company. School Library Journal, vol. 38156 - 162. Published March, 1992. Library Literature and Information Science Full Text.
Image Sources
"Anne Carroll Moore 1914" is in the public domain. Accessed via Wikimedia Commons.

"New York Public Library 1908c" is in the public domain. Accessed via Wikimedia Commons.

"003" by nycscout is licensed under CC BY-NC-ND 2.0

Additional Information