Western University (1865-1943)
Introduction
Western University, a historically Black college, was among the first Black schools west of the Mississippi River and the only one in Kansas. Originally established to educate the children of formerly enslaved Black residents in the town of Quindaro, Western University became famous for its music school, producing several women graduates who went on to do groundbreaking work in the fields of music composition and performance. Today, only ruins remain of Western University and the surrounding town.
Images
Ward and Parks Hall on Western University campus, ca. 1925.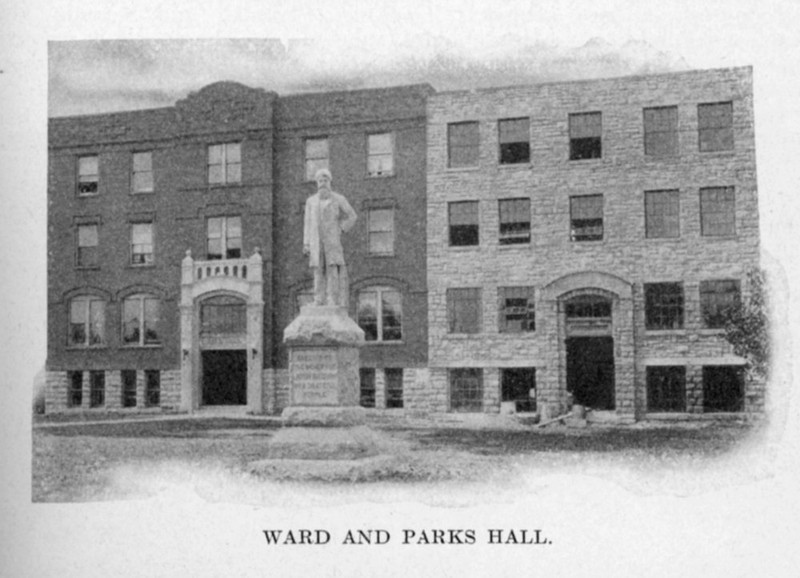 Western University was established as the Quindaro Freedman's School and was the only historically Black college in Kansas.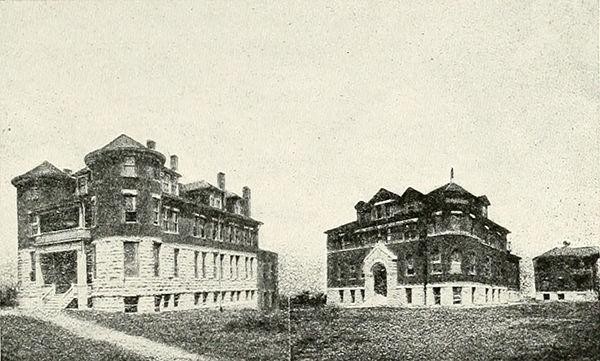 Students at Western University

Various halls, none of which exist today. The only thing that remains today is the John Brown statue in front of Ward Hall.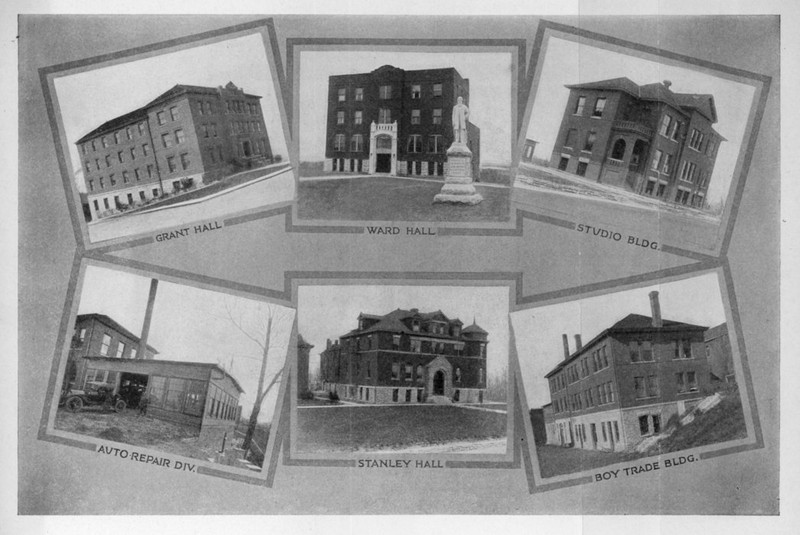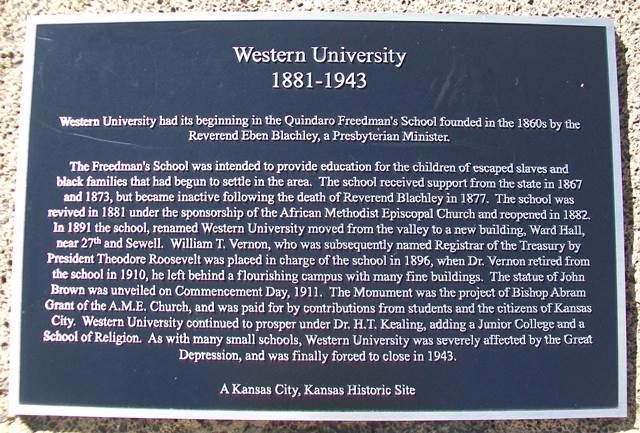 Graduates of Western University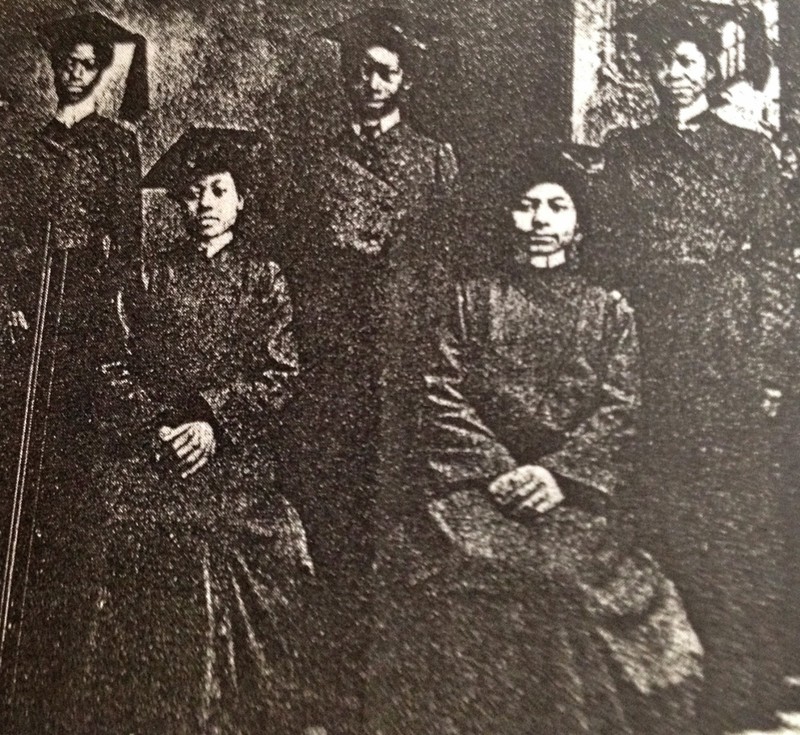 This statue of John Brown at Western University was dedicated in 1911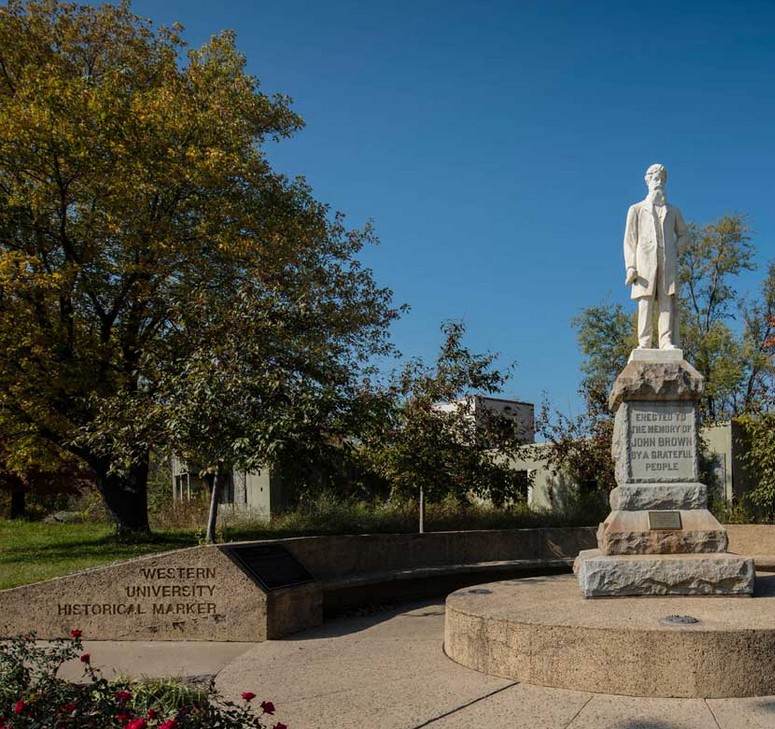 Students of the music department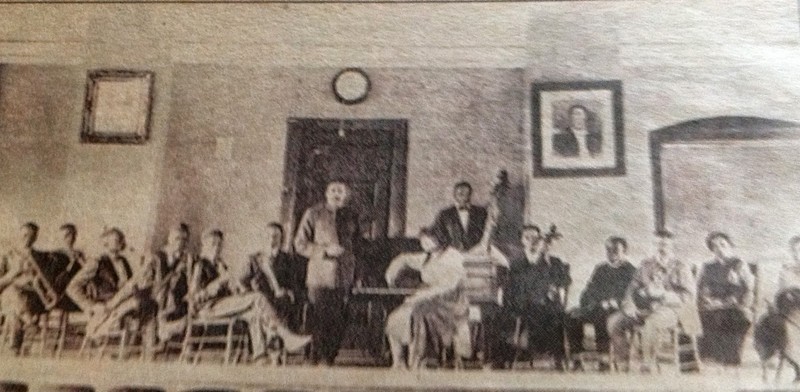 Cornerstone of Ward Hall, one of the only remaining pieces of the campus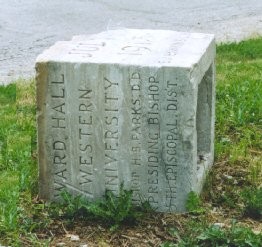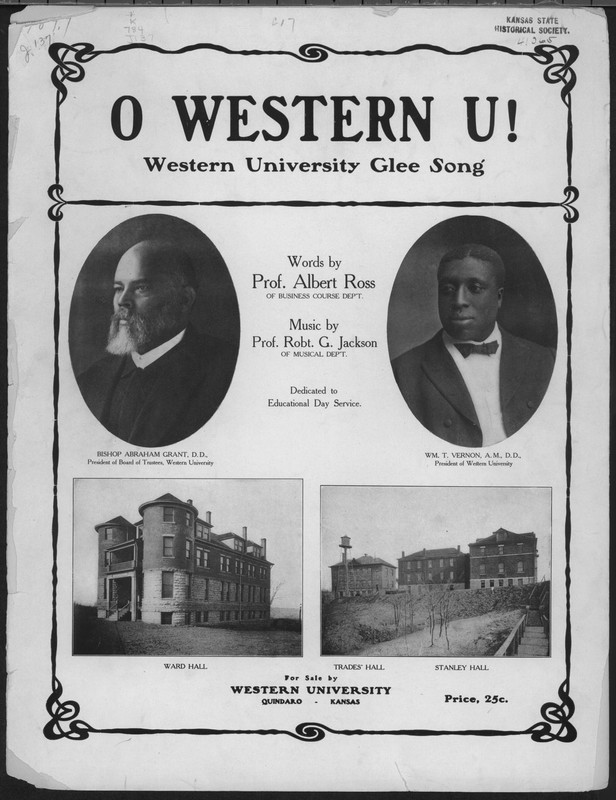 Backstory and Context
The town of Quindaro was founded by abolitionists in 1856 and served as a crucial station on the Underground Railroad, helping people escaping slavery to cross the Missouri River into Kansas. The town's population quickly reached about 600 but sharply declined due to economic depression and the Civil War, which recruited many of the town's men to the Union Army. Quindaro was abandoned and eventually became known as a ghost town. The longest-standing cornerstone of Quindaro was Western University, which outlived the town by several decades and stood open until 1943. 
The school began with classes in the home of Presbyterian minister Eben Blachly to educate Quindaro's children, and in 1865 it was registered with the county as a formal school, known as the Quindaro Freedman's School. By 1872, the school had received state funding to establish itself as a four-year normal school to train teachers, and its first principal was Charles Henry Langston, grandfather of poet Langston Hughes. In addition to state funding, the school was supported by funds from Eben Blachly and, later, the African Methodist Episcopal Conference, which helped to establish a theological seminary at the university.
Although Western University was established as a normal school, its music school was what made it famous. Starting in 1903, it was led by Robert G. Jackson of the Jackson Jubilee Singers, a popular group that toured the nation, spreading awareness of the university and raising funds. The music school's rigorous programs and the fame of the Jackson Jubilee Singers attracted numerous talented students, many of whom went on to illustrious careers, including Nora Douglas Holt, Eva Jessye, and Etta Moten Barnett. 
The Great Depression was the beginning of the end for Western University, which saw its funding dwindle and enrollment plummet. By 1942, the graduating class had fallen to just six, and Western University was formally closed in June of 1943. 
Over the years, the university's buildings were destroyed by fire, and the only part of Western University that still stands today is a 1911 statue of abolitionist John Brown. The Quindaro Townsite is now an archaeological district maintained by the National Park Service, and visitors can stop at an overlook to see the ruins of the town. Visitors can also make an appointment to visit the Quindaro Underground Railroad Museum.
Sources
Everly, Steve, et al. "Resurrecting Quindaro." Flatland, 14 Jan. 2020, https://flatlandkc.org/curiouskc/raising-quindaro/. 
Kansas Historical Society. "Kansapedia: Western University." June 2010. Accessed 27 September 2019. https://www.kshs.org/index.php?url=kansapedia/western-university/15492.
Walker-Hill, Helen. "Western University at Quindaro, Kansas (1865-1943) and Its Legacy of Pioneering Musical Women." Black Music Research Journal, vol. 26, no. 1, 2006, pp. 7–37. JSTOR, http://www.jstor.org/stable/25433761. Accessed 13 Feb. 2023.
https://exhibits.lib.ku.edu/exhibits/show/education/western-university---kansas-vo
http://kansastravel.org/kansascitykansas/quindaro.htm
Ziegler, Laura. "Advocates Say Consensus Over Quindaro Ruins May Finally Lead To Preservation." 19 April 2018. Accessed 27 September 2019. https://www.kcur.org/post/advocates-say-consensus-over-quindaro-ruins-may-finally-lead-preservation#stream/0.
Collins, Steve. "Western University (1857-1943)." 18 July 2012. Accessed 27 September 2019. https://www.Blackpast.org/african-american-history/western-university-1857-1943/.
Walker-Hill, Helen. "Western University at Quindaro, Kansas (1865-1943) and Its Legacy of Pioneering Musical Women." Black Music Research Journal, 26, No. 1 (Spring, 2006): 7-37
Kansas Public Library. "Quindaro Virtual Tour." March 2000. Accessed via the WayBackMachine, 27 September 2019. https://web.archive.org/web/20020208170004/http://www.kckpl.lib.ks.us/kscoll/lochist/quindaro/TOUR1.HTM .
Image Sources
kansasmemory.org, Kansas Historical Society

http://www.communityvoiceks.com/news/featured_stories/quindaro-freedman-s-school-was-kansas-historically-black-university-hbcu/article_c1c0c896-cf80-11e5-b8af-07f1814790b8.html

https://www.kshs.org/index.php?url=kansapedia/western-university/15492

https://www.kshs.org/index.php?url=km/items/view/312290

https://www.hmdb.org/marker.asp?marker=69459

http://piferpost.blogspot.com/2014/06/tracing-footsteps-of-daringrunaway.html

https://www.visitkansascityks.com/sp/family_heritage_2017/

http://piferpost.blogspot.com/2014/06/tracing-footsteps-of-daringrunaway.html

https://web.archive.org/web/20020208172432/http://www.kckpl.lib.ks.us/kscoll/lochist/quindaro/TOUR6.HTM#S1

Additional Information