Percival Hall and Allen Hall
Introduction
Soon after it completed new facilities for the Colleges of Agriculture and Engineering on the Evansdale Campus, West Virginia University moved forward with plans for Percival Hall as the new home of the Division of Forestry. Construction finished in 1965, and four years later the building was expanded with an addition known as Allen Hall. Both buildings opened with different names and gained their monikers in 1973. The former is named in honor of Walter Clement Percival, the founder and first director of the Division of Forestry. The second is named for James E. Allen, Jr., a West Virginia native and the Commissioner of Education for President Richard Nixon. Through their associations with these individuals, Percival and Allen Halls connect the site to both the history of natural resources management in West Virginia and the history of school desegregation nationwide. The connected structures currently house the Division of Forestry and College of Education and Human Services respectively, both of which are open during regular university hours.
Images
Architect's drawing of Percival Hall and Allen Hall. Percival Hall was constructed in 1965, Allen Hall four years later.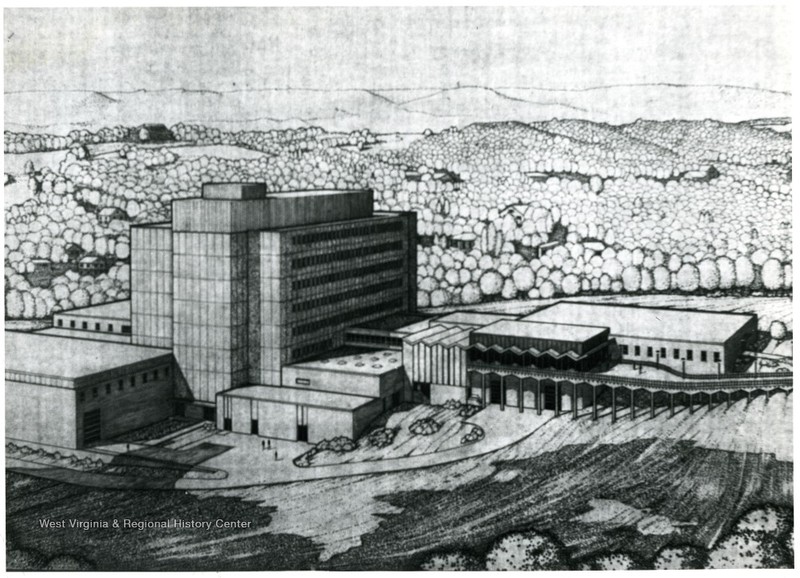 Photo of Percival Hall, circa 1965-1971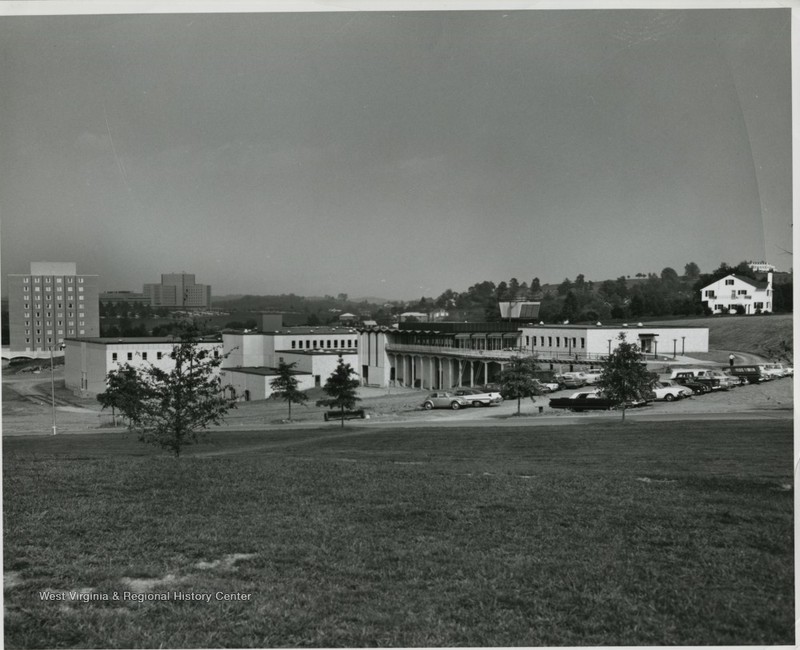 Current photo of Allen Hall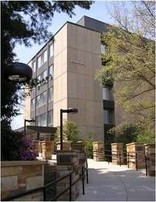 Backstory and Context
As West Virginia University began to expand with the growth of higher education after World War II, student housing and classroom facilities on the school's campus in downtown Morgantown quickly began to prove themselves inadequate. While the university purchased the land upon which its satellite Evansdale Campus eventually stood in 1948, however, it would take over a decade before it finished construction on the first facilities there. The new Evansdale Campus was intended to serve as the new home of the university's Colleges of Agriculture and Engineering, which moved onto the campus in 1961. Four years later the Division of Forestry (part of the College of Agriculture) moved to the recently constructed Percival Hall, and fours years after that the College of Education and Human Services followed it to an addition to the building that came to be known as Allen Hall. In 1973, the conjoined buildings were renamed along with two other university buildings. Percival Hall was named for Walter Clement Percival, founder and first director of the Division of Forestry, who was largely responsible for the department's success and growth in its earliest years. Allen Hall, meanwhile, was named for James E. Allen, Jr., a native of Elkins, West Virginia who briefly served as Commissioner of Education for Richard Nixon before resigning over disagreements regarding Nixon's slow-paced approach to school desegregation.
While West Virginia University was originally founded as the "Agricultural College of West Virginia" in 1867 and the College of Agriculture has continued to be one of its most impactful departments since, it would take over sixty years before the school branched into the study of forestry. The impetus behind the establishment of the Division of Forestry at WVU was rooted largely in several decades of growing support nationwide for the movement toward forest conservation in the face of widespread deforestation. It would take a final push from College of Agriculture faculty member Walter Clement Percival in 1934, however, for the university to approve the creation of a Division of Forestry. When it did so the following year, Percival moved quickly to develop a four-year curriculum in forestry emphasizing responsible timberland management. As part of his efforts Percival secured the lease for 7,400 acres of forested land at nearby Coopers Rock for use by students as the University Research Forest, which remains under the management of the Division of Forestry to this day. Through such endeavors, Percival was able to mold his department into one of the most successful at the university, so successful in fact that within a few short decades its growth merited a move to new facilities. These facilities, constructed on the new Evansdale Campus in 1965, were named after the man who made it all possible eight years later in 1973.
Percival Hall's neighbor, Allen Hall, gained its name the same year. Unlike Percival Hall, however, Allen Hall's namesake James E. Allen, Jr. is associated not with the university or the building's occupant (the College of Education and Human Services) but with the broader history of the state and nation. Born in Elkins, West Virginia in 1911, Allen earned his bachelor's degree from Davis and Elkins College in 1932 (where his father served as president) and his Ph.D. in education from Harvard University in 1945. Allen then went on to join Department of Education in New York, where he became the state's Commissioner of Education in 1955. During his time as head of the education system in the state Allen took a firm stance in favor of the desegregation of New York's public schools, a decision that at the time earned him equal parts praise and condemnation. His work there brought him national attention and in 1969 he joined the administration of President Richard Nixon, first as Assistant Secretary of Education and then as U.S. Commissioner of Education. When Nixon chose to abandon the aggressive desegregation policies of his predecessor President Lyndon B. Johnson in an effort to avoid alienating his more conservative supporters, Allen chose to resign in protest. He died the following year at the age of seventy and received numerous posthumous awards in recognition of his outspoken support for desegregation. Among those honors was the naming of Allen Hall on Evansdale Campus two years after his death.
At the time of its renaming, Allen Hall's occupant (the College of Education and Human Services) already had a well-established history at the forefront of its field. Before its move to Evansdale Campus in 1969 the college occupied Woodburn Hall on the downtown campus, from which it worked to develop cutting-edge curriculum reforms based on its research at University High School (a "laboratory school" founded by the college in 1925 to service rural areas in Monongalia County). Its expansion in the 1960s to include the Division of Clinical Studies (made up of several departments, among them counseling, social work, and home economics) drove the university to approve the construction of new facilities for the college. Like the Division of Forestry, the expansion of the College of Education and Human Services translated into new headquarters on a new campus. It moved into Percival Hall's addition in 1969, and once there joined its long history of educational reform to the name of an individual that privileged principles over politics. Like Percival Hall, Allen Hall's name connects the college inside it to much broader historical processes. Together, both draw the university and Evansdale Campus into a web of such processes across the state and the nation.
Sources
"Bidding in February $10-Million Plant on Evansdale Tract." The Morgantown Dominion News, August 13, 1958.
"Biography of James E. Allen." James E. Allen Personal Papers, 1955-1971. Accessed August 17, 2019. http://www.nysl.nysed.gov/msscfa/sc20854.htm.
"Biography of W. Clement Percival." Agriculture.WV.gov. Accessed August 17, 2019. https://agriculture.wv.gov/divisions/executive/WVAFHOF/Documents/biosNEW/Percival, W. Clement '77.pdf.
"College History." College of Education and Human Services. Accessed August 17, 2019. https://cehs.wvu.edu/about/college-history.
"Four Buildings Renamed on 'U' Campus." The Morgantown Dominion News, May 2, 1973.
Lewis, Ronald L.. Aspiring to Greatness: West Virginia University Since World War II. West Virginia University Press, 2013.
Mcandrews, Lawrence J. "The Politics of Principle: Richard Nixon and School Desegregation." The Journal of Negro History83, no. 3 (1998): 187-200.
Image Sources
West Virginia and Regional History Center

College of Education and Human Services

Additional Information