Circuit Rider statue
Introduction
Monument honoring mid-19th-century Christian ministers who served multiple congregations in communities spread over significant distances on the Oregon frontier. Sculpted by A. Phimister Proctor, it depicts itinerant minister Robert Booth.
Images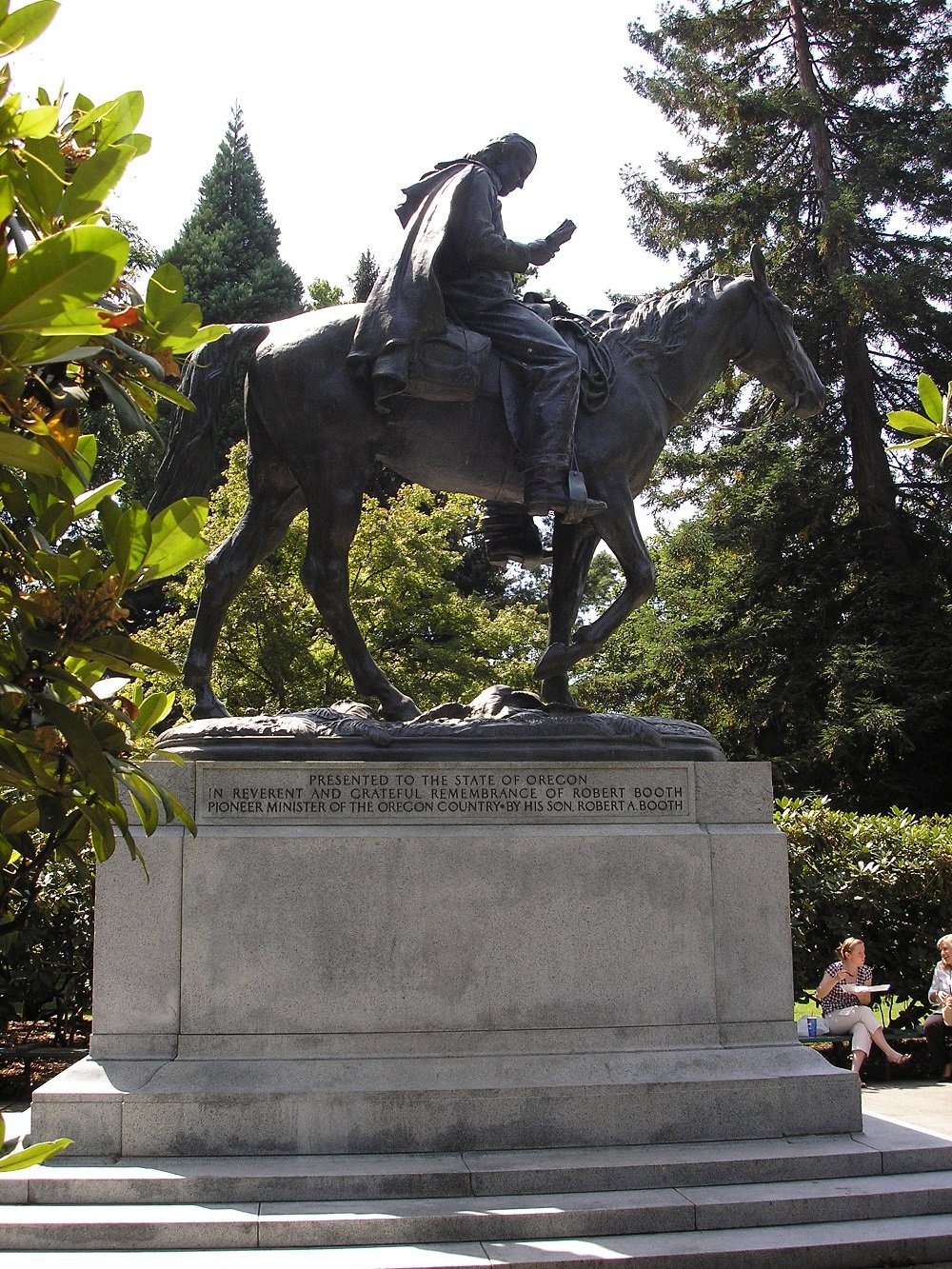 Backstory and Context
Eugene businessman and former senator Robert Asbury [R.A.] Booth commissioned this heroic-sized statue to commemorate the mid-19th-century Christian missionaries who served multiple congregations in rural communities spread over significant distances on the Oregon frontier. Many rode a "circuit" on horseback, visiting a different congregation each Sunday.

This monument depicts the donor's father, Robert Booth. Robert Booth had been a Methodist circuit rider. The Booth family migrated west on the Oregon Trail in 1852. Robert and one of his sons became gravely ill while on the trail. His wife made him promise that if God delivered him from death, Robert would become a Christian preacher once they settled in Oregon. Robert served as a circuit rider in the Willamette Valley, eventually covering seven counties.

The statue was sculpted by prominent western sculptor A. Phimister Proctor. It portrays an aging minister who studies his Bible while riding atop a plodding horse. Proctor also sculpted the Pioneer and Pioneer Mother on the University of Oregon campus in Eugene and the equestrian Pioneer Mother in Kansas City, Missouri.

An estimated 5,000 people attended the statue's 1924 dedication in front of the state capitol. It was moved a short distance to the east side to accommodate the construction of a new capitol the following decade. It was then reoriented in January 1953 so that the circuit rider would be facing westward. A falling tree knocked over by the Columbus Day storm on October 12, 1962, severely damaged the statue. Artist James Lee Hanson restored the statue, sculpting a new head for the rider.
Sources
Proceedings at the Unveiling and Dedication of the Circuit Rider. 1924.

Proctor, Alexander Phimister. Edited by Katharine C. Ebner. Sculptor in Buckskin: The Autobiography of Alexander Phimister Proctor. Norman, Oklahoma. University of Oklahoma Press, 2009. 2nd edition

Hassrick, Peter H.. Wildlife and Western Heroes: Alexander Phimister Proctor, Sculptor. Fort Worth, Texas. Amon Carter Museum, 2003.

Broder, Patricia Janis. Bronzes of the American West. New York. Harry N. Abrams, Inc., 1974.

Prescott, Cynthia Culver. Pioneer Mother Monuments: Constructing Cultural Memory. Norman, Oklahoma. University of Oklahoma Press, 2019.

Zimmerman, Andy. "Heritage: Statue's trip a head above the rest." Statesman Journal (Salem) April 09, 2018. https://www.statesmanjournal.com/story/life/2018/04/10/heritage-statues-trip-head-rest/33695947/


Additional Information