Sally McCoy Historical Marker
Introduction
Sarah Elizabeth McCoy, nicknamed "Sally" by her mother, was the daughter of Roseanna McCoy and Johnse Hatfield, a young couple who were each on opposing sides of the infamous Hatfield and McCoy feud. Sally was born in February of 1881 and resided with her mother and her great-aunt, Betty McCoy, with whom her mother stayed after being disowned by her family for having an affair with a member of the Hatfield family. A few months after being born, Sally fell gravely ill. She died later that same year, at only eight months old, and was buried near the home where she lived and alongside the final resting place of her mother in a plot adjacent to the McCoy Cemetery.
Images
Historical marker for Sally McCoy's grave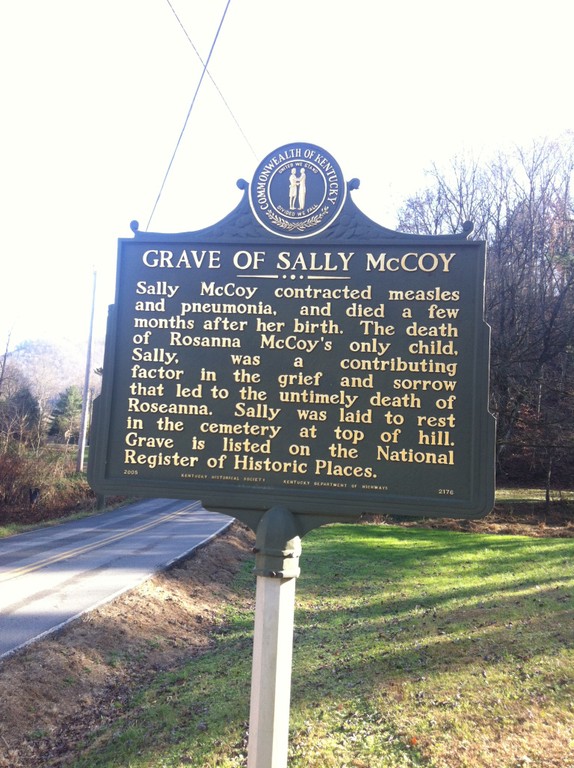 The steps, near Betty McCoy's home, which lead up to Sally's grave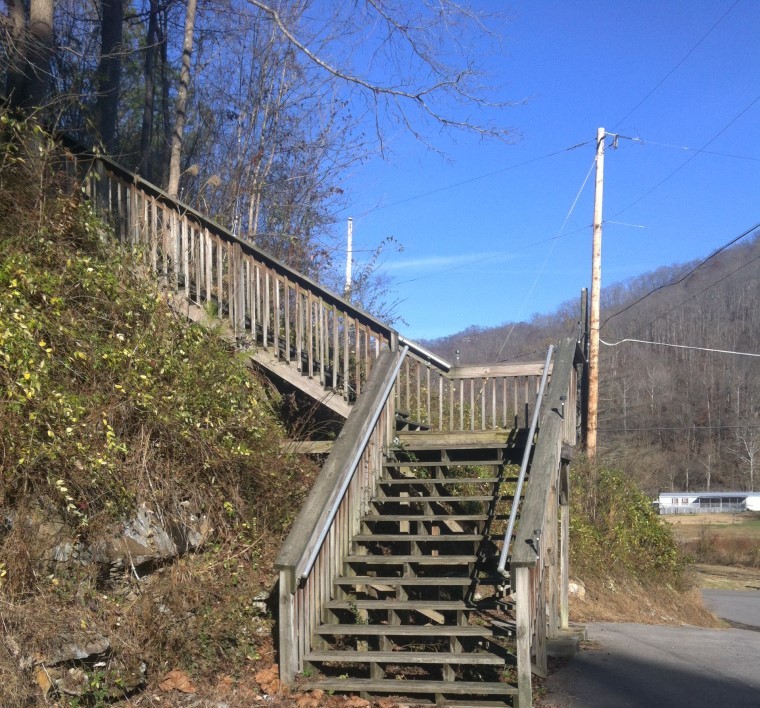 The second level of steps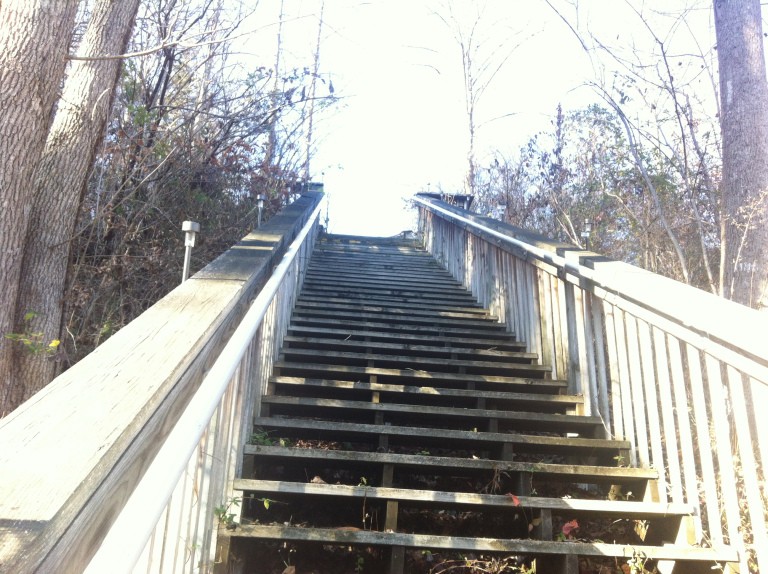 The tombstone/grave site of Sarah Elizabeth "Sally" McCoy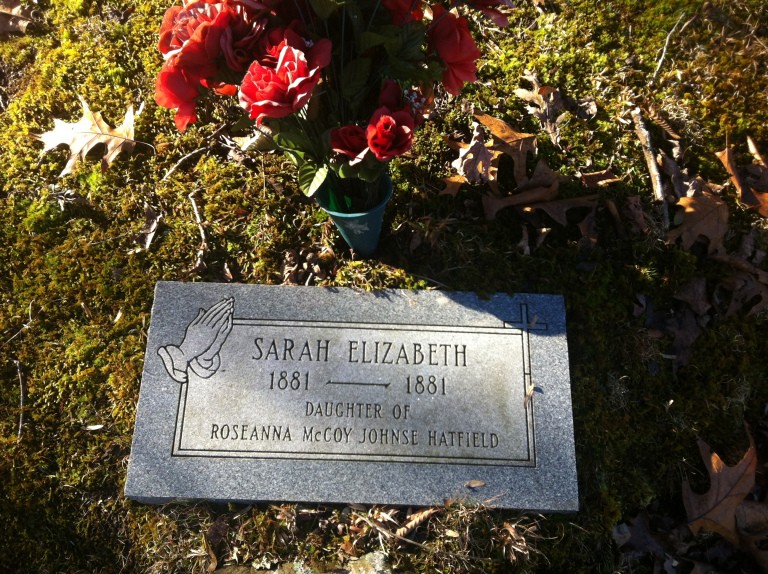 A sign shares the story of Sally McCoy who is buried close to the official McCoy Cemetery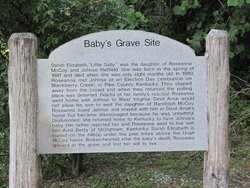 A closer look at the sign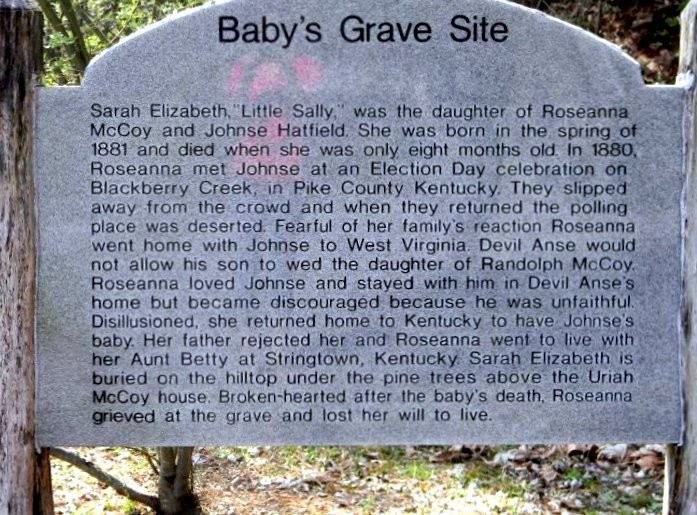 Backstory and Context
In 1880, Roseanna McCoy, the daughter of Randolph McCoy, met Johnse Hatfield, the son of Anderson "Devil Anse" Hatfield, on Blackberry Creek in Pikeville, Kentucky, during a party thrown to celebrate the ongoing election. Soon after meeting, the two stole away to be together. When they returned, the polling places and the party were both deserted. Roseanna realized that someone must have noticed the coinciding absences of herself and Johnse, and her father's inevitable fury and disappointment with her kept her from returning home. Instead, at the behest of Johnse, who promised he loved her despite only spending a few hours with her that same day, Roseanna returned home with him and began living at the Hatfield residence in West Virginia.

During her time with Johnse, neither his father nor her own would consent to the two marrying. This, coupled with Roseanna's discovery that Johnse had been habitually unfaithful to her, engaging in multiple relationships with other women which, led Roseanna to abandon him and return home to her family in Kentucky. When she returned, she was homeless and pregnant with Johnse's child. This did nothing to gain her the sympathy of her father and brothers, however, who deemed her actions to be the ultimate betrayal and thus refused to allow her to return. Roseanna's mother, Levisa, however, felt sympathy for her daughter and her plight and quietly arranged for Roseanna to live with Betty McCoy, Roseanna's aunt, in Stringtown, Kentucky.

A few months into her stay at her aunt's house, in February of 1881, Roseanna gave birth to her child, a girl she named Sarah Elizabeth. It is believed that her daughter's middle name was a tribute to Betty in thanks for taking Roseanna in when no one else would. Roseanna nicknamed her daughter "Sally," a moniker which stuck and has since been used in accounts of the infant's life. Roseanna and Sally continued living with Betty even after the latter's birth, with the job of raising Sally being shared between the two older women. A short time after her birth, Sally fell deathly ill from what is believed to be a combination of pneumonia and the measles. Despite efforts to nurse her back to health, Sally was unable to recover and died later the same year she was born at only eight months of age. After her death, Sally was buried a short distance away from the home she was born and lived in, on a nearby hilltop. The grave site is marked by a sign which designates its status as a state historical landmark, and can be reached by climbing up a two-level, 130 step staircase located near the Betty McCoy home along Stringtown Road in the Burnwell area of Pike County, Kentucky. The grave is within view of the remainder of the McCoy cemetery and is located amid the graves of other infants. It easily accessible to tourists.



Sources
Grave Finder. Kentucky Burial Records. Accessed June 03, 2019. https://www.findagrave.com/memorial/90983033/sarah-elizabeth-hatfield.

Hatifeld-McCoy Baby Grave. Roadside America. Accessed June 04, 2019. https://www.roadsideamerica.com/story/48376.

King, Dean. The Feud: The Hatfield and the McCoys, The True Story. Little, Brown, and Company, 2014.

Waters, Tony. Hatfield & McCoy Feud. Ethnography.com. April 17, 2015. Accessed June 02, 2019. https://www.ethnography.com/2015/04/hatfield-and-mccoy-feud-the-real-thing/.


Additional Information