Saint Joseph's History Society of South Camden
Introduction
This baroque-style century-old church was designed by renowned architect George I Lovatt, containing magnificent stained glass windows, Polish-inspired elements and nearly 100 relics, including one of St John Paul II. Because of its unique architecture and strong Polish ethnic community for over a century St Joseph's Church is on the New Jersey and National Registers of Historic Places.
Images
Recent interior view of St Joseph's Church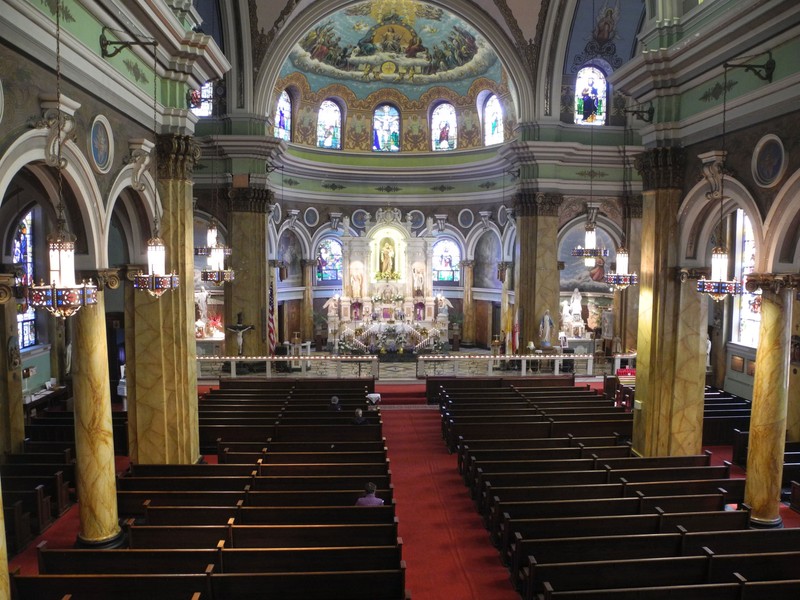 View of St Joseph's Church from Liberty Street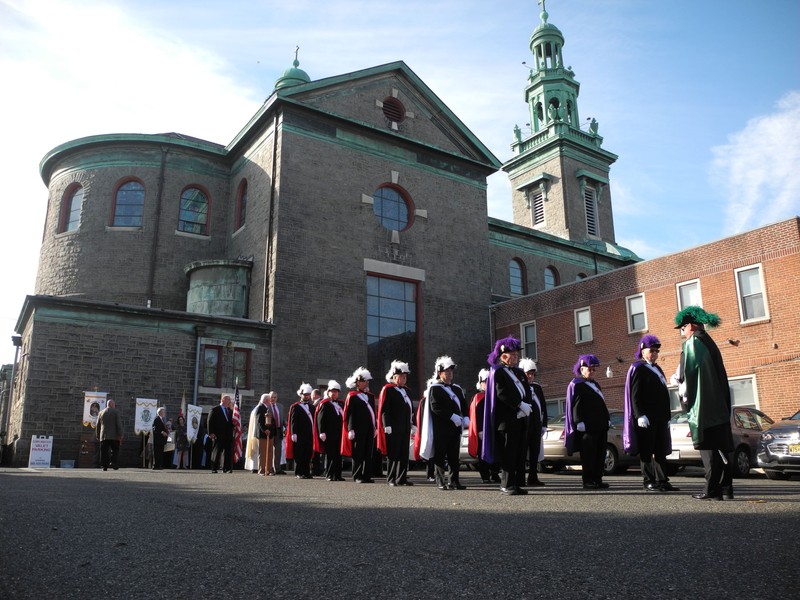 Tower of St Joseph's Church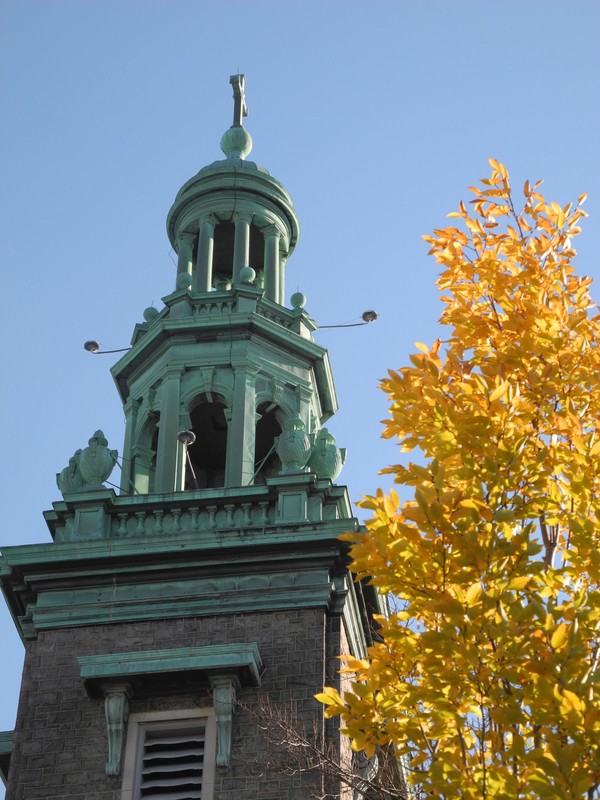 Stained glass window depicting St Stanislaus Kostka with baptismal font in foreground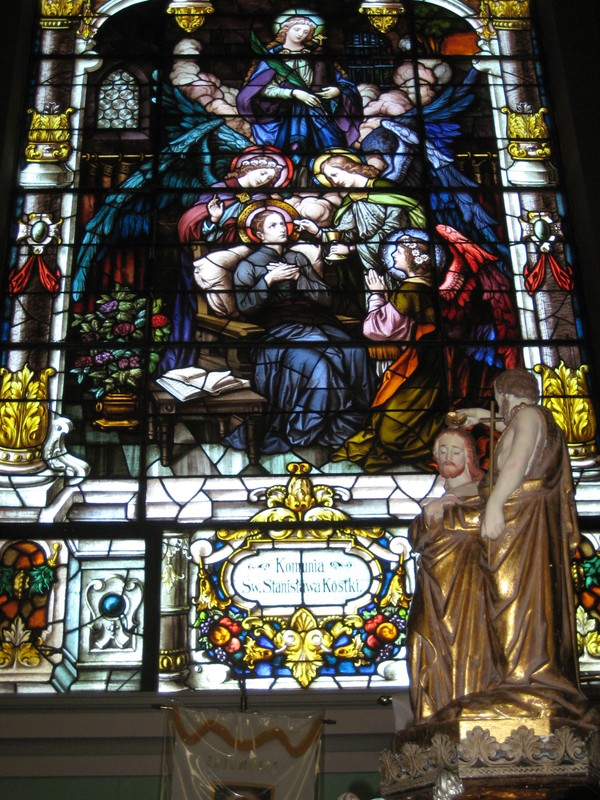 Early photograph of St Joseph's (Polish) Roman Catholic Church shortly after its completion in 1914.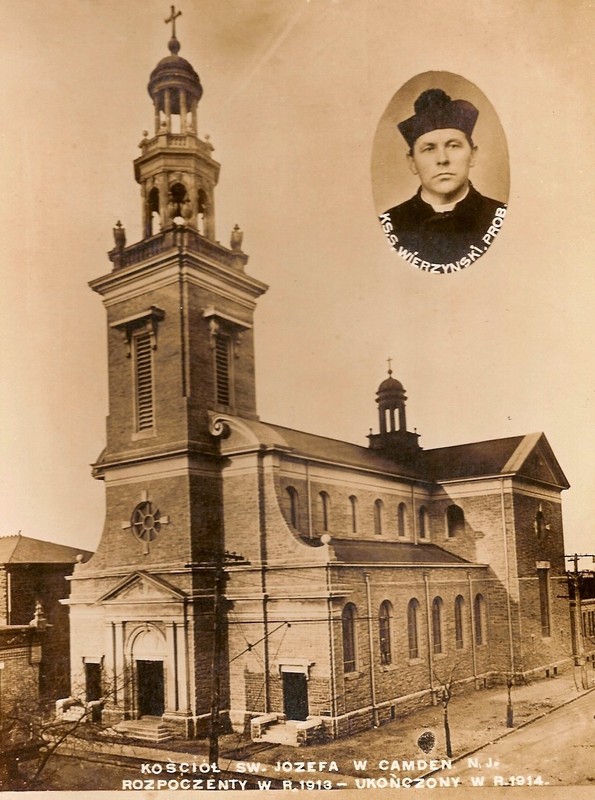 Backstory and Context
St Joseph's Parish began in 1891 when a group of Polish immigrants won the battle to organize and establish a Polish Roman Catholic church and parish in South Camden. On October 24, 1892, St Joseph's Church was officially incorporated and a one-story structure was rented on Broadway near Kaighn Avenue for use as a temporary church.
A tract of land was purchased at 10th and Liberty Streets and by 1895 a combination church-school building was completed. Philadelphia architect George I. Lovatt subsequently designed a Baroque-style church which was constructed in 1913 at 10th and Mechanic Streets (the present site). In May 1914, the new church was consecrated.
The exterior of the church is comprised of metallic gray New Hampshire granite. A Romanesque entrance follows the traditional styling popular in the 16th and 17th centuries. The interior of the church has a 63-foot-high arched ceiling nave, separating two arcades that are supported by pillars. The apse is crowned by a lofty half-rounded cupola above the center altar. Two other altars stand in niches to either side of the main altar. Facing the three altars is the choir gallery or organ loft from where a panoramic view of the interior resembles a cross.
The church could seat 1,000 people and cost $100,000 to build. In later years, stained-glass windows were donated as memorials and the interior was painted. Most of the windows are in the Munich or German style of glass that was favored by Catholic churches when the church was built. The original pipe organ was rebuilt by the Mudler and Hunter firm of Philadelphia in 1972. The instrument consists of 15 "ranks" or sets of pipes totaling over 900 pipes ranging in size from about 1 inch to 8 feet in length. The sound of the organ is greatly amplified and enhanced by the superb acoustics of the church.
There are approximately 90 first class relics on the altar rail (A first class relic is the saint's physical remain, usually a bone fragment, lock of hair, piece of skin or drop of blood). These relics were given to St Joseph's parish by the family of Fr Anthony Cecich after he died in 1992. Fr Cecich was a Croatian priest who immigrated to the US after World War II and served in the Camden Diocese. He collected the relics over various trips in the 1950s and 1960s. The altar rail cases containing the relics were commissioned by Fr Pawel Kryszkiewicz, former pastor. They were made in Poland and were installed here in 2016. A first-class relic (a drop of blood) of St John Paul II was received from Cardinal Dziwisz of Kraków in 2012 and is located on the side altar dedicated to the Blessed Mother.
The three bells in the tower, dedicated December 2, 1917, have been restored. The quarter-ton bell is named Mary; the half-ton bell is named John; the one-ton bell is Adalbert. In 2017, St Joseph's was designated the Polish Apostolate of the Diocese of Camden and merged with the parish of The Cathedral of the Immaculate Conception. At St Joseph's Church, a weekly bilingual (Polish-English) Mass is held each Sunday at 10:00 AM and Polish cultural events take place throughout the year.
Additional Information