Zachary Taylor Wellington House
Introduction
The Zachary Taylor Wellington House was built in 1847 by local carpenter Erastus Wellington. His son Zachary Taylor Wellington inherited the home in the 1870s and heavily remodeled it, giving the house a Folk Victorian appearance. Zachary was notably one of the few Republican politicians to hold office in West Virginia following the restoration of voting rights to ex-Confederates, who quickly took over most elected positions, in 1871. Wellington served variously as county assessor, deputy sheriff, town treasurer, and postmaster. Today the house remains a private residence, and has largely been restored to its 1870s appearance. It was added to the National Register of Historic Places in 2008.
Images
Though built in 1847, the house was heavily modified in the 1870s and retains much of its features from that time period.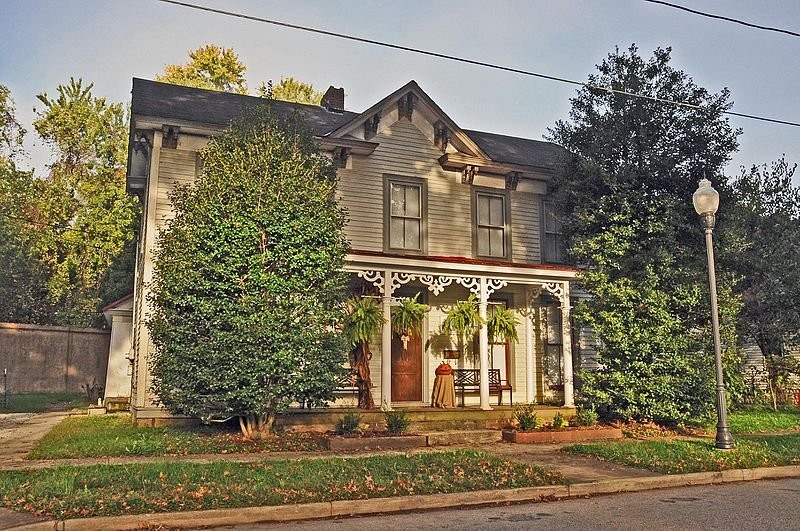 The home was restored and listed on the National Register of Historic Places in 2008.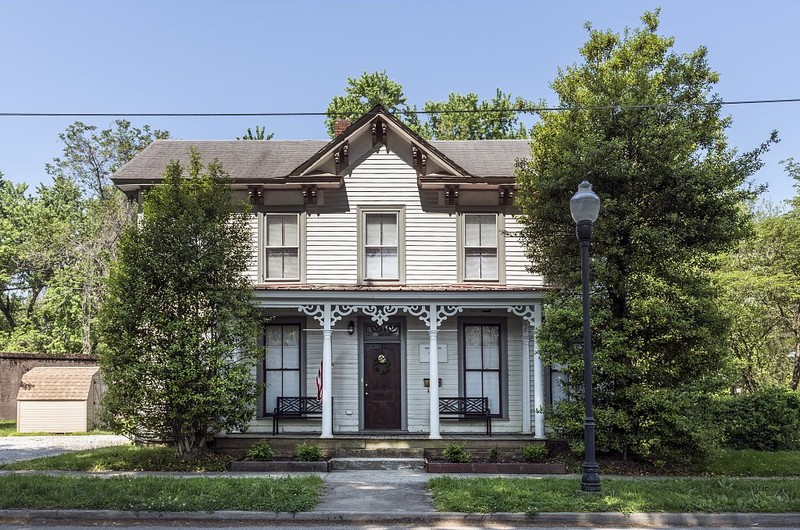 The house, pictured in 2008, before the Victorian Folk porch was restored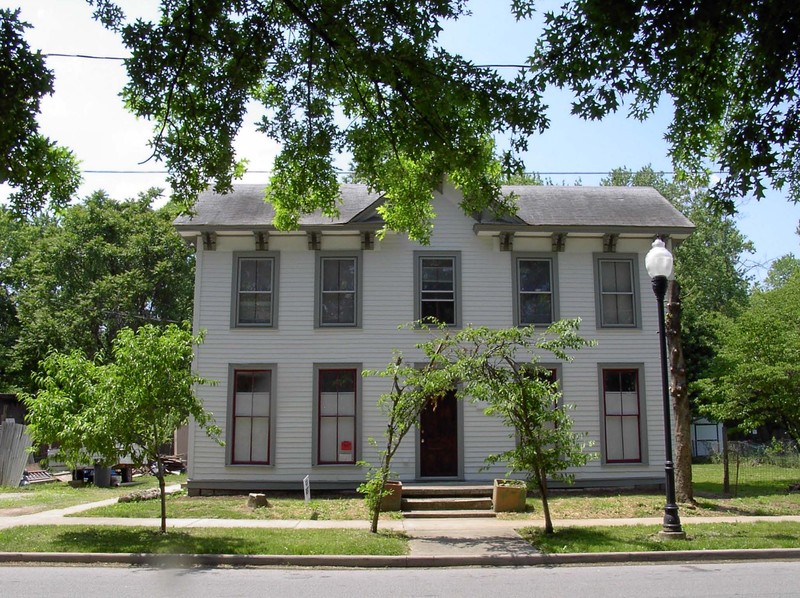 Rear view of the house in 2008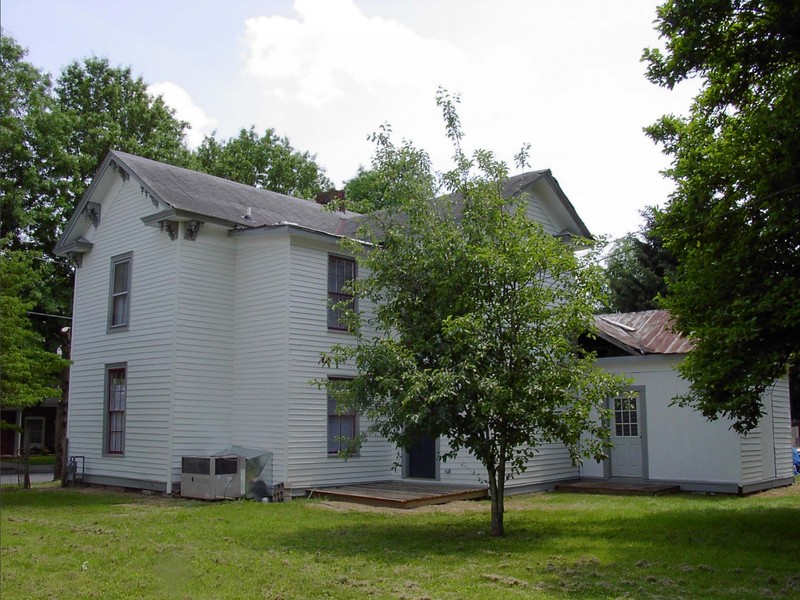 Side view of the house in 2008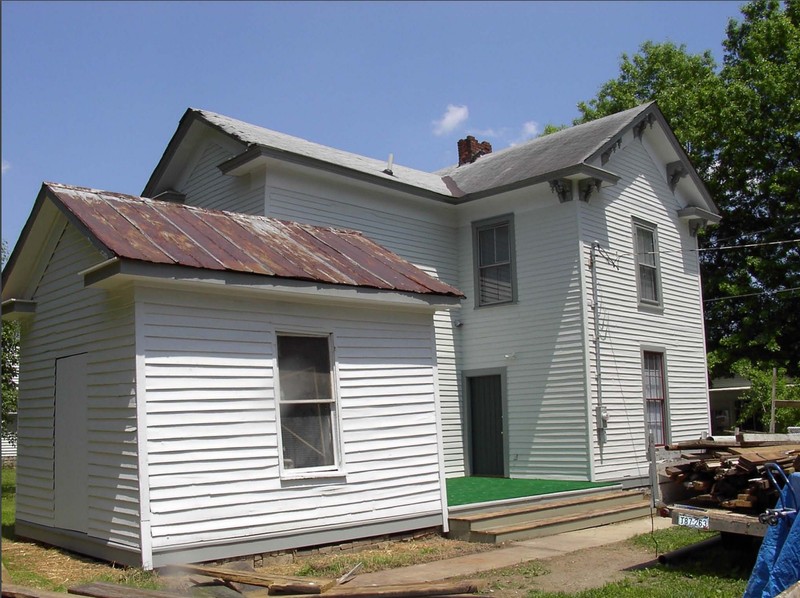 Close view of the house's entry in 2015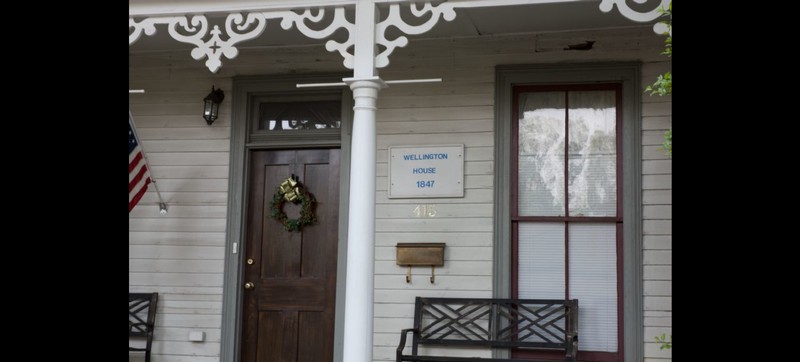 Backstory and Context
Erastus Wellington (1793-1861) was a Connecticut native who settled in Guyandotte around 1818. Wellington was a carpenter by trade, and he established a successful construction company with William Simmons and Nathaniel Wheelwright. He built his home on Main Street around 1847. Originally the home was small, with one and a half stories, and had a hall and parlor house design. Hall and parlor houses were two-room structures, with a hall in the front and a private bedroom or "parlor" in the back. After Erastus' death the house came under the ownership of his son Zachary Taylor Wellington. In the early 1870s he conducted extensive renovations, expanding the house to two stories; adding a kitchen, dining room, and bedroom; and many Folk Victorian style features.
Zachary Taylor Wellington was born in 1847 and, like his father, worked as a carpenter. Shortly after he inherited the home however, Wellington entered into politics and held a number of local offices over the following years. Wellington was unique in that he was one of the few Republicans to hold office in West Virginia after the passage of the Flick Amendment in 1871. The amendment, which restored voting rights to former Confederate supporters (who were mostly Democrats), resulted in the Democrats securing an overwhelming majority in all levels of state government. Nonetheless Wellington's opposing party affiliation did not seem to affect his political career. He served as Cabell County Assessor, deputy sheriff, a member of the common council, a member of the Board of Review and Equalization, Guyandotte town treasurer, and Guyandotte postmaster. While he was postmaster the house acted as the local post office.
After Wellington's death in 1923 the home continued to be passed down the family until a non-relative purchased it in 1959. It was eventually acquired by Karen and John Nance, historic preservationists, who restored the house to its 1870s appearance. In 2008 they had it listed on the National Register of Historic Places.
Sources
Highsmith, Carol M. "Zachary Taylor Wellington house, Huntington, West Virginia." May 8, 2015,  Accessed May 07, 2019. https://www.loc.gov/item/2015631881/. 
Jerry & Roy Klotz M.D. 11 October 2015,  Accessed May 07, 2019. https://commons.wikimedia.org/wiki/File:ZACHARY_TAYLOR_WELLINGTON_HOUSE,_HUNTINGTON,_CABELL_COUNTY,_WV.jpg. 
Miller, Michael. Zachary Taylor Wellington House. Landmark Hunter. December 16, 2014. Accessed May 07, 2019. http://landmarkhunter.com/146035-zachary-taylor-wellington-house/.
Nance, Karen. "Wellington, Zachary Taylor, House." National Register of Historic Places Registration Form. 2008. Accessed August 4, 2019. http://www.wvculture.org/shpo/nr/pdf/cabell/08001235.pdf.
Nance, Karen and Friends of the Madie Caroll House. Walking Tour of Downtown Guyandotte. Huntington, WV: The Herald Dispatch.
Image Sources
http://www.wvculture.org/shpo/nr/pdf/cabell/08001235.pdf

http://www.wvculture.org/shpo/nr/pdf/cabell/08001235.pdf

http://www.wvculture.org/shpo/nr/pdf/cabell/08001235.pdf

https://www.loc.gov/resource/highsm.31807/?r=-0.295,0,1.591,0.667,0

Additional Information