The Hayden Building
Introduction
Built by businessman Peter Hayden in 1869, the Hayden building was once the home of Hayden-Clinton Bank. Hayden built the structure to have a base for his banking business. The structure is the oldest in the Columbus Capitol Square. Known for his ironwork and brick and tile manufacturing, Hayden named an entire town after himself after placing his business there. Haydenville is along the Scioto River, and many brick structures of Haydenville still remain today.
Images
The Hayden Building in 1901.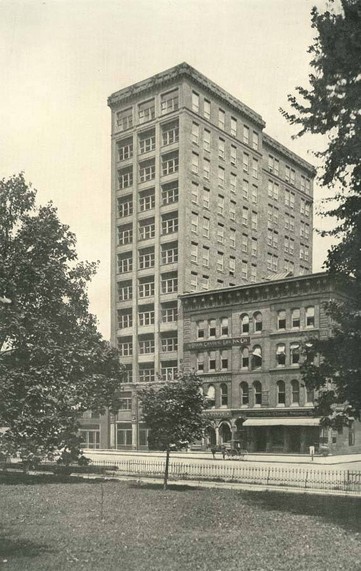 The Hayden Building and the New Hayden Building side by side in 2017.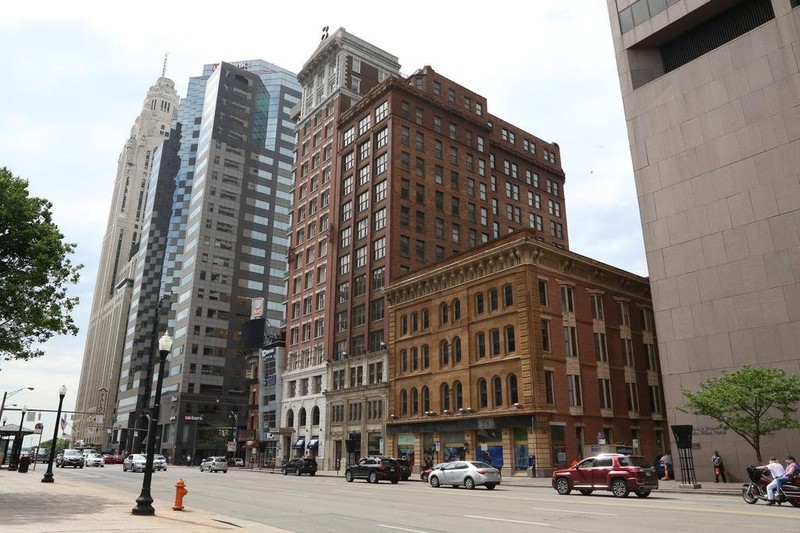 Backstory and Context
Hayden was known for iron works around the Scioto River in Columbus, Ohio. He then built the four-story Hayden building that he later ran his financial business Hayden-Clinton Bank out of. In 1906, he built the 13-story New Hayden Building next door at 16 E. Broad Street in 1901. The structure was the tallest building in Columbus, Ohio until the LeVeque Tower was built in 1926. The office building was designed by architect Frank Packard, and it housed the National Football League headquarters and offices on the 11th floor in the 1920s and 1930s.
Hayden named many places and structures after himself, such as Hayden Run that is near the Norwich and Washington towns along the Scioto River. He also named a town Haydenville after he began running his tile and brick manufacturing business out of the Hocking County town. His business went out more than 50 years ago, but many structures remain such as brick houses, a church made of mismatched bricks, and a cemetery of clay headstones.
After being closed in the early 2000s due to fire safety issues, the Hayden building is set for rehabilitation by the Tomko Co. that will be almost $20 million. The project began in 2017, and the rehabilitation will include the original Hayden building and the New Hayden building. The structure is projected to reopen as an office building complex by the end of 2019.
Sources
Rose, Marla Matzer. Historic buildings in Downtown Columbus set to be revived. The Columbus Dispatch. October 12, 2017. Accessed April 05, 2019. https://www.dispatch.com/news/20171012/historic-buildings-in-downtown-columbus-set-to-be-revived.

Navera, Tristan. Photos: Inside the historic Hayden complex on Capitol Square as it undergoes $20M rehabilitation. Columbus Business First. January 05, 2019. Accessed April 05, 2019. https://www.bizjournals.com/columbus/news/2019/01/02/photos-inside-the-historic-hayden-complex-on.html.

Darbee, Jeff. Narcissism: Thy name is Hayden. Columbus Monthly. September 22, 2016. Accessed April 05, 2019. https://www.columbusmonthly.com/article/20160922/LIFESTYLE/309229581.

Hayden, Charles H, "Hayden Building photograph." C.S. Van Tassel, 1901,
https://digital-collections.columbuslibrary.org/digital/collection/ohio/id/417

Weese, Evan. "Crane Watch." Columbus Business First, May 30, 2017, https://www.bizjournals.com/columbus/news/2017/05/30/photos-inside-a-developers-vision-for-two-historic.html#g/413307/1