Philadelphia's Labor Monument
Introduction
Artist John Kindness designed this memorial, which was dedicated to labor leaders and workers in 2010. The monument depicts farm laborers and textile workers, as well as leaders such as Eugene Debs and chemical engineer Karen Gray Silkwood, who died under mysterious circumstances after testifying before Congress about the health and safety of her fellow workers in nuclear energy. The memorial also pays tribute to organizations such as the Industrial Workers of the World (IWW) a radical labor union that was known as the "Woblies" for reasons that are still debated. The monument is located in the center Philadelphia's Elmwood Park.
Images
The memorial includes seven bronze tables that bear the image of labor leaders, organizations, and workers.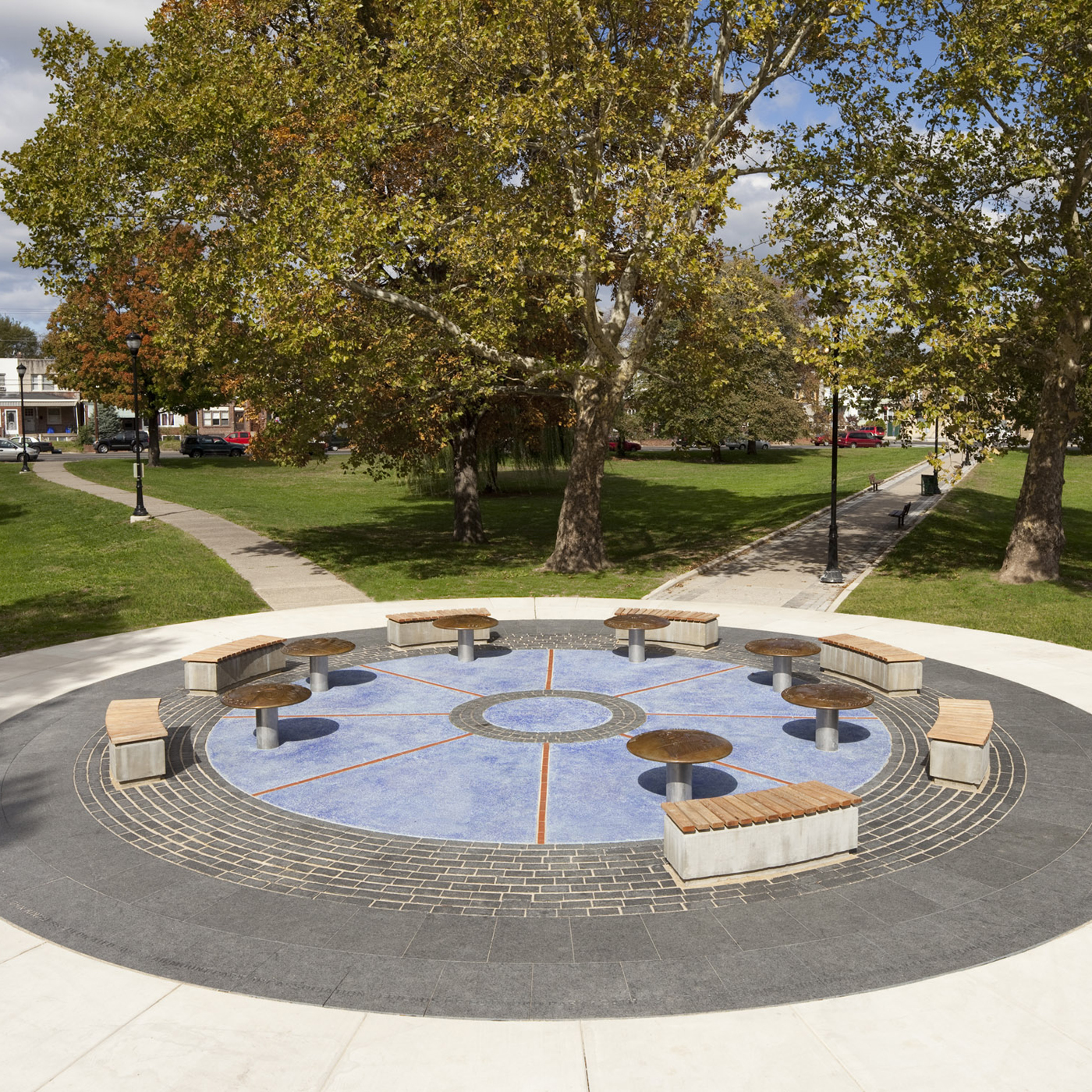 John Kindness designing the monument.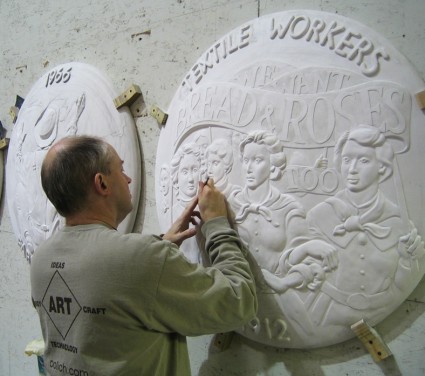 Backstory and Context
"The Labor Monument: Philadelphia's Tribute to the American Worker" was designed by John Kindness from a variety of mediums including cast bronze, exposed aggregate concrete benches, and terracotta brick. Kindness is from Belfast, Ireland, and his father was a member of the working class, which inspired Kindess's work for the monument. The public art monument was commissioned by the Fairmount Park Art Association, which is now the Association for Public Art. The monument celebrates Philadelphia's rich working-class history, as well as national organized labor. Kindness's design of seven metal tables is inspired by the buttons on work uniforms that often displayed slogans and images. The blue coloring of the pavement and bricks also represents the typical working class uniform coloring, which also derived the terminology "blue collar".
The people featured on the seven Work Button Tables are Eugene V. Debs, who organized the American Railway Union, and Karen Silkwood, the chemical engineer whose death inspired reform to protect worker's health. Some of the tables also represent movements and unions, such as, "¡Sí, Se Puede!". the United Farm Workers, Child Labor Reform, "I AM A MAN", the laborers' role in the Civil Rights Movement, "The Wobblies", the Industrial Workers of the World, and "Bread and Roses", which commemorated feminism in labor.
The Labor Monument brought a community project to Elmwood Park that contains art and history for everyone to enjoy and learn from.
Sources
The Labor Monument: Philadelphia's Tribute to the American Worker , Association of Public Art. Accessed September 30th 2020. https://www.associationforpublicart.org/artwork/the-labor-monument-philadelphias-tribute-to-the-american-worker/#about.
Image Sources
Photo Gregory Benson © 2010 for the Association for Public Art

Association for Public Art

Additional Information