Hanover House and the Colonial Dames
Introduction
From its organizing, the Spartanburg Committee, National Society of the Colonial Dames of America in the State of South Carolina (NSCDA-SC) determined to follow the main objective of the National Society's Constitution "to preserve and restore buildings connected with the early history of our country," by assisting the interior restoration and furnishing of Hanover House during the period from 1700 to 1750. 
Images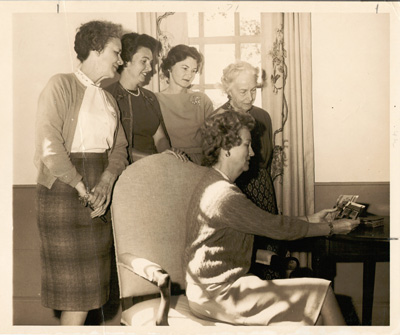 Backstory and Context
The young and unwavering Committee members, led by Nettie Smith Owens and Isabel Sims Willard, worked with Bob Edwards, then President of Clemson College, on how the Society would be involved with Hanover. After a meeting with Bob Edwards, Mel Wilson, Henry Hill, and Facilities Director David Watson, the Spartanburg Committee began locating furnishings. Clemson University agreed to pay for insurance to cover the house and furniture provided that the Dames kept a detailed inventory. The Committee researched inventories of the St. Juliens, Ravenels, and neighboring wills in Berkeley County to find specific pieces. By acquiring period pieces, Hanover offers an authentic representation of an 18th-century rice plantation, due solely to the efforts of the dedicated NSCDA-SC members. Once complete, the furnishings embodied the wealth and status of the Julien and Ravenel families through the American Revolution.
On June 7, 1962, Hanover was officially opened by the Colonial Dames as a museum, culminating a nearly decade-long process of acquiring a diverse collection of period pieces as well as reproductions, such as the elaborately sewn crewel work curtains designed by Susan Lewis Brown. Following the official opening of Hanover as an historic house museum, the NSCDA-SC members continue to provide support for the collections and conservation unto this day. Projects have included reproduction period light fixtures, interior painting, artifact conservation, and a created endowment. 
No matter how captivating the story of the Huguenots and Hanover's early residents, without the partnership of the Spartanburg Committee, National Society Colonial Dames of America (NSCDA) and Clemson University, the full restoration of Hanover, focusing on the period from 1700-1750, would have never been told.
NSCDA-SC members undertook great efforts to furnish the house, raising funds to ensure that Hanover would open to the public at no expense. Although Clemson had already made antique reproductions, the Society wanted genuine artifacts. Throughout Tryon and Spartanburg, members raised funds by hosting oyster roasts, teas, and silver exhibits; they also sold brass polish, postcards, and etchings of Hanover.
Besides fundraising, members made generous financial donations; Isabel Sims Willard and her mother, Mrs. Sims, furnished one of the bedrooms.
Sources
Hanover House and the Colonial Dames: A Historic Partnership, Clemson University Historic Properties. Accessed October 14th 2021. https://wwwdev.clemson.edu/about/history/properties/hanover/Restoration%20of%20Hanover%20House/colonial-dames.html.