Hanover House-Clemson Bedroom
Introduction
Author-Uploaded Audio
This room is called the Clemson bedroom because it serves as a testament to the historic preservation efforts of Clemson College, now Clemson University, and the faculty, staff and students at the time. All of the textiles in this room were produced by the Textile School of Clemson College around the early- to mid-20th century in traditionally 18th-century patterns and construction. They were given to Hanover House courtesy of Dean Gaston Gage and staff.
Images
The Clemson Bedroom at Hanover House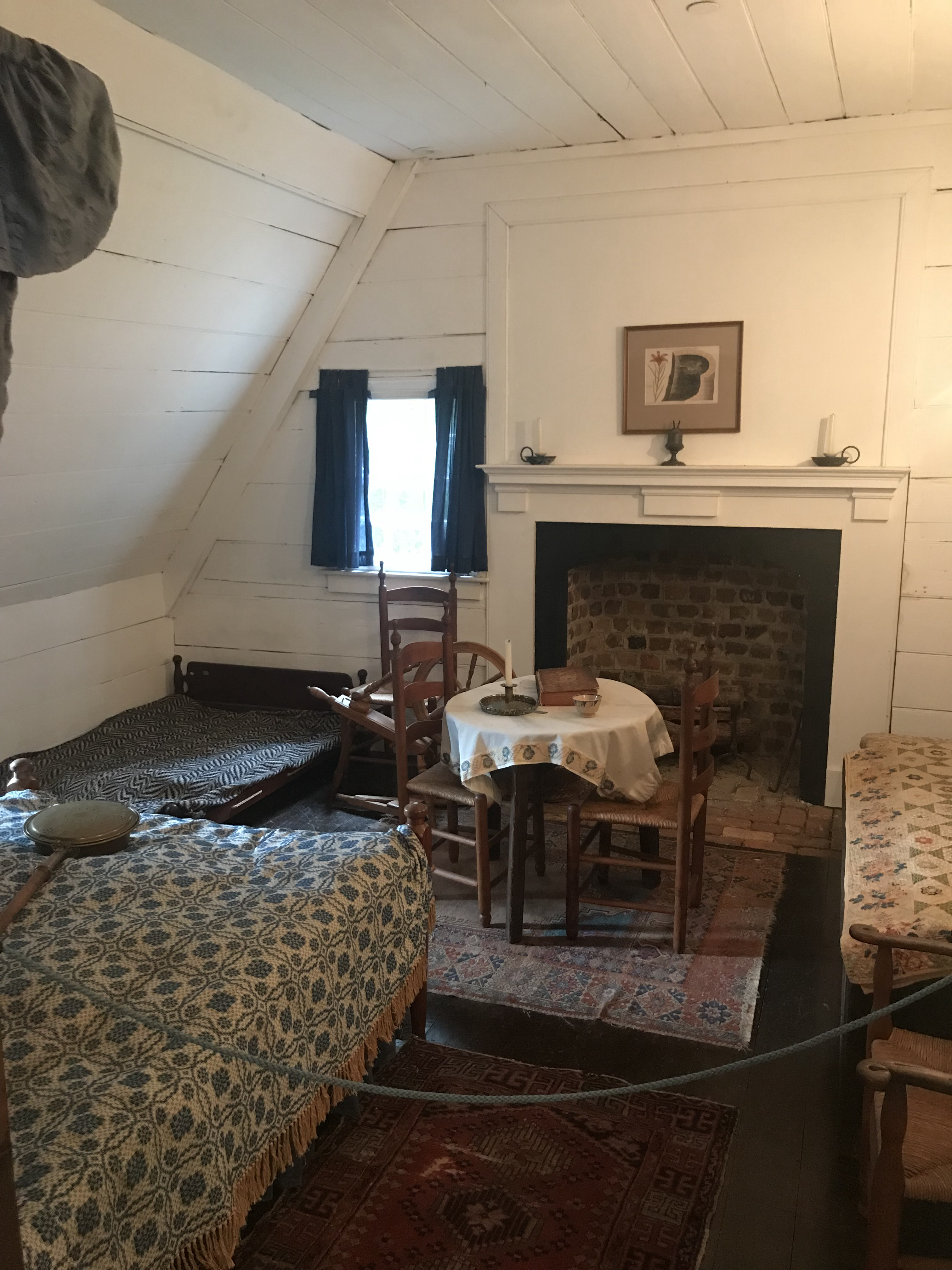 Backstory and Context
Author-Uploaded Audio
The interior wall on the right of the Clemson bedroom was added some time after the initial occupation of Paul de St. Julien. This partition may have been used to create a bedroom for girls and a bedroom for boys. Mary de St. Julien and her husband, Henry Ravenel, had 16 children though only six of her sons lived into adulthood. Her three oldest sons fought in the Revolutionary War alongside Francis Marion, also known as the Swamp Fox. None of her daughters lived into maturity.
The blue and white coverlet is a reproduction, and its pattern, the "Whig Rose," dates from 1720. Each golden tassel on the bottom of the coverlet was sewn by hand by Mrs. Arledge of Tryon, North Carolina. The bed hangings were copied from an antique French fabric, then dyed to match the blue of the coverlet. The linen cloth of this intricate weave was brought to the Colonies from the East Indies in the 17th century. The Hindu name for it was "sirsaka" and the French copied the weave in cotton, calling it plissé or ruffled.
The half-tester bed is an exact reproduction of a bed in the American Wing of the Metropolitan Museum of Art in New York and was made for Hanover House in the Clemson shops. The ladder-back chairs were also made by Clemson students.
Framed on the wall above the mantel is an original Mark Catesby print of "Chimney Swift with Wood Lily." This colored ornithological engraving is from a 1772 Dutch edition of Catesby's work that was produced by Johann Michael Seligmann.
Sources
Clemson Bedroom, Clemson University Historic Properties. Accessed October 5th 2021. https://wwwdev.clemson.edu/about/history/properties/hanover/gallery.html.