Railroad Pass Hotel and Casino
Introduction
The oldest operating casino in Nevada, the Railroad Pass Casino opened in 1931 and was only the third casino licensed in the state. The casino was built the same year that gambling was legalized in Nevada. It was built largely to cater to workers who were building the Hoover Dam.
Images
Railroad Pass Hotel & Casino

Railroad Pass Casino in the 1950s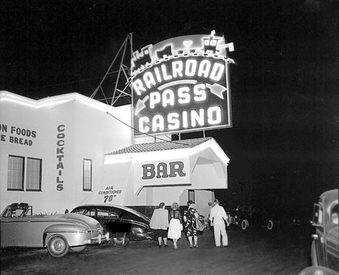 Backstory and Context
The Railroad Pass Hotel & Casino has a history as long as that of the Nevada gambling industry itself. The casino was built in 1931, the same year that the state legalized gambling. It was just the third casino licensed in the state. It still possesses the original license, and since the older ones went out of business long ago, Railroad Pass is the oldest operating casino in the state.

The casino was built largely to take advantage of the business that would come from the construction of the Boulder Dam (now known as Hoover Dam). The government knew that the scale of the project would require thousands of workers and that they would need housing. As it was, men looking for work on the project camped along the river, roughly 26 miles from Las Vegas, at a site that was nothing but desert.

The Bureau of Reclamation realized that a construction camp would be insufficient for the number of workers needed on the dam. They decided to build an entire town, to be known as Boulder City. In the space of a year, Boulder City went from nonexistent to a town of roughly 5,000 workers.

Railroad Pass Hotel & Casino began with the dam. It was founded largely to cater to the workers in Boulder City, where gambling was (and still is, ironically) illegal. The casino still contains a vault that was used to hold the wages of the Boulder City construction workers.

Railroad Pass has changed owners several times over its long lifespan, and it retains much of its 1930s appeal. While the Las Vegas Strip became associated with glitz and glamor, Railroad Pass stayed the same. It's a simple place that appeals mostly to locals who want to avoid the crowds in nearby Vegas.



Sources
Celebrating 85 Years of Railroad Pass & Casino. Historic Railroad Pass Hotel & Casino. July 18, 2016. Accessed February 07, 2018. https://www.railroadpass.com/blog/celebrating-85-years-of-railroad-pass-hotel-casino.

MGM Resorts International to Sell Railroad Pass Hotel & Casino in Henderson, Nevada. Mass Live. September 06, 2014. Accessed February 07, 2018. http://www.masslive.com/politics/index.ssf/2014/09/mgm_resorts_international_to_s.html.


Additional Information