Chico Bakery
Introduction
Chico Bakery, a family-owned business famous for its West Virginia pepperoni rolls, has been located at this site since 1971. It was a subdivision of the Chico Dairy Company, which began in the early twentieth century. Though the Sunnyside neighborhood of Morgantown grew primarily because of its industry and manufacturing, small businesses like Chico provided residents with essential local goods. It remains one of the few small businesses left from this early history.
Images
Employees at Chico Dairy Company, 1960. Courtesy of the Dominion Post.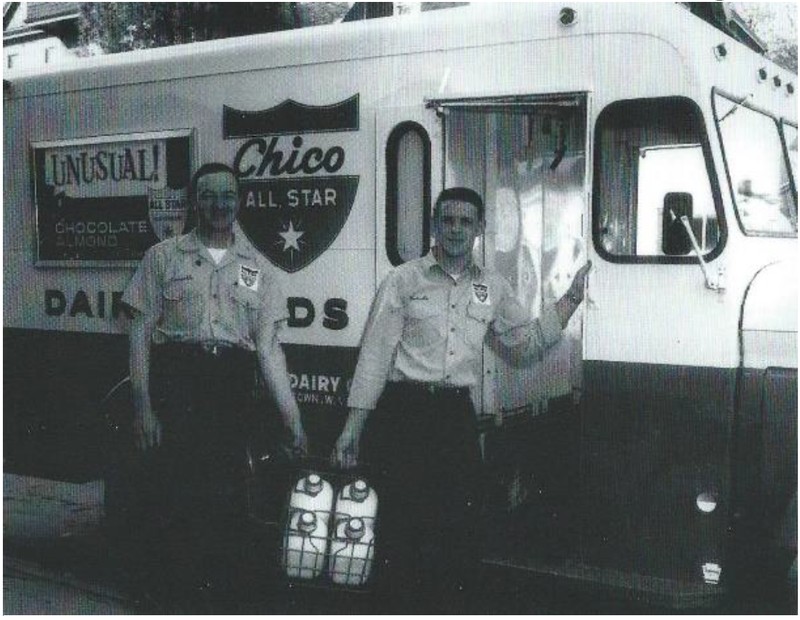 Backstory and Context
Chico Dairy Company, now known as Chico Bakery, has been a family owned, establishment in the Morgantown's Sunnyside neighborhood since they first opened in 1925. The Bakery's origins can be traced to the family patriarch, Samuel Chico. Born on June 20, 1895 in San Pierto, Italy, Samuel immigrated to the United States when he was six years old.1 After Samuel married his wife Julia, they moved to Morgantown, West Virginia, in 1920 where they became permanent residents of Sunnyside.
When Samuel registered for the draft in April 1942, he noted that he lived in the Sunnyside neighborhood at H701 McLane Avenue with his wife and his younger children. The family business, Chico Dairy Company, was located just a few blocks away at 331 Beechurst Avenue, also in Sunnyside. Post-1945 city directories reveal that Samuel and Julia eventually relocated to 809 Riverview Drive. Paralleling this move in residence, the business also relocated to 407 Beechurst Avenue in 1971. The Bakery has remained at this address for the past forty-five years. The building's current condition is simple and unassuming. It is made of white cinder blocks with a red trim. Customers claim the smell of fresh baked bread in the mornings mixed with the scent of the pepperoni makes it clear where the bakery is located.
Although today Chico is known for their pepperoni rolls, the Dairy Company sustained the growing student population of the Sunnyside neighborhood. Food items on their breakfast menu never exceed three dollars. Aside from selling food and dairy products in store, Chico's Dairy Company served as the local milkmen. Chico Dairy Company would continue making door-to-door dairy deliveries through the 1960s; but with the added costs of paying the milkman's wages, the popularity of home deliveries was all but absent by the 1970s.
By the 1990s, Chico Dairy Company sold off the dairy and convenience store portions of the business to focus primarily on a bakery. With Samuel Chico's grandson, Sam A. Chico III, running the family business, focus shifted towards predominantly selling pepperoni rolls using his grandmother's recipe. The company wanted to find their specialty and Julia's pepperoni roll stood out as the best product. Now, with a more narrowed focus for the business, production of pepperoni rolls soared. Chico sells their pepperoni rolls outside of West Virginia to ten neighboring states. Chico remains a family owned and operated business.3
Due to the rapid development occurring in Sunnyside to accommodate the growing student population, the Chico Bakery building is slated for demolition along with other structures on the same block. According to the local revitalization nonprofit, Sunnyside Up, "With river views and convenience to a variety of employment, shopping, dining, and transportation options, this is prime land for mixed-use, four-season living—an unprecedented opportunity to shape the future of Morgantown and help keep WVU graduates in the region."4
Sources
1. "U.S. World War II Draft Registration Card," Monongalia County, Morgantown, West Virginia, April 27, 1942, Samuel Chico, digital image, ancestry.com, group number 147, m1937

2. "U.S. World War II Draft Registration Card," Monongalia County, Morgantown, West Virginia, April 27, 1942, Samuel Chico, digital image, ancestry.com, group number 147, m1937; Morgantown City Directory (Pittsburgh: R.L. Polk & Co. Publishers, 1935) 96; Morgantown City Directory (Pittsburgh: R.L. Polk & Co. Publishers, 1955) p. 154, Ancestry.com (accessed 10 February 2016); Map card, parcel 35, map 19. Morgantown, WV, Monongalia County Tax Office.
3. Mikenna Pierotti, "On A Roll," Morgantown Magazine, December 9, 2014, (accessed March 30, 2016). http://www.morgantownmag.com/morgantown/December-January-2015/On-a-Roll/.
4. Frank Scafella, "Request for Development Proposals" SunnysideUp-CRNC, (accessed April 10, 2016), 1. http://sunnysideupwv.org/images/Sunnyside_Up_Developers_RFP_1-7-16.pdf
Images:
Home Delivery, Photograph, 1960, from Sam Chico Jr., print, Morgantown and its People (Fairmont: The Dominion Post, 1999), 151.

Research compiled by Chelsea Elliott. Edited by Elizabeth Satterfield and Pamela Curtin.
Additional Information