Conococheague Settlement
Introduction
Conococheague (pronounced Konica-Jig) Settlement is a well-preserved historic farmstead that was established in the early 18th century in southern Franklin County, Pennsylvania, near the village of Welsh Run. Our 30-acre site is listed on the National Register of Historic Places and includes two historic house museums with outbuildings, a research library, two relocated historic log structures, walking trails with access to a pioneer cemetery, and several historic gardens. Conococheague is a Native American word often defined as, "long indeed, very long indeed" making reference to the winding Conococheague Creek that makes its way through the area.
Images
Welsh Barrens Visitor Center at the Conococheague Settlement. A corner post log home that relocated to the Institute from Roxbury, PA (about 90 miles away). Features welcoming porches, meeting rooms, exhibits and a gift shop.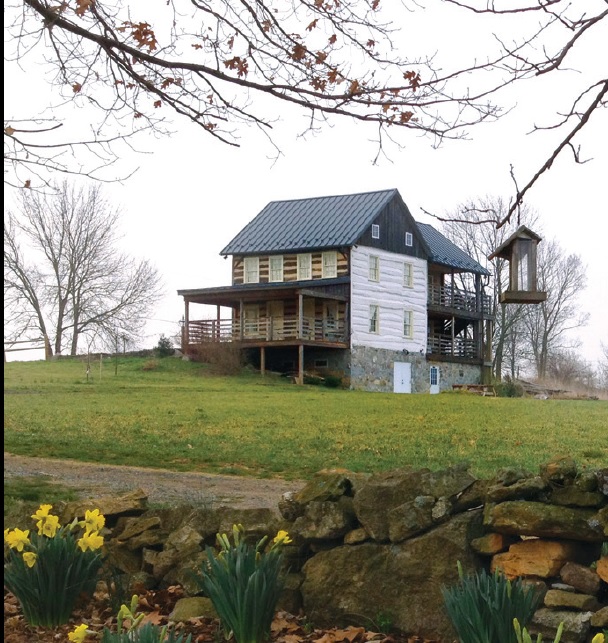 The Green Tree Tavern as seen from a viewing platform at the Conococheague Settlement. The beautiful, unspoiled site makes a perfect location for weddings.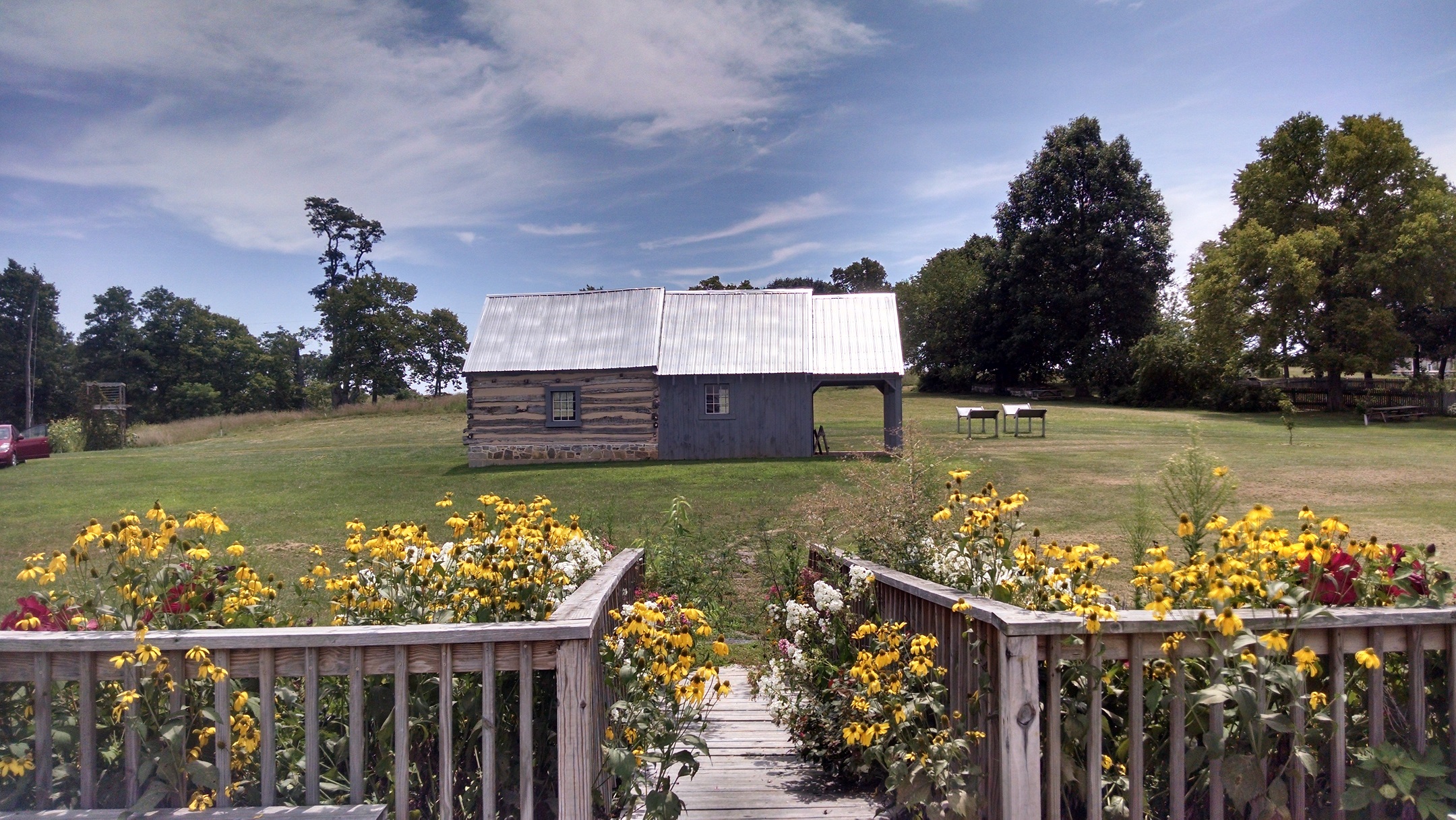 Re-enactment of the capture of Jean Lowry and her children. A true "Captive Narrative" documented in Jean Lowry's diary. Re-enactments are often part of the events held at the Conococheague Settlement.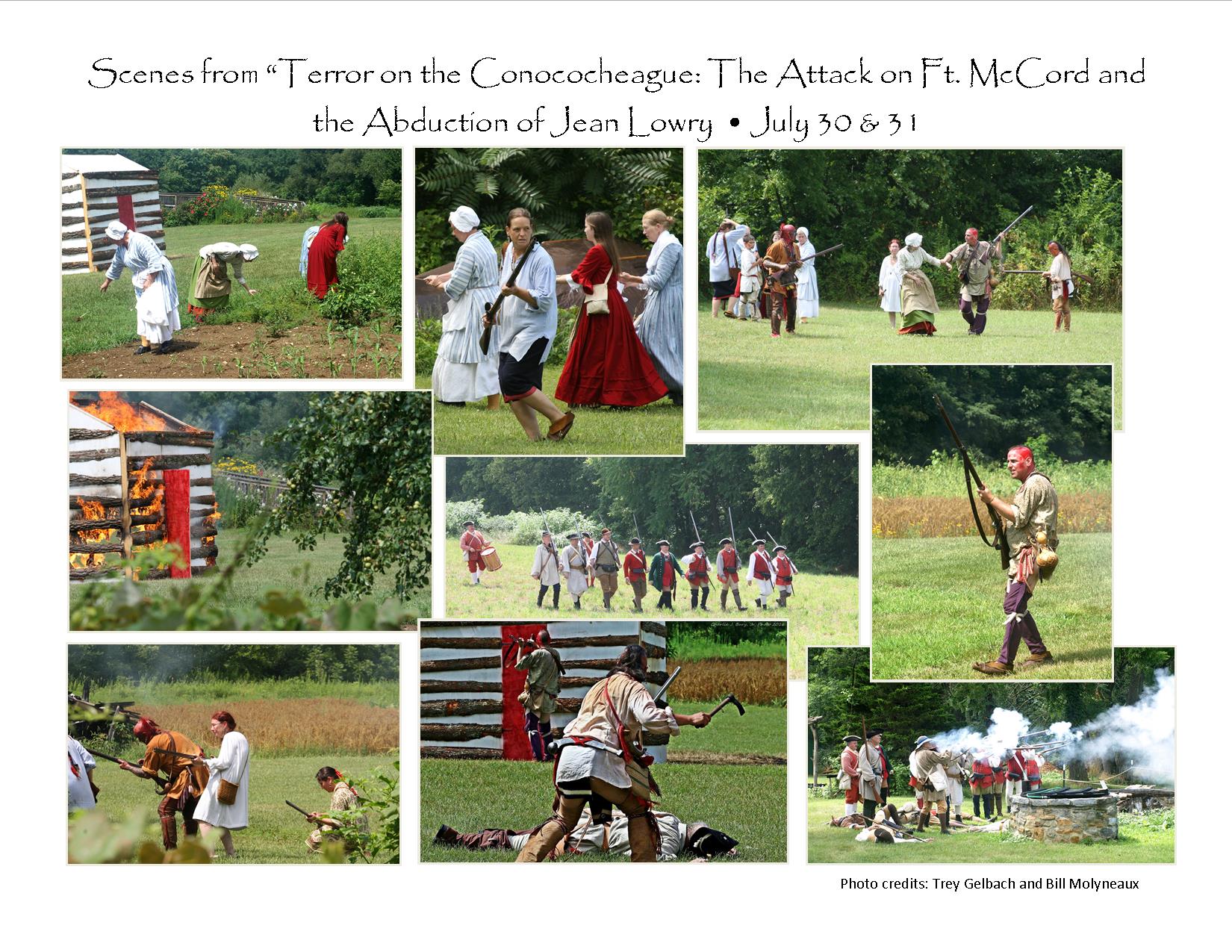 German four square garden with Negley Log House in the background. This demonstration garden includes fruit, vegetables, herbs and ornamental flowers. The site also boasts several old variety apple trees.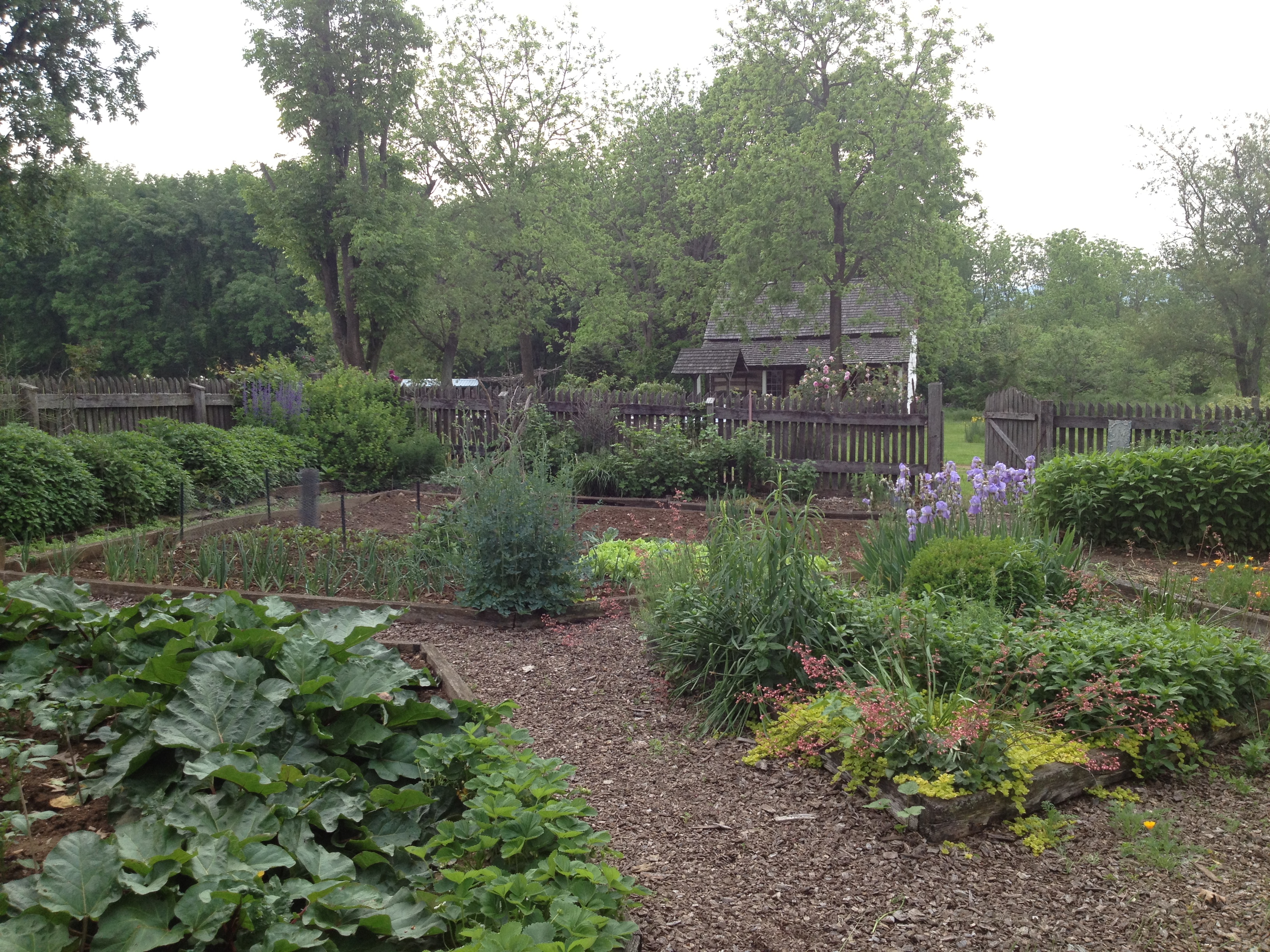 A pioneer cemetery rests on the edge of the Conococheague Settlement. Families with ancestors buried here still live in the area.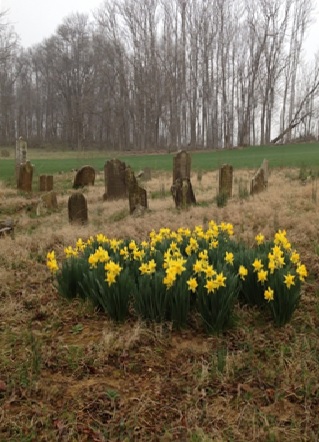 Negley Log House (c 1830) in winter. This original structure burned in a devastating fire February 2016. A replica was rebuilt the following year sourcing local materials.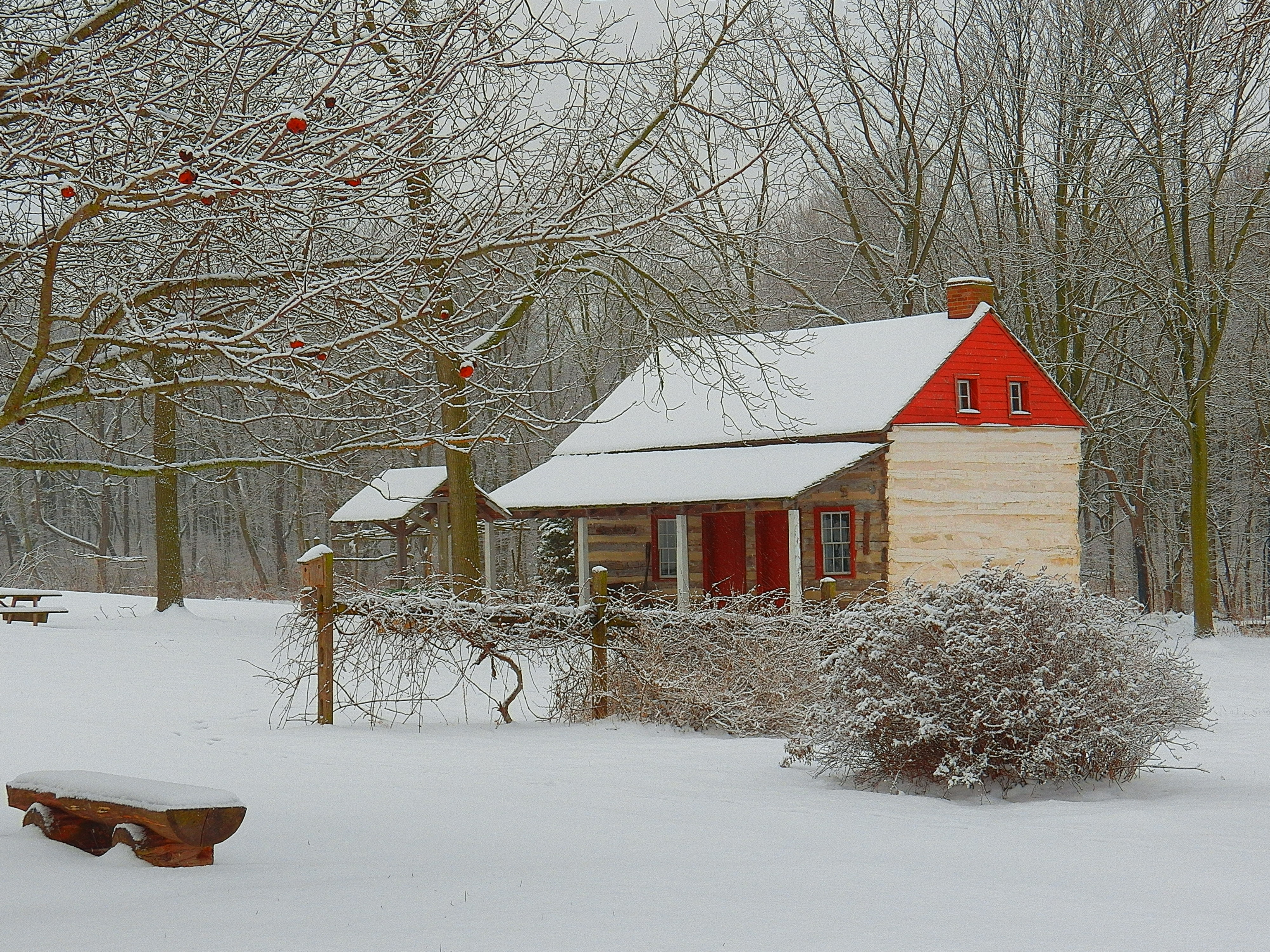 A fiddler enjoys unseasonably warm weather during a Christmas Open House. Annual event the second Saturday of December. Come see the Conococheague Settlement dressed in period decorations.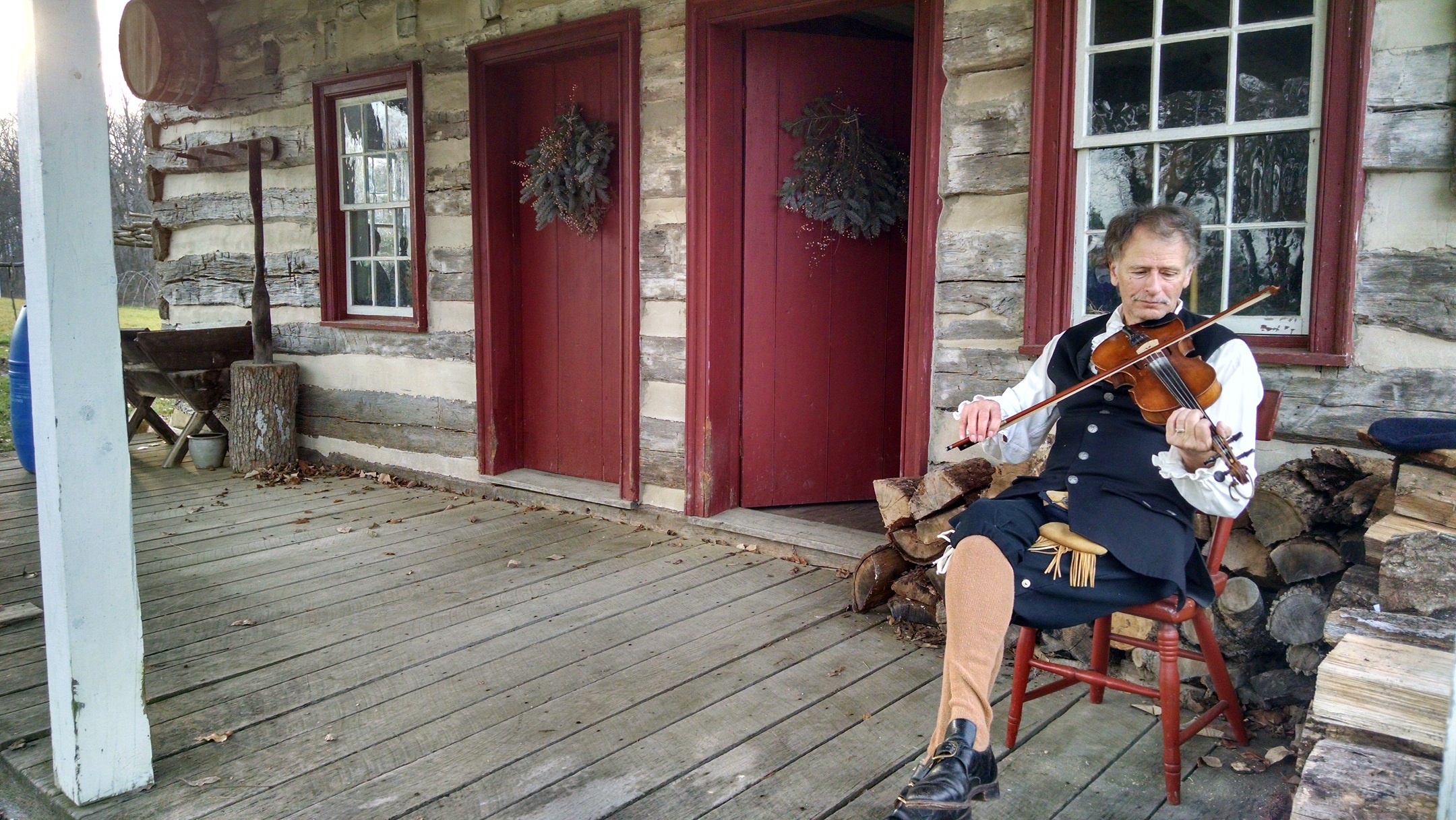 Backstory and Context
Home of the Conococheague Institute for the Study of Cultural Heritage, a regional center for developing and fostering awareness, understanding and stewardship of the cultural and natural history of the Appalachian frontier of Pennsylvania, Maryland and Virginia. Our mission is achieved through education, research and preservation.

Rock Hill Farm was established in the early 18th century and settled by three distinctive ethnic groups -- Welsh, English/Scots-Irish and Pennsylvania Germans. The historic and re-built structures on the site provide architectural references for each of these groups. A 7,000 volume library is stocked with loads of local history and primary source genealogy documents as well as an eclectic collection of volumes on local fauna and flora, and early homeopathic medicine from the collection of the Institute's founder.

A striking feature on the grounds are the hundreds of rose bushes representing over 100 species of old garden roses. They represent varieties that the Welsh, Scots-Irish and English settlers on the Conococheague frontier would have recognized, plus some American varieties. The majority of the roses may be found in bloom in May each year.

The site is open year 'round with special events held in April, May, September and December.
Sources

About the Conococheague Institute. Conococheague Institute website. Accessed November 12, 0017. http://www.cimlg.org/aboutus.html.

Stauffer, John. Bricker, Calvin. James McCullogh's Book: A Glimpse into Life on the Colonial Frontier. Conococheague Institute, 2015.

Additional Information