Private Halsey G. Notter
Introduction
Private Halsey G. Notter; Born 17 Aug 1900 – Huntington, WV; Died 21 Oct 1918 – Western Reserve Camp, OH; Students' Army Training Corps – Western Reserve University, Cleveland, OH (not yet assigned to any department), US Army
Images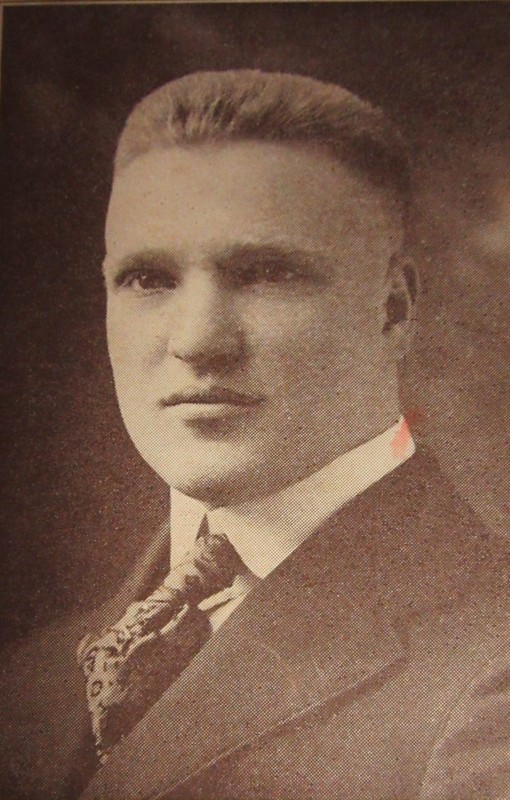 Headstone at Spring Hill Cemetery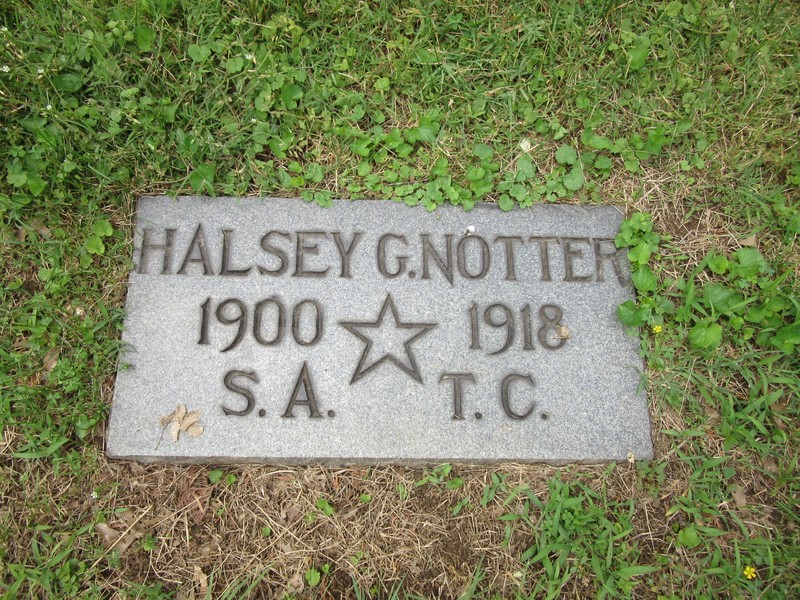 Backstory and Context
Halsey Gordon Notter was born on August 17th, 1900, in Huntington, to Oscar and Effia Notter. He graduated from Huntington High School in June 1918 and, on September 12th, 1918, lived at 2227 9th Avenue, Huntington, and worked as a car repair helper for C&O Railroad. He entered service in the Students' Army Training Corps at Western Reserve University, Cleveland, Ohio, on October 2nd, 1918. This program trained college students to be soldiers. He was a Private, serial number 5252432, and was not yet assigned to any department when he died of peritonitis on October 21st, 1918, at Western Reserve.
HALSEY NOTTER IS INFLUENZA VICTIM
Young Soldier Dies at Training Camp in Cleveland Monday
Halsey Gordon Notter, 18, died of Spanish influenza Monday at a soldier's training camp in Cleveland. The father, Oscar Notter, was with the son when the end came, having gone in response to a message received a week ago last Friday. He had been in camp six weeks. Mr. Notter graduated last June from Huntington high school, where he received high scholastic honors. His personality was such that made him many friends who greatly admired him. For a short time he worked at the Red Cross drug store.
Besides his parents, he leaves two brothers, Joe and Alten, both students in high school, and five sisters, Misses Elizabeth, Frances, Elsie, Allie, and Mary Gertrude Notter.
Oscar Notter will arrive in the city with his son's body Tuesday evening or Wednesday morning. The remains will be taken to his late home, 2229 Ninth avenue.
 – Huntington Advertiser, October 22nd, 1918
He was buried in Huntington's Spring Hill Cemetery. As an alumnus, he was honored at Huntington High School's memorial service:
Proud Offering to Humanity By Huntington High School
SERVICE EMBLEM WITH 245 STARS GIVES EVIDENCE
Memorial Friday Afternoon One of Most Impressive of its Kind Ever Held in City
REV. MAUZZE MADE SPLENDID ADDRESS
Placing of Gold Stars on Flag Was the Feature That Gripped Hearts the Tightest
THREE GOLD STARS SHINE IN FIELD OF LOYAL BLUE
(At the dedication of the high school service flag yesterday afternoon, three stars of gold were placed among over two hundred of blue in memory of David Noble, class of '14, who died in France; Thedford Davis, '16, who died at the mechanical training school at Morgantown, and Halsey Notter, '18, whose death occurred at the Cleveland training school.)…
…The feature of the memorial that gripped the heart the tightest was the placing of the three gold stars over the blue emblems that stood for the three boys who made the supreme sacrifice. This service was performed by members of the respective classes to which these boys belonged. Helen Hutchinson Dickinson affixed the star for David Noble, '14; Loles Prose for Thedford Davis, '16, and Mae Yoho for Halsey Notter, '18….
…Miss Mae Yoho said the class of '18 was proud beyond expression of Halsey Notter, one of the glorious company that had given up their lives for humanity. Notter has answered the final roll call, but his sacrifice in freedom's cause has caused his star of blue to be changed to gold.
 – Huntington Herald-Dispatch, November 23rd, 1918
He was also honored in their 1919 yearbook:
"You remember him, only last year, a pleasant companionable fellow?" We can rest assured it was just the same when the call came to pass over. His classmates wrote of him last year "he is a No. 1" and so he was a No. 1. Halsey was a member of the S.A.T.C. at Case University in Cleveland when he succumbed to influenza.
Halsey was one of the kind of boys that makes you feel better after talking to him. Ever kind, thoughtful and generous he was a favorite with everyone.         
He fell for the cause of mankind just as truly as anyone of the millions who have passed over. Halsey, Huntington High is proud of you.
[From In the Service of Their Country - used with permission of the author]
Sources
Woodard, Benjamin. In the Service of Their Country: The Story of the Soldiers from Cabell County, West Virginia, Who Gave the Ultimate Sacrifice in the Great War. Sixth Printing. Benjamin Woodard - Lulu, 2019.
Image Sources
Honor Roll of Cabell County, W.Va. - Author's Picture (Benjamin Woodard)

Author - Benjamin Woodard

Additional Information