Neversink Mountain Hotel (1891-1905) and Witches Hat Pavilion
Introduction
Constructed in 1891, the Neversink Mountain Hotel served many visitors to the Reading area until it was destroyed by a fire in 1905. The hotel sat on top of the beautiful Neversink Mountain and offered some of the most beautiful views of the city. The pavilion that sat at the end of the property, known to locals as the "Witches Hat," still stands today and holds a special place in the heart of local residents.
Images
Neversink Mountain Hotel during its years of business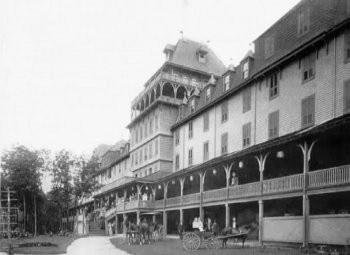 Picture of the Witches Hat Pavilion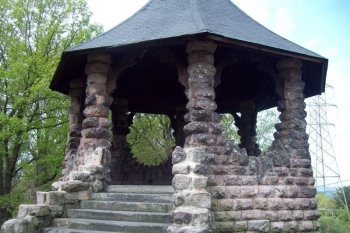 Backstory and Context
The largest of the mountainous hotels built in this region in the late 19th century, the Neversink Mountain Hotel took a little over a year to build and was completed at the cost of $127,000. The hotel was located on the east summit at about 800 feet above sea level. The hotel overlooked the City of Reading and was built to resemble big summer lodges in Long Island and other resort areas. At five stories high, this timber hotel and its wide deck surrounding the entire building offered 166 bedrooms when it opened to the public in June of 1892.
In September of 1905, the Neversink Mountain Hotel caught fire late at night. Within ten minutes of the fire being started in the basement, the entire hotel was engulfed in flames. All of the guests are believed to survive and rumors about the appearance of three strange people walking from the hotel into the woods after the fire led to speculation that the fire was caused by arson. The entire hotel burned to the ground leaving nothing but a few brick and stone walls of the basement, the brick wall on the north side of the hotel, and the brick chimney that's stood in the center of the hotel.
All that remains of the hotel is a stone pavilion that was at the west end of the Neversink Mountain Hotel. The pavilion was built to honor William Mcllvain, a local resident known for hiking in the area and talking with area visitors and local residents. The pavilion is known today as the "Witches Hat" owing to the design of the cone-shaped roof. The pavilion is so beloved by area residents that area hikers have repaired it and removed graffiti on more than one occasion.
Sources
Youker, Darrin. What's the Story Behind the Witch's Hat Pavilion?. Reading Eagle. September 30, 2010. Accessed April 30, 2017. http://www2.readingeagle.com/article.aspx?id=252965.