The Pagoda in Reading, Pennsylvania
Introduction
The Reading Pagoda is one of the oldest and most beloved landmarks in the city. Located on top of Mt. Penn, it is a historical landmark more than 100 years old. The pagoda was originally built to be a luxury resort, but due to financial mishaps, the hotel was never opened. Now, the building houses a cafe and is owned by the people of Reading. Visitors can climb to the top of the pagoda for a $1 donation, which goes toward the maintenance of the popular site.
Images
The Pagoda with the City of Reading behind it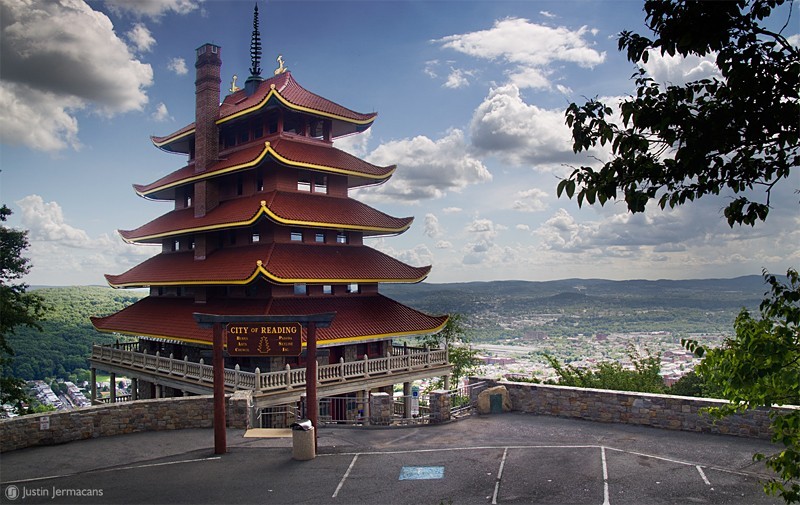 City of Reading street with the Pagoda overlooking it from Mt. Penn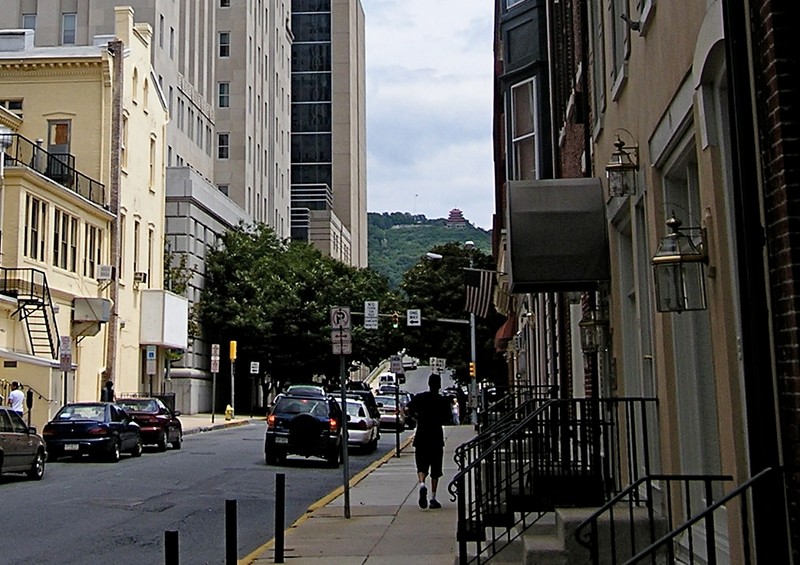 The Pagoda with the City of Reading behind it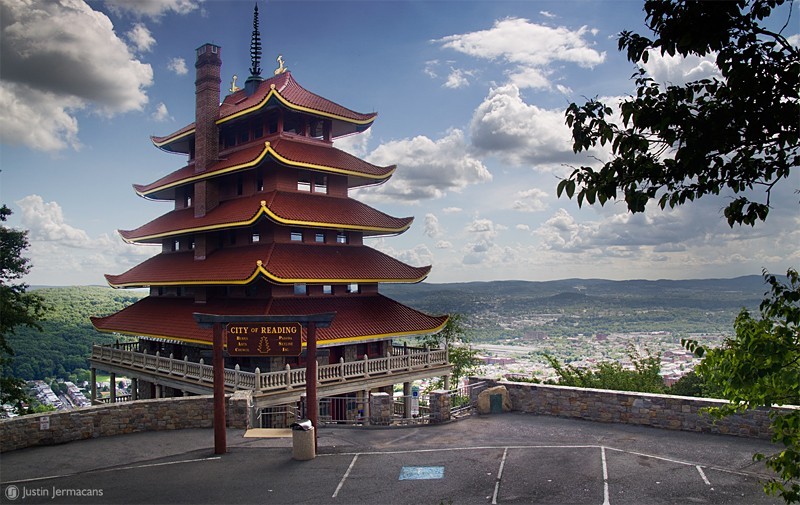 Backstory and Context
The Pagoda is located atop Mount Penn overlooking the city of Reading, Pennsylvania. The land it sits on was originally a stone quarry and was purchased by William A. Witman Sr. for $50,000 in 1906. He finished building the Pagoda in 1908, but his dream to build a luxury resort was unfortunately never realized due to a bank foreclosure and his being denied a liquor license. In 1910, the Pagoda and surrounding 10 acres were deeded to a local business owner Jonathan Mould and wife. They ended up selling the Pagoda on April 21, 1911 to the City of Reading for $1.
Before radio broadcasting was popularized, the Pagoda was used to share messages with the citizens of Reading via morse code.
Now owned by the citizens of Reading, PA, the Pagoda is a popular destination for both locals and tourists. Visitors can have a meal at the Pagoda Cafe, visit its gift shop, or for a small donation, climb to the top of the building to enjoy the views. The Pagoda also holds special events during the holidays.
Sources
www.readingpagoda.comThe Pagoda Reading,Pa. Accessed February 22, 2017. .
The Pagoda, Visit PA America. Accessed February 24th 2021. https://visitpaamericana.com/partner/the-pagoda/.
Additional Information