This entry includes a walking tour! Take the tour.
Introduction
Author-Uploaded Audio
Located on a historic Appalachian farm, this living history complex features sixteen buildings and events throughout the year. Heritage Farm was made possible by the vision and hard work of Mike and Henriella Perry, a couple who dedicated much of their lives to developing the museum and supporting endeavors that preserve and recreate Appalachian history and culture. The Progress Museum, the Transportation Museum, and the Country Store Museum are the highlights of the complex and showcase the progression of technology through exhibits containing thousands of artifacts. Heritage Farm is open year-round with guided or self-guided tours, depending on the season. Additional features of the museum include overnight lodging, an Artisan Center, the MakerSpace craft center, reception halls, tractor rides, a petting zoo, cafe, and gift shop. Heritage Farm is the recipient of many state and national awards, and in 2015 became the first Smithsonian Affiliate in West Virginia.
Images
Heritage Farm consists of over a dozen buildings designed to resemble an early Appalachian settlement.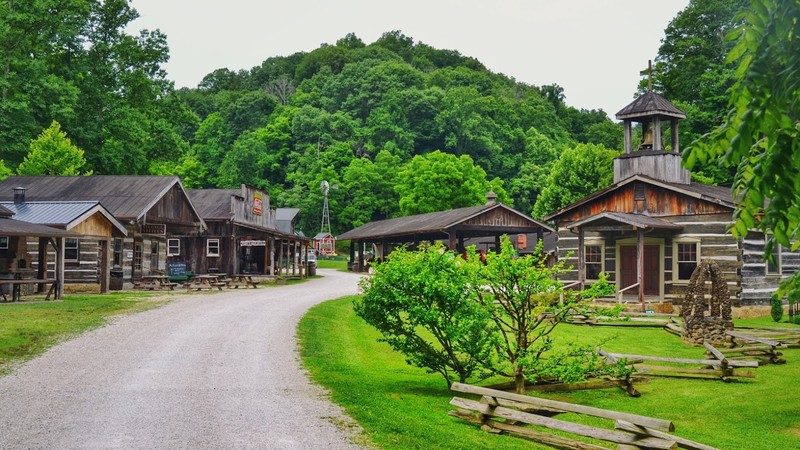 Heritage Farm was primarily the creation of Mike and Henriella Perry. The couple developed a love for Appalachian history and built the museum after spending decades collecting artifacts.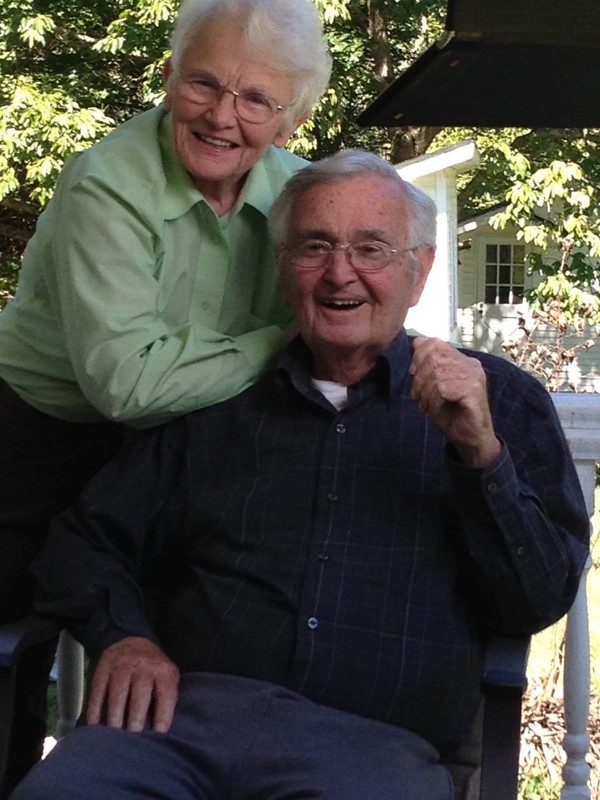 Overview of the main village.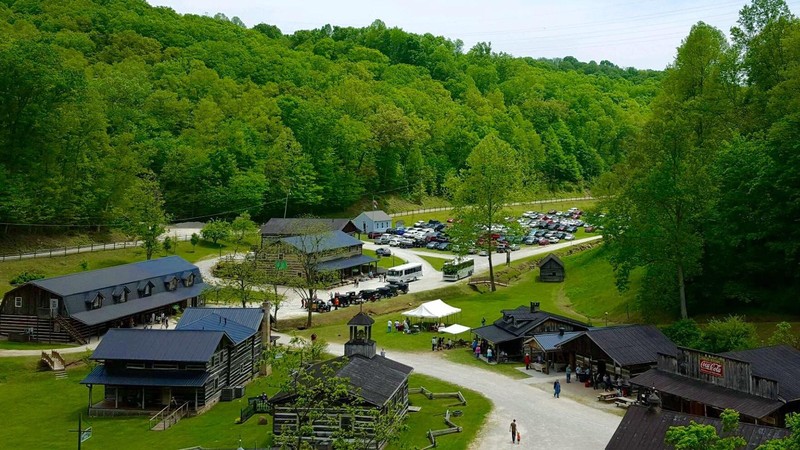 Heritage Farm first opened in 1996 with an annual spring festival; today it is open and offers programming year-round.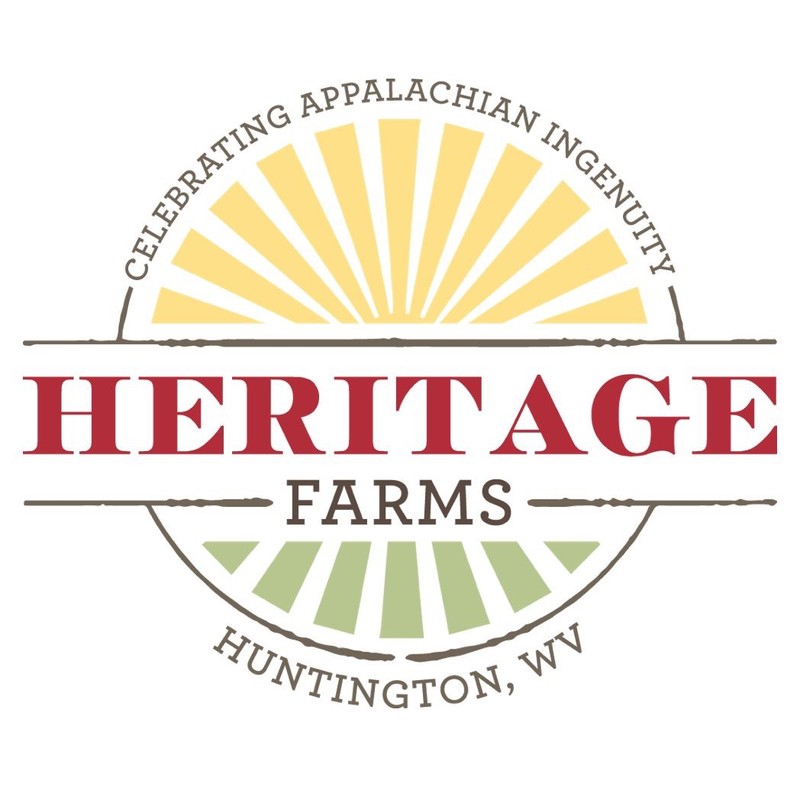 Mike Perry's vision was for Heritage Farm to inspire people to work towards a better future by being as creative and hardworking as their pioneer ancestors.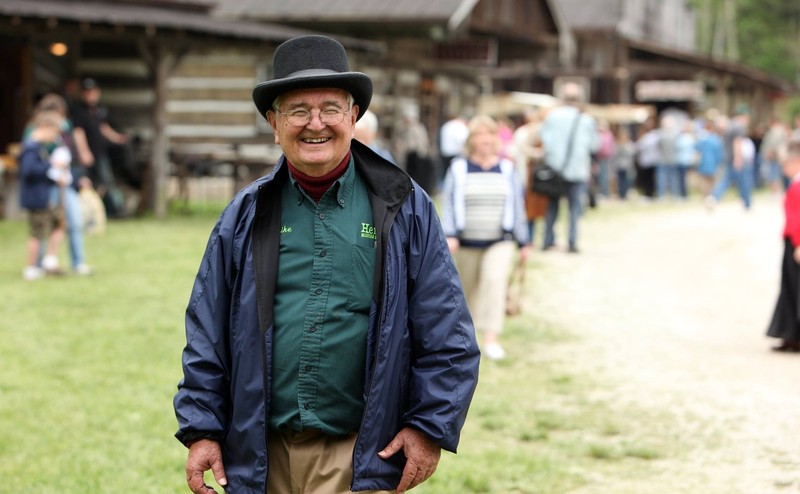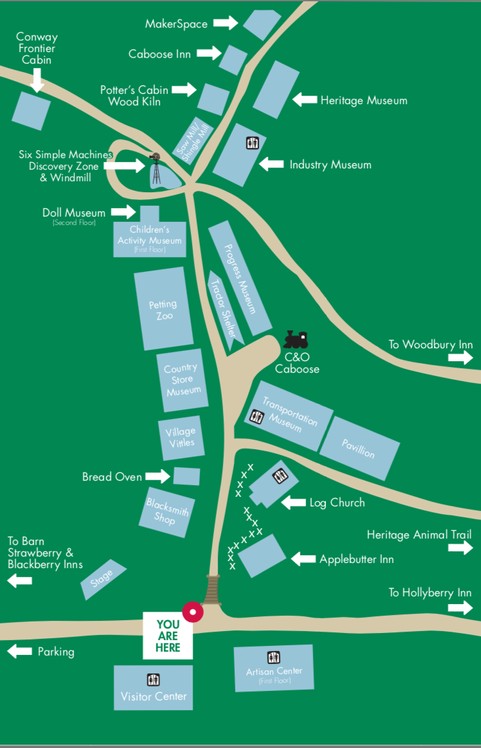 Backstory and Context
Mike Perry (1936-2015) was a prominent lawyer and banker in the local community for many years. In 1973 Mike, his wife Henriella, and their three children moved to a large farm just outside of Huntington. They wanted their family to experience a simple, rustic lifestyle in the countryside. The Perrys bought a farm belonging to the Schafer family; it was one of multiple dairy farms that once existed around the Harvey Town and German Ridge communities. Their house was a small, burnt cabin with no indoor plumbing and only a single strand of electricity. While remodeling the house the Perrys discovered original hand-hewn logs inside the walls. They marveled at the craftsmanship and countless hours that it took to build such a cabin.
The Perry family's interest in history grew when they began taking weekend trips to buy antiques. They bought thousands of items over the years, including tools, appliances, furniture, signs, and vehicles. The family at first stored their artifacts in the farm's old dairy barn, where they arranged them into exhibits and occasionally gave tours to visitors. Their collection grew so big that in the 1990s Mike and Henriella began constructing buildings on what was once an empty cornfield. This complex was organized and designed to resemble a small village. Heritage Farm Museum & Village officially opened in May 1996 with the first annual Spring Festival. Over the following years the museum gradually expanded to offer programming year-round.
Today Heritage Farm contains over two dozen structures including seven museums, six inns, two reception halls, a retreat center, a one room school house, a Blacksmith forge, a church, and a petting zoo. Several of the buildings, including all of the cabins, are made with authentic logs recycled from old structures around West Virginia, Ohio, and Kentucky. Many of these hand-hewn logs are 100-200 years old. In 2015 Heritage Farm was designated as the first Smithsonian affiliate museum in West Virginia. It is also a certified National Geographic destination; the recipient of awards including the Daughters of the American Revolution Medal for Historic Preservation; and is a WV White House Maker Space Ambassador. It has been featured on the TV shows American Pickers and Barnwood Builders and was also the site of filming for the History Channel documentary America's Greatest Feud: Hatfields and McCoys.
The mission of Heritage Farm is to preserve and promote Appalachian history and culture, and instill among visitors a sense of appreciation for the labors of their ancestors. Heritage Farm focuses on early Appalachian settlers and their everyday lives. The museum collections contain thousands of artifacts, mostly ranging from the 1700s to the mid-1900s. Many exhibits are designed to showcase the evolution of technology over the past few hundred years and depict how standards of living in Appalachia have progressed. Heritage Farm also has its own Artisans Guild where craftsman demonstrate historic skills such as Blacksmithing, weaving, printing, basket-making, and broom-making. A petting zoo contains many traditional heritage breed farm animals such as goats and pigs, as well as some non-conventional animals including llamas and peafowl. Lodging is also available with four log cabins, a farmhouse, and a train caboose each available to rent overnight.
Heritage Farm is open year-round, with either guided or self-guided tours available depending upon the season. The facilities are available for group tours, school field trips, retreats, parties, and other activities. A variety of programs are offered throughout the year such as craft classes, live entertainment, reenactments, and lectures. Popular annual events include the Spring Festival, the July Ice Cream Social, the Mountain Games, Cast Iron Cook-off, and the evening Christmas Village. 
Sources
Branan, Marla. "Hidden Hideaway." Huntington Quarterly 51. Accessed September 26, 2019. https://www.huntingtonquarterly.com/articles/issue51/heritage_farm.html.
Busse, Sara. "Heritage Farm is an homage to progress." Charleston Gazette-Mail. September 17, 2011. Accessed September 26, 2019 . https://www.wvgazettemail.com/life/heritage-farm-is-an-homage-to-progress/article_3f8d92bc-187f-5e9c-b110-616d5a0be91f.html. 
Davis, Clark. "What Do Heritage Farm and the Smithsonian Have in Common?" West Virginia Public Broadcasting. March 17, 2015. Accessed September 26, 2019. https://www.wvpublic.org/post/what-do-heritage-farm-and-smithsonian-have-common.
Heritage Farm Museum and Village. "Heritage Farm Welcome Video" (video). October 7, 2016. Accessed September 26, 2019. https://www.youtube.com/watch?v=WiAaZB-As2s.
Houvouras, Jack. "A. Michael Perry." Huntington Quarterly 80 (Winter 2013). Accessed September 26, 2019. https://huntingtonquarterly.com/2018/09/27/issue-80-a-michael-perry/.
"Our Story." Heritage Farm Museum & Village. Accessed September 26, 2019. https://www.heritagefarmmuseum.com/about/our-story/.
Perry, Mike and Audy Perry. Faith, Family, Friends & Farm. Self-published, 2012.
Image Sources
Images courtesy of Heritage Farm Museum & Village

Additional Information