Andrew Heiskell Plaza
Introduction
Andrew Heiskell Plaza honors Andrew Heiskell and his work in revitalizing the New York Public Library and Bryant Park. Heiskell was chairman of Time Inc from 1960 to 1980, became chairman of the New York Public Library in 1981, and was involved in several philanthropic causes in the city. Between 1988 and 1992 Heiskell led efforts to turn Bryant Park from an unsavory location to the vibrant community park used today.
Images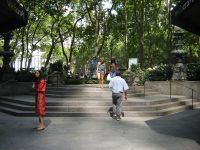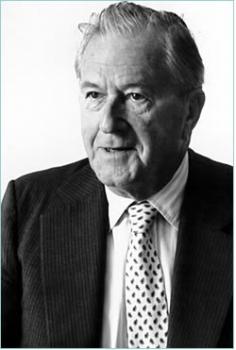 Backstory and Context
Andrew Heiskell was born in Naples, Italy on September 13, 1915. His parents, Morgan Heiskell and Ann Hubbard, were expatriates from Wheeling, WV who decided to live on the Isle of Capri. Heiskell's parents separated by the time he was six years old and for the rest of his childhood he lived with his mother and older sister in various places around Europe. He did not go to school until he was ten when the family settled for a few years in Switzerland and he finished his schooling by age 18 in Paris. After he finished school he spend a year or two teaching arithmetic and geology, tending bar, and traveling before applying to Harvard. Heiskell applied to start Harvard as a Junior but was accepted as a Sophomore which he turned down. Soon after that decision he meet a professor from the Harvard Graduate Business School and was accepted into that program. In 1935 he came to the United States for the first time and started classes; he took one year of business classes and then dropped out of the program. In 1936 Heiskell landed his first job writing stories for The New York Herald Tribune. Less than a year later, at age 22, he took a job at Life producing and editing stories about science and medicine. He was promoted to publisher of Life at age 30.
Between 1960 and 1980, Heiskell was the chairman of Time Inc. During this time, he was actively involved in philanthropic causes in New York, including helping to found the Urban Coalition, a national network of councils to address urban issues. One outcome of this program was the Enterprise Foundation started by James W. Rouse; this Foundation worked to promote community stability and growth through good low-income housing. Serving as chairman on the Enterprise Foundation board Heiskell led the investment of more than $600 million into housing in low-income areas of the Five Boroughs.
Heiskell joined the Board of the New York Public Library in 1978, when the library and Bryant Park were both in serious decline. He almost quit, but then decided to head up a massive recovery project for the library. At the time Bryant Park was an unsavory place frequented by drug dealers, despite its historic past and designation by the Landmarks Preservation Commission as a Scenic Landmark in 1974. This was confirmed in a status report commissioned by the Rockefeller Brothers in 1979 when they created the Bryant Park Restoration Corporation (BPRC) under the leadership of Andrew Heiskell and Daniel Biederman. Heiskell retired from Time Inc. in 1980 and in 1981 became chairman of the New York Public Library. 
In 1980 Heiskell and Biederman created their master plan for reviving Bryant Park. In the first seven years the focus was on increasing park maintenance, adding temporary kiosks, and scheduling cultural events to bring visitors to the park and reduce crime. The second phase, starting in 1988, included building new entrances off the street to increase access and visibility, a redesign of the French garden design, improvements in paths and lighting, restoration of the park's monuments, the renovation and reopening of the park's bathrooms, and construction of restaurant pavilions and concession kiosks. Bryant Park reopened in 1992.
For his work with the New York Public Library, the W 20th street branch is named for Heiskell: the Andrew Heiskell Braille and Talking Book Library. Heiskell wrote a memoir in 1998 titled Outsider, Insider: An Unlikely Success Story. He passed away on July 6, 2003 at age 87. 
Sources
"History." Bryant Park. Accessed October 29, 2020. https://bryantpark.org/blog/history. 
Kaufman, Michael T. "Andrew Heiskell, 87, a Former Chairman of Time Inc. and a Civil Leader, dies." The New York Times. July 7, 2003. Accessed October 29, 2020. https://www.nytimes.com/2003/07/07/nyregion/andrew-heiskell-87-a-former-chairman-of-time-inc-and-a-civic-leader-dies.html.
Image Sources
"Andrew Heiskell Plaza." Bryant Park. Accessed October 29, 2020. https://www.nycgovparks.org/parks/bryant-park/monuments/1785.

"About the Andrew Heiskell Braille and Talking Book Library." New York Public Library. Accessed October 29, 2020. https://www.nypl.org/about/locations/heiskell.

Additional Information