Union Station Arch
Introduction
The last remaining piece of the grand entrance arcade that was part of Columbus's third and final Union Station, this arch was relocated to its present location and now serves as a reminder of this historic building and Columbus's history as a railroad terminus. Union Station was located where the Greater Columbus Convention Center now stands. Columbus was served by three Union Stations, each larger and grander than the first and built in 1851, 1875, and 1897. The arch served as the entrance to the third Union Station's grand arcade that connected the rail station with retail stores and offices. now serves as a focal point of the Arena District.
Images
The lone remnant of Union Station, this relocated arch reminds the city of its past.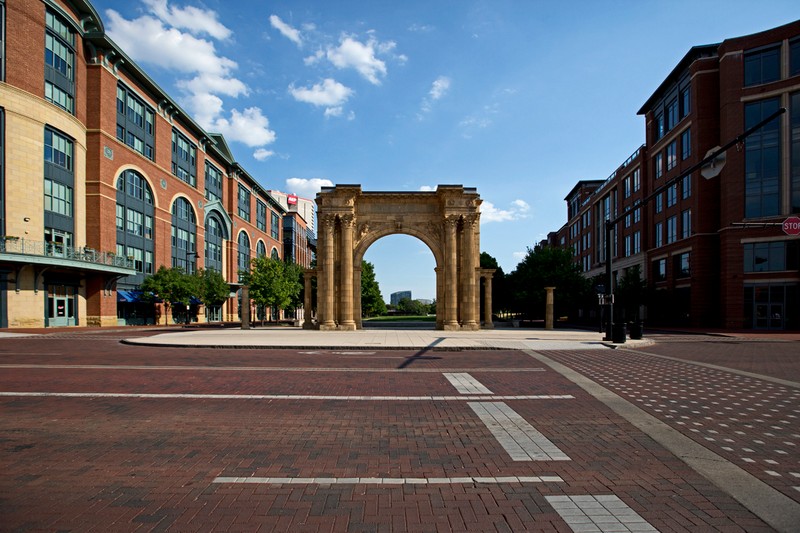 This photo of the third Union Station shows High Street the entrance arch in the middle. The photo was taken from a building on High Street just north of the station entrance.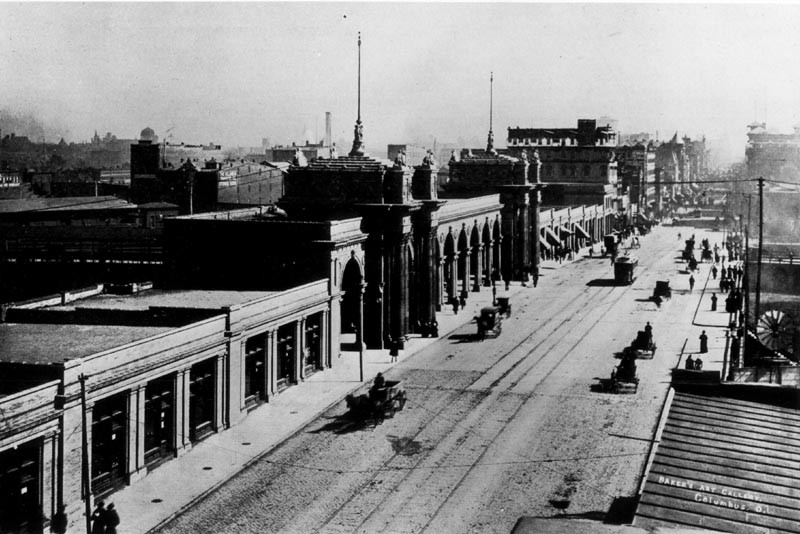 Backstory and Context
The first Union Station was built in 1851 at what is now Na
tionwide Boulevard and High Street. This wooden structure was soon replaced by
a second Union Station just north of the first.
The structure was much larger but
presented a traffic
problem as the city and rail service expanded, with over ten rail tracks
crossing High Street-an increasingly important thoroughfare for the city
.
As a result, the city decided to create a new station on High Street that would include a viaduct over the railroad tracks. (Th current "hump" over the city's Convention Center reveals the location of this historic viaduct.) At the apex of this hump in High Street stood this arch and the grand arcade of the third and final Union Station.
The station served as the primary transportation hub for Columbus from the late 1800's through the mid 1900's. As automobiles and aircraft replaced rail service, traffic dwindled to only a few trains per day. Between 1971 and the closing of the station, only one train arrived in the city per day.
The arch, like the rest of Union Station, might have been lost. Fearing that their ambitious plans might be derailed, promoters of the Arena District and new convention center rushed to demolish the crumbling arcade before historic preservationists could act. However, preservationists had earlier succeeded in placing the arch on the National Register of Historic Places and were able to secure a restraining order. Although preservationists were not able to prevent the demolition of the historic arcade, they were able to preserve this arch.

Sources
Civic Arts Project, Unin Station Arch, http://www.civicartsproject.com/2013/01/31/union-station-arch-arena-district-columnbus/
Additional Information