Greenwich Tea Burning Monument
Introduction
On this site on December 22, 1774, a group of young men burned a consignment of tea that had been hidden in the small town of Greenwich prior to shipment to Philadelphia. This was the last "tea party" protest against British taxation in the American colonies prior to the beginning of the American Revolution. The monument in honor of the leaders of this incendiary protest was dedicated in 1908.
Images
This monument honors the colonists who destroyed British tea by setting it on fire as a protest against taxation.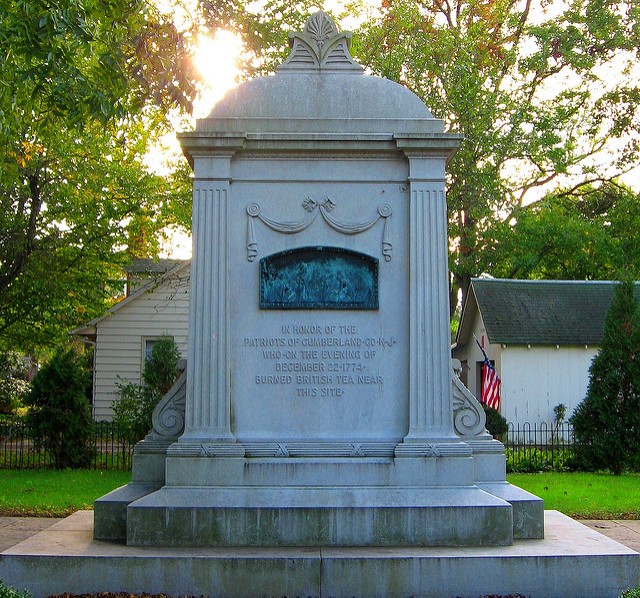 The monument was created in 1908, and the local Daughters of the American Revolution chapter refer to themselves as the Greenwich Tea Burners.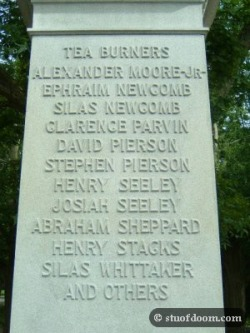 Backstory and Context
On May 10, 1773, the British Parliament passed the Tea Act which effectively lowered the price of tea for American colonists by allowing one company to ship their tea directly to the colonies. In the past, all tea had to be shipped to England before it could go on to the colonies. The act angered the colonists because it was a new kind of tax and because it was passed without consultation of colonial leaders or legislatures. Colonists knew that if they did not protest, Parliament would enact more taxes and other measures to intended to pay the debts of the Crown in previous wars.

The law was passed at a time when many colonists already resented the British government for their lack of representation in Parliament and for the perceived failure of the government to protect the colonies and make land available to all colonists. On December 16, 1773, the most famous protest against the new law took place in Boston Harbor. Numerous other protests featuring the destruction of tea occurred in other colonial cities.

On December 22, 1774, the final tea protest before the Revolutionary War took place in Greenwich, New Jersey. The colonial rebels stole the tea from a British sympathizers home where it was being stored in an effort to prevent such an occurrence. The effort to create this monument predates 1900, and the monument itself was constructed in the early and unveiled on September 30, 1908.

Additional Information