Hatfield Cemetery in Mingo County, WV
Introduction
This cemetery is the final resting place of Ephraim Hatfield and his wife Nancy, the parents of the infamous Devil Anse Hatfield. This site is the original Hatfield Cemetery and the people buried here had a significant effect on the deadly Hatfield-McCoy feud of late 1800s.
Images
Ellison Hatfield in Confederate uniform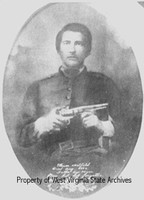 Drawing from "American Vendetta" depicting the murder of Ellison Hatfield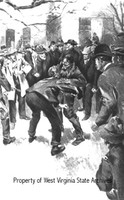 The grave sites of Nancy and Ephraim Hatfield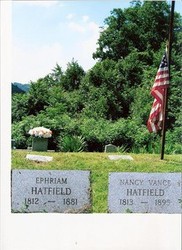 Backstory and Context
Ephraim and Nancy Hatfield were the parents of 12 children, most famously William Anderson "Devil Anse" Hatfield and his brother Ellison who is also buried in the Mingo County Hatfield Cemetery. These two are some of the most well remembered from the Hatfield-McCoy feud which raged in the Tug River Valley for 12 years. 
The first feud related violence occurred when three McCoy boys stabbed and shot Devil Anse's brother Ellison Hatfield at an election in Kentucky. Hatfield men rounded up the boys and kept them prisoner. The boys were told that their fate depended on that of Ellison – if he died they would be killed, if he lived they would be released. Two days after their capture Ellison died and was later buried in the Hatfield cemetery in Mingo County. 
The Hatfields took the McCoy boys into the woods and tied them to papaw bushes where they were shot at a total of 50 times. All three boys were dead within five minutes. While the Hatfields viewed this as justice, their vigilante style revenge was still very illegal. Many of the men involved immediately had indictments against them, including Devil Anse and his sons. The Hatfields alluded arrest for an extended period of time and the governor of Kentucky requested that efforts be made for the removal of the Hatfields from West Virginia to Kentucky for trial. Governor E. Willis Wilson from West Virginia refused this request and created tension between the states, but allowed the Hatfields to avoid arrest. 
This instance is one of the most famous and iconic of the feud and often sited as the true beginning to the famous family feud. The murder of Ellison Hatfield and the subsequent murders of the McCoy boys opened the floodgates of violence that the feud is known for. 
Sources
National Historic Places Nomination Form: http://www.wvculture.org/shpo/nr/pdf/cover/64000961.pdf
Additional Information