Discovery Gateway Museum
Introduction
Discovery Gateway Museum, formerly known as the Children's Museum of Utah, is located in downtown Salt Lake City, Utah. It offers a wide range of interactive exhibits for children of all ages. Along with over 140 permanent exhibits, it offers a new and exciting exhibit every few months. Also, daily classes are offered at their Curiosity shop which works with the children's fine and gross motor skills. The museum also offers a chemistry program to all fifth graders in the state of Utah.
Images
The Discovery Gateway Museum was established in 1978.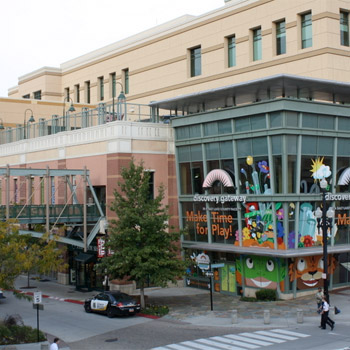 The museum offers a wide variety of hands-on activities for children of all ages.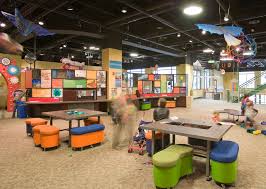 This exhibit recreates a city on a miniature scale.

Backstory and Context
The Children's Museum of Utah was founded by parents, community leaders and educators in 1978. Their primary goal was to create a museum where children could come explore exhibits and be interactive with them. Their belief was that children learn better by being hands on. In 1983, the museum opened its doors to the public. Originally, the Children's Museum of Utah was located in former Wasatch Warm Springs which was two miles to the north of downtown Salt Lake City. The museum opened with only eight exhibits. By the year of 1998, their exhibit expansion had grown to 140 exhibits and 15,000 square feet.
In 2002, the museum made the decision that they needed a much larger building. In 2005 the museum broke ground in Salt Lake City. When the doors opened in 2006, the museum name was formally changed to the Discovery Gateway Museum. The Discovery Gateway Museum now offers a 60,000 square foot, world-class facility.
On the second floor of the museum, kids can play music on a giant marimba along with keeping a machine humming. Behind this exhibit, there is a children-sized town. This exhibit allows children to go to the supermarket, a restaurant, as well as shop at a store. On the third floor, children can interact with the story factory, playing, drawing and creating animated films.
Workshops are offered for children of ages birth to twelve. Along with the workshops, classes are offered weekly such as music in motion, story time, and science matters. The museum also offers annual events such as summer camps and Breakfast with Santa, which attracts children from all over the state. They can come make crafts with the elves and eat breakfast with Santa.
Sources
"The Premier Children's Museum in Utah." Discovery Gateway Museum. Accessed February 24, 2016. http://www.discoverygateway.org/about-us.
Additional Information