Maryland State House
Introduction
The Maryland State House is located in Annapolis and is the oldest state capitol in continuous legislative use, dating to 1779. The State House was designed by Joseph Horatio Anderson, and construction began in 1772, however, it was delayed due to the American Revolution. The cupola on top of the building was constructed in replacement for the earlier one in 1794. After the American Revolution, Annapolis was the first peacetime Capitol of the United States. The Continental Congress met in the Old Senate Chamber from November 26, 1783, to August 13, 1784. On January 14, 1784, the 1783 Treaty of Paris was ratified in Annapolis, bringing an official end to the Revolutionary War. A 1902-1905 addition by Baldwin and Pennington added new chambers for the Senate and House of Delegates.
Images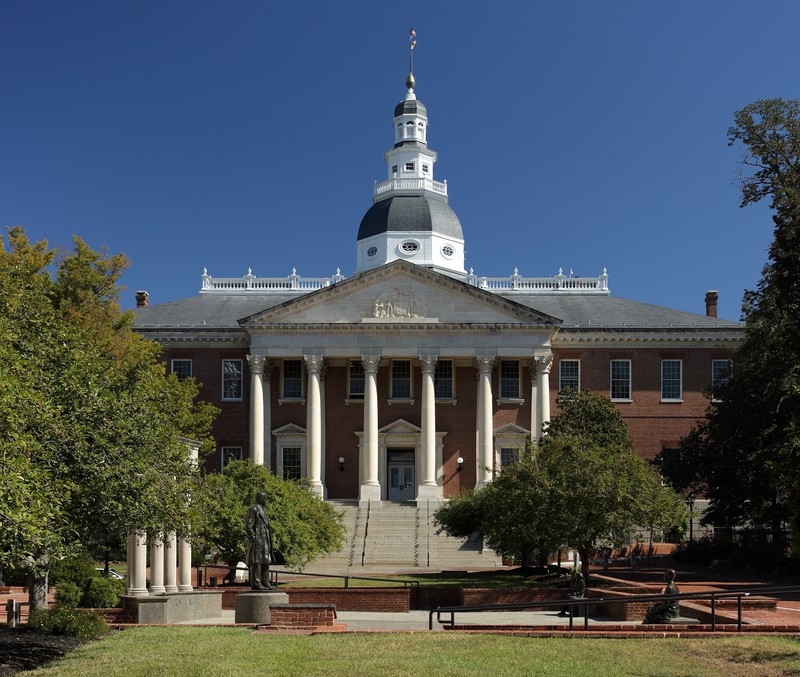 Drawing of the State House circa 1787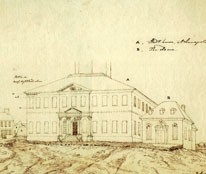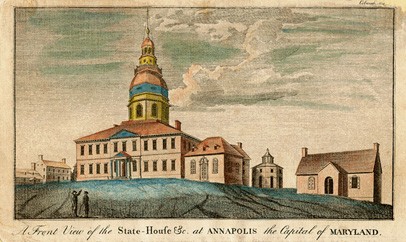 Backstory and Context
A charter for "Maryland Colony" was given to Cecelius Calvert by 2nd Baron Baltimore on June 20, 1632. Maryland was named after Queen Henrieta Maria, wife of King Charles I. Marylands original capital from its founding was St Mary's City, however, in 1695, the capital was moved to Annapolis. The first Capitol in Annapolis burned down in a fire in 1704, and the second was razed due to the small capacity for an expanding state government.
The new State Capitol started construction with a cornerstone laying by Governor Robert Eden on March 28, 1772. Construction was delayed by a hurricane and by the Revolutionary War and was not completely finished even by 1779. When the Continental Congress met in late 1783, parts of the roof and dome leaked, however, the dome was demolished and reconstructed from 1785 to 1789. The dome has no nails and is instead held together by wooden pegs and iron straps.
The State House was named a National Historic Landmark in December 1960 due to its historic significance following the Revolutionary War and its architectural style, especially in the dome and cupola.
Sources
Memorandum, "National Register of Historic Places Inventory - Nomination Form," n.d., accessed April 2, 2021, https://mht.maryland.gov/secure/medusa/PDF/NR_PDFs/NR-2.pdf.
About the State House, The Maryland State House. Accessed April 2nd 2021. https://msa.maryland.gov/msa/mdstatehouse/html/about.html.
History of the State House and Its Dome, The Maryland State House. Accessed April 2nd 2021. https://msa.maryland.gov/msa/mdstatehouse/html/story.html.
Maryland's History, Accessed April 2nd 2021. https://sos.maryland.gov/mdkids/Pages/Maryland's-History.aspx.
Additional Information