Joseph Smith Memorial Building (formally Hotel Utah)
Introduction
Originally the Hotel Utah, the Joseph Smith Memorial Building was later named in honor of Joseph Smith, the founder of the Latter-day Saint Church. It is located on the corner of Main Street and South Temple in Salt Lake City. It is now a social center with three restaurants: The Roof Restaurant, The Garden Restaurant and The Nauvoo Cafe. It is also a venue for events complete with 13 banquet rooms, catering services, event coordinators and a full-service floral department: Flowers Squared. Several levels of the building also serve as administrative offices for LDS Church departments such as FamilySearch. On January 3, 1978, it was added to the National Register of Historic Places as the Hotel Utah.
Images
Joseph Smith Memorial Building in 2011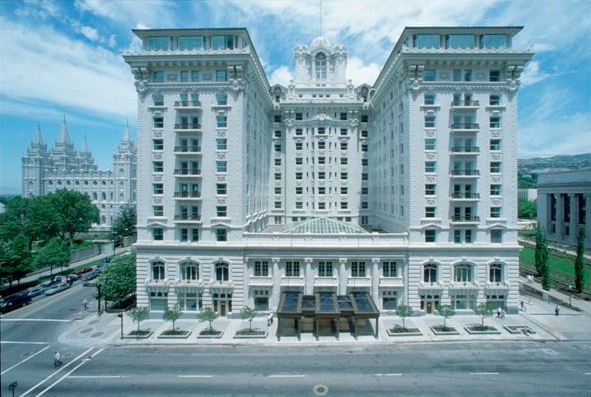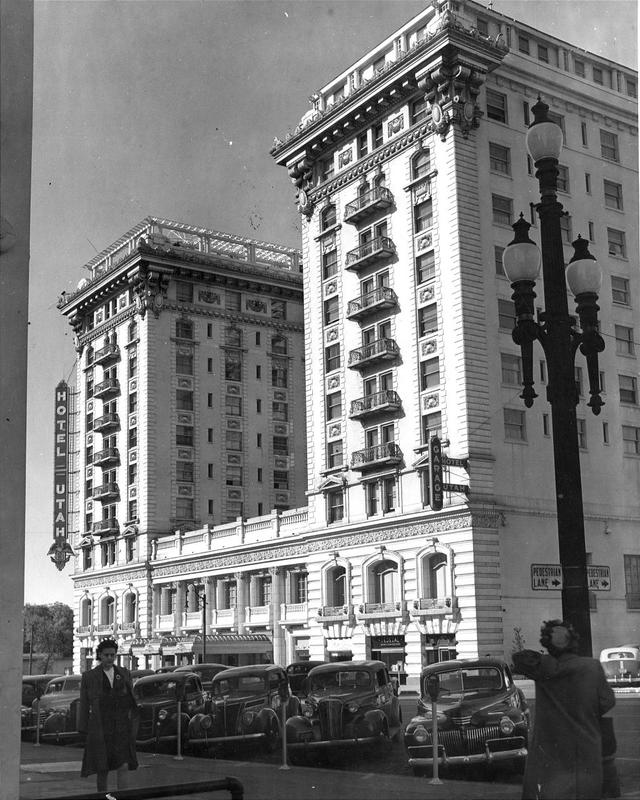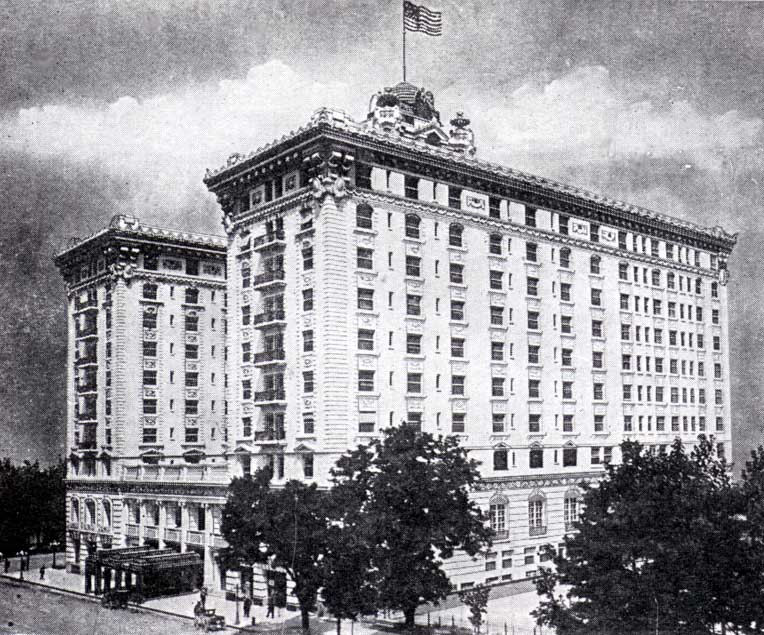 Main lobby inside. State is of Prophet Joseph Smith, founder of the LDS church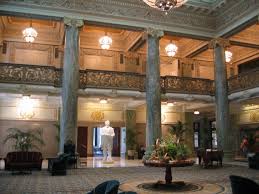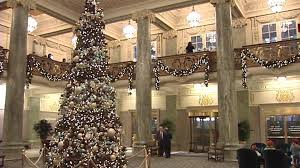 Only known portrait of Joseph Smith done in Nauvoo, Illinois before his martyrdom in 1844.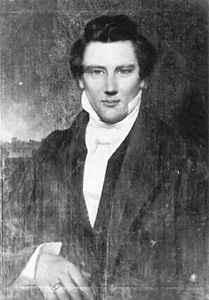 Harry in Your Pocket movie poster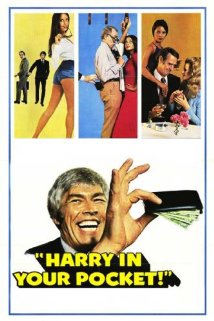 Scene from Harry in Your Pocket. The 1972 Lincoln is at the Hotel Utah entrance.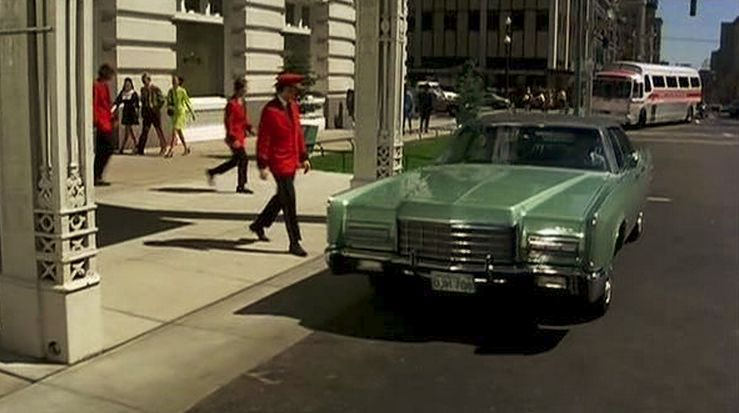 Backstory and Context
The Hotel Utah, built between 1909-1911, exists on the same lot that once served the Church of Latter-day Saints (LDS) as one of many nineteenth-century locations used as general tithing offices, bishop storehouses, and LDS offices. Replacing some older buildings with the hotel marked a change Salt Lake City as it moved away from its early settlement period, dominated by the LDS church, and more focused on city growth that included a focus on consumerism and tourism, although the LDS remained integral in that urban development. 
Architects for the modern Italian Renaissance building was the firm of Parkinson and Bergstrom of Salt Lake City and Los Angeles, who created a first-class, ten-story structure complete with ornate decor and a host of modern comforts and amenities. The construction took two years, from 1909 to 1911.  
While the Hotel Utah provided first class accommodations for tourists and helped alleviate feelings of civic inferiority among Salt Lake City residents, its construction also noted a change in LDS philosophy. The chief stockholders in the company were also high ranking LDS officials who viewed their investment as a symbol of Mormon progressivism, whereas in the past, it was believed LDS members hesitated to champion urban progress for fear of losing its influence on the city. Indeed, stockholders also included non-LDS members such as the Utah Hotel operating company, whose president was the non-Mormon mining magnate Daniel T. Jackling. 
The construction of the Hotel Utah also played a pivotal part in the West's labor history, including unions. On two separate occasions, dynamite bombs were exploded in attempts to delay work on the building. The controversy centered on efforts by the Jones Construction Company and the American Bridge Company to maintain an open shop despite demands by the local structural Iron Workers Union that only union men be hired to erect the steel frame.
The first bomb resulted in minor damage that and little, if any, delay in the construction schedule. Two men, Frank Wilson and James Delaney, were arrested and charged with the crime. Wilson denied any responsibility for the dynamiting but did admit he had been approached by members of the Structural Iron Workers Union and asked to participate in the bombing. In a trial held in February 1910, James Delaney was convicted of a minor crime and subsequently sentenced to six months in jail. A jury found Frank Wilson not guilty and did not find any link to the Structural Iron Workers Union.
A second, more "successful" bomb exploded during the morning of April 18, 1910, damaging steel beams and shattering glass windows within a one-block radius of the hotel. Again, many suspected the local Structural Iron Workers Union planned the bombing, but no arrests were made. However, several months later, the president of the International Association of Bridge and Structural Iron Workers, and his brother, were arrested for the bombing of the Los Angeles Times Building on October 1, 1910, which killed twenty people and injured seventeen more. The investigation into that bombing revealed that they were also behind the two Hotel Utah bombings. 
Upon completion, the hotel served Salt Lake City as one of its premier hotels. During its seventy-six years as a hotel, it received international awards and recognition for its world-class service. Numerous celebrities and dignitaries stayed in the hotel, including U.S. presidents. 
Though the hotel ceased operations in 1987, a comprehensive remodeling project allowed it to re-open in 1993, this time as the Joseph Smith Memorial Building that served both community and church functions consisting of ballrooms and wedding venues, music events and theater productions, a genealogy research center, restaurants, LDS offices and a chapel. 
Sources
Boren, Ray. "Hotel Utah, 100 Years of History: From the Hotel Utah to the Joseph Smith Memorial Building." Desert News(Salt Lake City), June 07, 2011, Family sec. https://www.deseretnews.com/article/700142277/Hotel-Utah-100-years-of-history.html
Nichols, Jeffery D. Prostitution, Polygamy, and Power: Salt Lake City, 1847-1918. Urbana, Illinois: University of Illinois Press, 2002. 
Powell, A. Kent. "Nomination Form: The Hotel Utah." National Register of Historic Places. https://npgallery.nps.gov/pdfhost/docs/NRHP/Text/78002673.pdf
Additional Information