White Oak Fuel/Oakwood Mine Complex
Introduction
White Oak Fuel Company built the Oakwood Mine Complex in 1902. It was a multi-story steel structure. It was later taken over by the New River Company. Its highest output was in 1940, producing 515,936 tons of coal. The coordinates listed will take you directly to the history marker where the mine once stood.
Images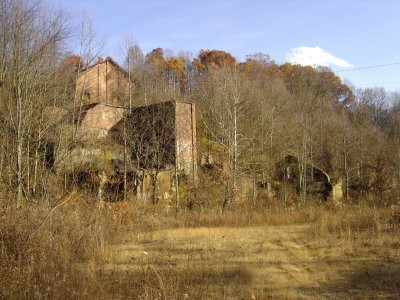 The Company store right in front of the old mining facility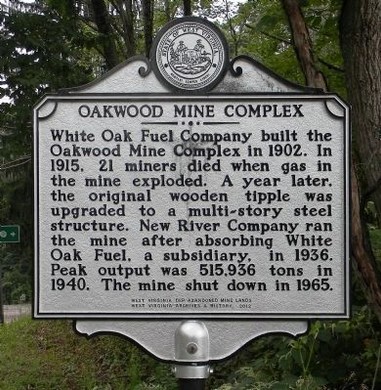 Backstory and Context
Samuel Dixon was born on November 14, 1856 in Scarborough, England. He immigrated to Fayette County, West Virginia in 1877. Dixon began working for his uncle in the coal business. In 1893, he helped organize the MacDonald Mine in Fayette County. Soon his other mines, Scarbro, Carlisle, Oakwood, Stuart, Parral, and Wingrove, started to follow and converge. 
In 1902, Dixon's company built the Oakwood Mine Complex. The complex was located in the Carlisle area. In 1906 Dixon expanded his company. It included all the of the previous Dixon mining companies along with several new ones. He was able obtained these new mines through financial backing of a Boston coal dealer named P.W. Sprague. Unfortunately, in 1915 Dixon suffered heavy losses due to a tragic accident. When gases began leaking out of the mines it exploded killing 21 miners. A year later the complex was transformed into a multi- story steel structure.
In 1936, the Oakwood Mining Complex could no longer remain on its own. It officially took the name New River Company. The newly reformed and renamed mining complex was struggled until 1940 when the mining facility produced 515,936 tons of coal. The mine closed in 1965 the coalmine finally shut down however, the New River Coal Company lasted well up into the 1980s.        
Sources
"The New River Company, One of the Largest Coal Producers in Southern West Virginia Coalfield during the Early Industrial Period." WVa-USA.com. Web. 24 June 2015. . Sullivan, Ken "Sam Dixon." e-WV: The West Virginia Encyclopedia. 17 October 2012. Web. 24 June 2015. "CARLISLE & WHIPPLE WV." Coal Camp USA. Web. 24 June 2015. . "Oakwood Mine Complex - Scarbro - WV - US - Historical Marker Project." Historical Marker Project. Web. 24 June 2015. .
Image Sources
"Oakwood Mine Complex." The Historical Marker Database. Accessed September 21, 2020. https://www.hmdb.org/m.asp?m=76691#:~:text=Marker%20is%20near%20Oak%20Hill,25901%2C%20United%20States%20of%20America..

Additional Information