This entry includes a walking tour! Take the tour.
Introduction
The "Hidden History Tour" aims to highlight key people, moments, and places in University of Maine campus history that often go overlooked. We wanted to upend the usual campus tour that highlights buildings named for famous alumni or donors, or current cutting edge facilities (we have those, too). The tour moves through history chronologically and explores real people and local connections to moments from Women's History, Black History, Labor History, Native American History, LGBTQ+ History, Military History, and Political History. The tour also highlights quintessential student experiences found on nearly any campus, from struggles to pay tuition or find affordable housing, to debaucherous end-of-year festivals to blow off steam before finals. The collective stops on this tour illuminate how campus history *IS* U.S. history, just on a smaller scale. Each stop includes archival resources, many from the University of Maine Fogler Library Special Collections. Scroll down for more on the project or find the blue arrow button to start the tour!
Images
UMaine's Women Basketball Team, 1922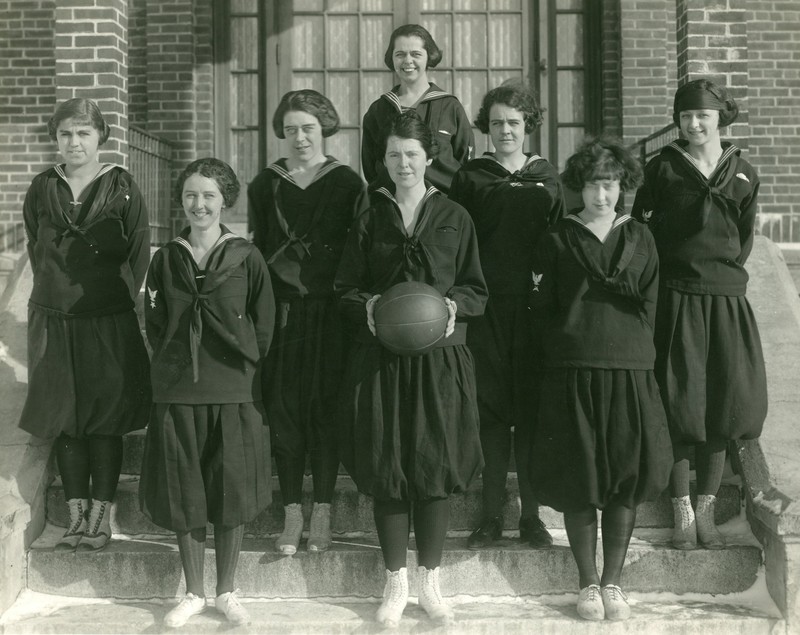 Backstory and Context
CLICK THE BLUE ARROW BUTTON TO START THE TOUR!
Origin of the Hidden History at the University Project:
The McGillicuddy Humanities Center's Karen Sieber had been building a database and archive of Red Summer data since 2015 for her site Visualizing the Red Summer. Following her discovery of a previously unknown incident of racial violence that year on the campus she now works, Sieber became interested in bringing to light other hidden histories on campus.
Partnering with students from Professor Liam Riordan's Public History class, Elizabeth Dalton and Luke Miller, the team curated a collection of stories from across the university's century and-a-half existence that help piece together a more comprehensive and representative story. The project is largely the result of Dalton and Miller's hard work and countless hours in the archives, much of which extended beyond the original classroom project. Special thanks as well to the librarians and archivists at Fogler Library.
This tour is designed to be taken virtually or in-person outdoors, with plans to expand in the future through additional classroom or community collaborations. Keep an eye out for future stops related to the history of Bananas the Bear mascot, the experiences of early international students, farming history on campus, the Abenaki Experimental College and more. 
Sources
Sources for individual stories are linked throughout, relying heavily on primary (original) historic documents from the University of Maine Fogler Library's Special Collections when possible.
Additional Information