Gunnell's Run - The William Gunnell House
Introduction
The William Gunnell House – also known as "Gunnell's Run" – may date back as far as 1750, when the land on which it sat was part of Lord Fairfax's Great Falls Manor. The property was purchased by William Gunnell III and his wife, Sarah, in 1791. The Gunnells doubled the size of the home, making it one of the grandest manors in the area. The property was farmed almost entirely by Gunnell descendants until 1911, and several of them are buried on the property. The home was purchased in 1933 by Rixey Smith, who restored the dilapidated structure and made several additions, including a dining room made from a log cabin tavern that he moved from Ruby, Virginia. The William Gunnell House was added to the National Register of Historic Places in 2003.
Images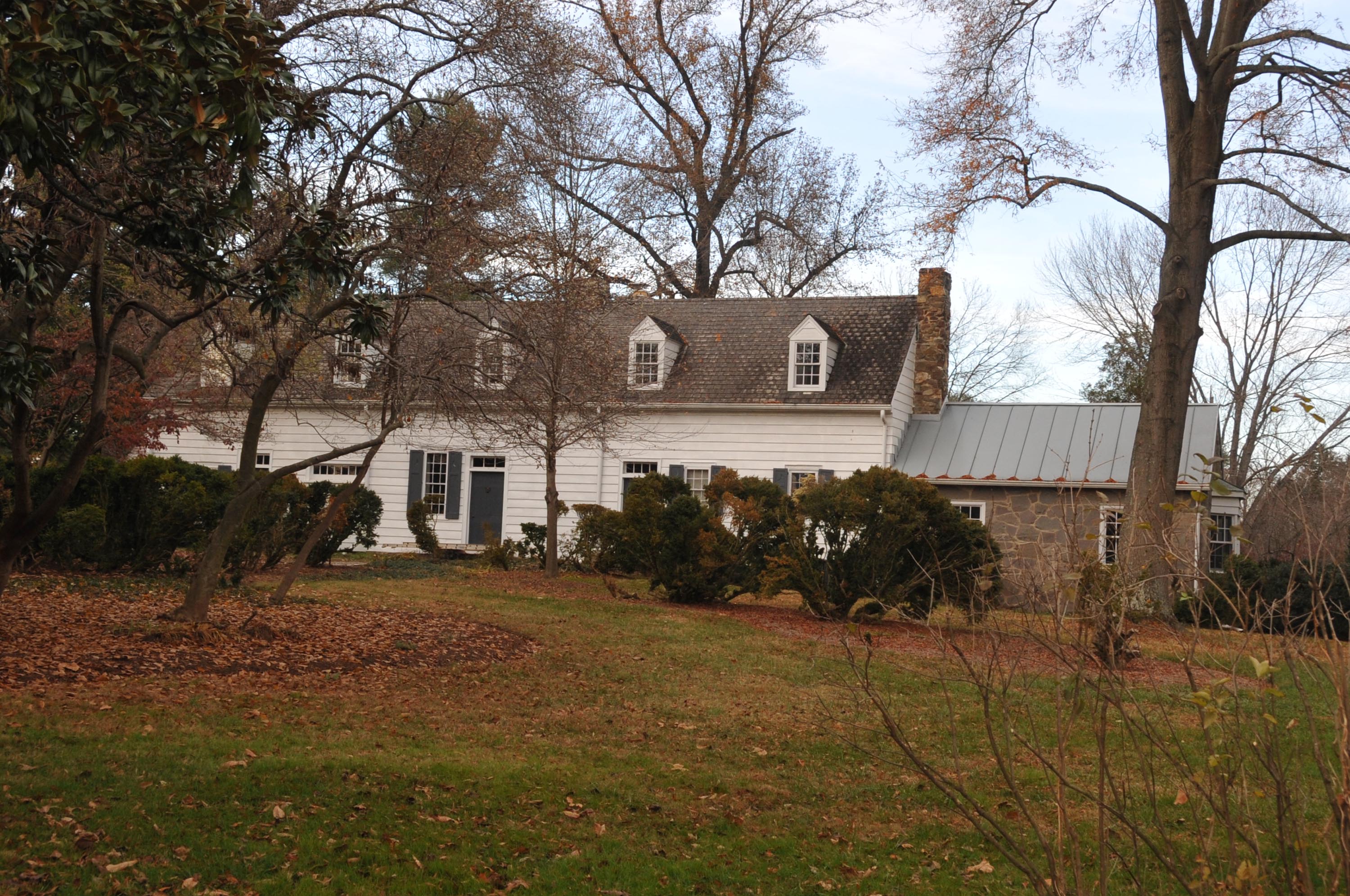 Backstory and Context
Thomas, sixth Lord Fairfax, was the owner of Virginia's Northern Neck (and namesake of Fairfax County). In 1732, after the death of his land agent, he sent his cousin William Fairfax to Virginia to manage his properties. In 1735, after a series of land disputes, Lord Fairfax himself came to explore his properties. He divided the land into several "manors", including the Great Falls Manor, which he originally believed was a source of rare minerals. However, once this was proven false, he gave the land to his cousin William's son, Bryan Fairfax, in 1765. William Gunnell III and his wife, Sarah (Coleman), purchased 676 acres of this tract from Bryan Fairfax in 1791; they, or William's family, may have already been living on the land for some time. 
The home on the Gunnells' tract may have been built as early as 1750. Though quite small by today's standards (around eighteen by twenty-five feet), its high quality craftmanship suggests that the home could have been originally constructed for Lord Fairfax himself. The original structure had a basic hall-and-parlor plan; however, not long after the Gunnells bought the home, they doubled its size. With this addition, the house became one of the grandest manors in the area.
The house reflected the prominence of the Gunnell family. They may have managed Bryan Fairfax's rental farms, which were located around their land. William Gunnell also served as a Loudoun County Justice from 1789 until a county boundary change in 1798, when he became a Fairfax County Justice. He was also a sheriff, trustee for Matildaville, overseer of the poor, and militia captain. (He did not fight in the Revolutionary War, however, most likely because of his connection with the Fairfaxes.) Upon his death in 1820, he left a two-thousand-acre estate and forty slaves; his daughter Ann received the house and 159 surrounding acres. However, she died in 1822, and the land passed to her brother George. He suffered from financial difficulties during a local depression in the 1830s, including owing too much money and owning too many slaves to pay his debts and work his farm (the area was plagued with a low supply of cash and a labor surplus). He moved to Mississippi for four years to hire out his slaves and, in the meantime, the court ordered his land to be sold. Charles Binns bought the house tract at the Fairfax County Courthouse in 1842, but he resold it two years later to George W. Gunnell, nephew of the original resident, William Gunnell (and not to be confused with William's son George Gunnell). George W. was a successful planter and intended to give the home to his son John Ratcliffe Gunnell; however, John was fighting in the Mexican-American War and then, later, the Civil War. George W. instead granted it to his son James and James's wife Catherine. 
James left his family to farm the land when he joined the Confederate Army. Fairfax County suffered from plundering by both sides, and the Gunnell plantation was not spared. According to legend, the Union Army visited the farm to fill forty-three wagons with stolen provisions, only leaving when Catherine blocked the cellar to keep the soldiers from taking her last ham. James died shortly after the war, and Catherine married his brother John Ratcliffe Gunnell. The farm and house fell into disrepair in the post-war years, as they passed to James and Catherine's son George and, in 1909, his son Charles. Charles died in 1911 and the property was sold out of the family for the last time.
The home and farm were in a pitiable condition by the time they were purchased by Rixey Smith in 1933. Even the family cemetery, where William and Sarah and four of their children (and one son-in-law) are buried, was not spared. By the early 1930s, headstones were piled in the yard; some were even broken up to use in a gutter. Smith and his wife, Grace, took great care to restore the property. In addition to practically rebuilding the chimneys, they constructed a large entrance hall onto the rear of the home; they raised the roof; they added weatherboard and shutters; they built a stone addition onto the east end of the home; they constructed a springhouse, a stone pool, and gardens; and, most noticeably, they moved a log cabin tavern from Ruby, Virginia, and added it to the home as a dining room.
The house was sold after the Smiths divorced and went through several owners. In 1954, it was purchased by John and Lucy Hanes. They built a pond, added a garage, and expanded the 1930s entrance hall to make a family room. They sold the home and a ten-acre surrounding plot to John C. and Jinny Beyer in 1984. Jinny, who is in the Quilters Hall of Fame, designed a "quilt garden" which was built on the grounds. The Beyers also restored the only surviving original (circa 1770) outbuilding. They still owned the home as of 2018; however, John, an economist and former chairman and CEO of Nathan Associates, passed away in 2020.
Sources
85th Virginia Historic Garden Week in April, The Connection to your community. March 14th 2018. Accessed June 11th 2020. http://www.connectionnewspapers.com/news/2018/mar/14/85th-virginia-historic-garden-week-april/.
Beauchamp, Tanya Edwards, and Karen Washburn. William Gunnell House, National Register of Historic Places Registration Form, Virginia Department of Historic Resources. April 4th 2003. Accessed June 10th 2020. https://www.dhr.virginia.gov/VLR_to_transfer/PDFNoms/029-0109_William_Gunnell_House_2003_Final_Nomination.pdf.
Brick, Cindy Joan. Jinny Beyer, Encyclopaedia Britannica. July 23rd 2019. Accessed June 11th 2020. https://www.britannica.com/biography/Jinny-Beyer.
Gunnell Family Cemetery; Fairfax County Cemetery Survey; Library Home, Fairfax County Virginia. Accessed June 11th 2020. https://www.fairfaxcounty.gov/library_cemeteries/Cemetery.aspx?number=FX201.
John Beyer 1940-2020, The Washington Post: powered by Legacy. January 26th 2020. Accessed June 11th 2020. https://www.legacy.com/obituaries/washingtonpost/obituary.aspx?n=john-beyer&pid=195164981.
Image Sources
Jerrye and Roy Klotz MD on Wikimedia Commons (https://commons.wikimedia.org/wiki/File:WILLIAM_GUNNELL_HOUSE0300.jpg) - CC BY-SA 3.0 (https://creativecommons.org/licenses/by-sa/3.0/deed.en)

Additional Information