Upstairs Fort Hill-John C. Calhoun Jr. Bedroom
Introduction
This bedroom is believed to have been a part of the original 1803 cottage structure built for Reverend McElhenny. The room likely belonged to the Calhouns' third son, John Caldwell Jr. (1823-1855). This room contains many paintings of pastoral scenes that were a part of Clemson's art collection. After John C. Calhoun's death on March 31st, 1850, Floride moved to this bedroom. The walnut bonnet chest belonged to Thomas Green Clemson. The maple acorn bed was another Calhoun family piece. The sewing machine belonged to Anna Maria Clemson. Her daughter, Floride Clemson, wrote a poem entitled "That 'Blessed' Sewing Machine" that referred to this machine.
Images
John C. Calhoun Jr.'s Bedroom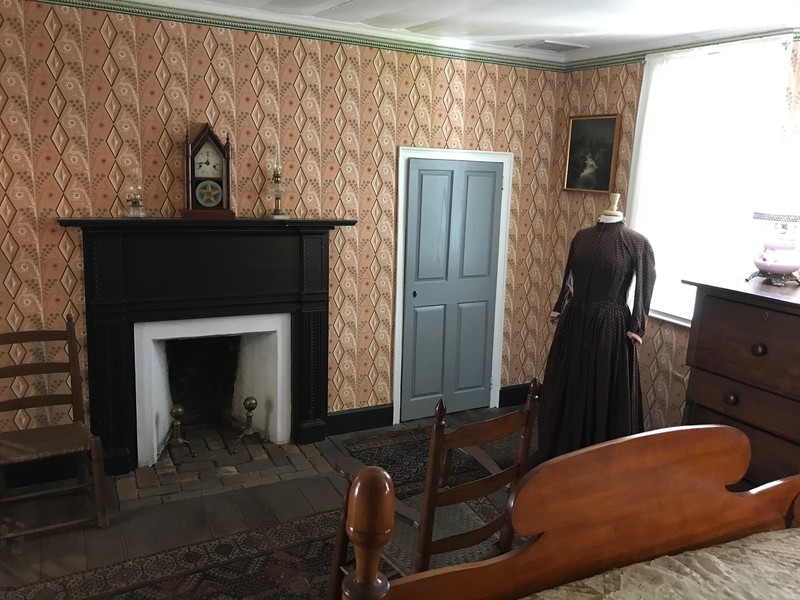 Decorated with Pastoral Scenes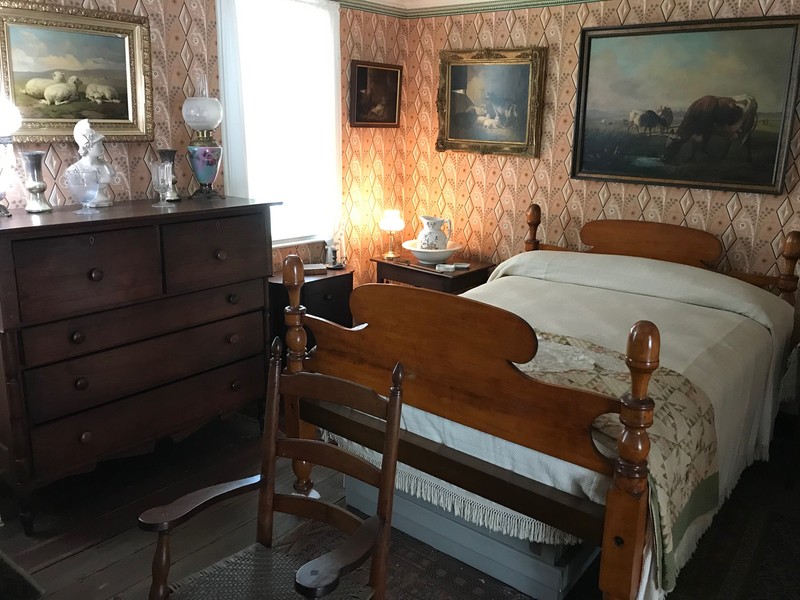 That "Blessed" Sewing Machine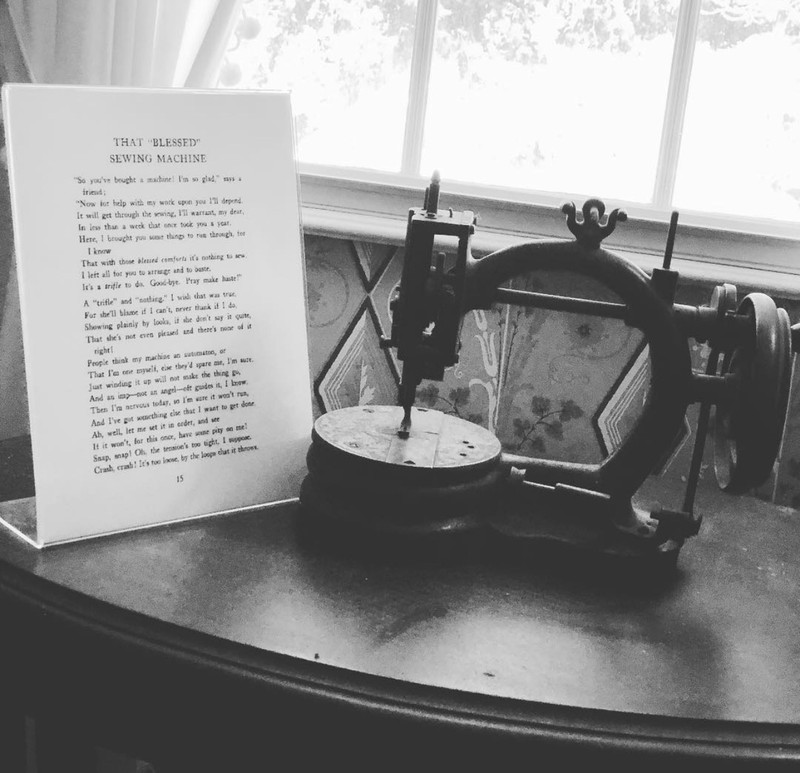 The sewing machine belonged to Anna Maria Calhoun Clemson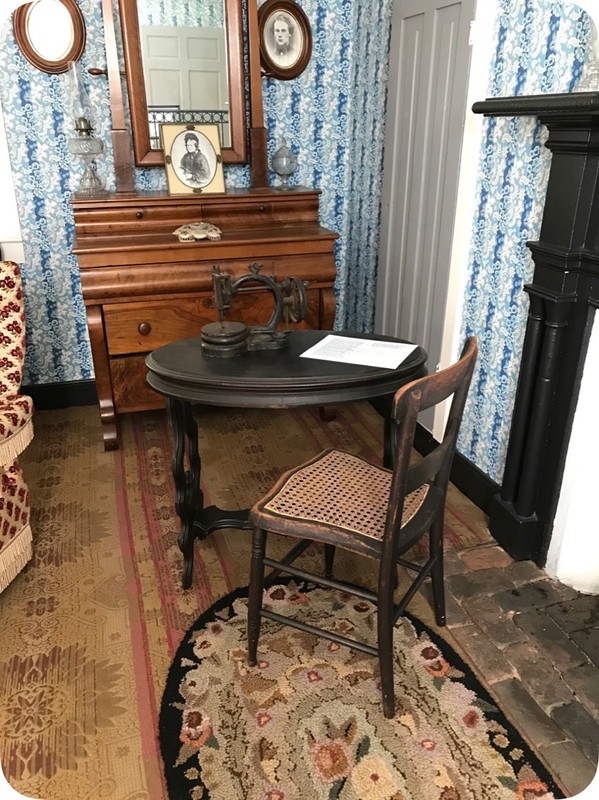 Backstory and Context
Nelly and Andy:
Although there are no known photographs of Nelly or her son Andy, their names appear in the personal correspondence of the Calhoun and Clemson families. Nelly passed when Andy was very young, in childbirth when he was only two years old. He was her only child known to have survived. After his mother's death, Floride Calhoun had him sent to another local home where Andy could be trained to be an enslaved domestic worker.
In June 1859, Andy developed a high fever. Floride Calhoun hired a nurse to care for him, and she sent Andy special food to eat. Floride visited him throughout his sickness and he finally recovered on July 4th. Afterwards, Andy came to live at MiCasa. In the spring of 1860, Andy went with Floride and her Clemson grandchildren to Bladensburg, MD, per Anna Clemson's request.
When Floride Calhoun drafted her will in 1863, Andy, who was "about nine years old" at the time, was willed to Floride Clemson. On November 1st, 1864, all enslaved persons living in Maryland were freed. On December 11th, Floride Clemson recorded in her diary that, after freedom, Andy would go to Dr. Septimus J. Cook. By the 1870 Census, Andy was no longer living with the Cooks.
"That 'Blessed' Sewing Machine":
"So you've bought a machine! I'm so glad," says a friend
"Now, for help with my work, upon you, I'll depend,
It will get through the sewing, I'll warrant my dear,
In less than a week, that once took you a year.
Here, I brought some things to run through, for I know,
That with those blessed comforts, its nothing to sew.
I left all for you to arrange and to baste,
It's a trifle to do. Good bye. Pray make haste!"
A "trifle" and "nothing," I wish that was true,
For she will blame if I can't, never thank if I do;--
Showing plainly by looks, if she don't say quite,
That she's not even please, and there's none of it right!
People think my machine an automaton, or
That I'm one myself, else they'd spare me, I'm sure:--
Just winding it up will not make the thing go,
And an imp--not an angel--oft guides it, I know.
Then I'm nervous to-day, so I'm sure it won't run,
And I've got something else that I want to get done.
Ah, well, let me set it in order, and see
If it won't, for this once have some pity on me!
Snap! Snap! oh, the tension's too tight, I suppose.
Crash! Crash! It's too loose, by the loops that it throws.
And this cloth is so stiff that the thread cuts and wears,--
But then, when its flimsy, it pulls through and tears.
This needle is bent, so the seam wont run straight,
And I've turned up the point of that one on the plate.
This must be too large--but that's surely too small--
What can be the matter? It wont work at all!
The shuttle is empty, perhaps. No, it's not!
The thread may be caught, or else come to a knot.
That wiry glace's the very worst kind,--
Tis half off the spool, around everything twined.
That's fixed. Now, what breaks it? I cannot conceive!
The loop click is right, the hook's smooth, I believe.
But no one could sew with such horrible thread:
And as to this clatter, tis splitting my head!
"Tis shrieking for oil,--I must take off the plate,-
Does working work for everyone up to this state?
But where is the screw driver? Not vanished, I pray,
With the gauge and the wrench! Something goes every day
This stitch is too short, for tis cutting the stuff;
Too long now,--tis never, alas, just enough!
I feel all the stitches it makes--in my back,--
And it aches, 'till I'm sure when I straighten 'twill crack
This seam is all drawn,--that stretches,--Oh me!
If this is a blessing what can a curse be?
The band is too loose, for 'tis slipping around,
Must, every two inches,-- new troubles be found?
I'm bothered to death with this troublesome work!
There, I've broken the needle, by giving that jerk!
But I'm sure it is more than Job's temper could stand,
And I'd got through much more, if I'd done it by hand.
The basting, adjusting, and fixing, consume,
What time is not wasted in fretting, and fume.
To say that I hate this machine, is too mild;
What's that? I must stop for its driving me wild.
Sources
"Educational Resources | Clemson University, South Carolina," accessed May 21, 2020, https://www.clemson.edu/about/history/properties/ed.html.
Floride Clemson, Poet Skies;and Other Experiments in Versification, (Baltimore, 1868), http://hdl.handle.net/2027/loc.ark:/13960/t7wm1rj8h.
Image Sources
images courtesy of Fort Hill

images courtesy of Fort Hill

image courtesy of Fort Hill

image courtesy of Fort Hill

Additional Information