Yancey's Tavern
Introduction
The building that was known as Yancey's Tavern from around 1782 until the 1840s was initially constructed around 1777-1779 by James Hollis Sr. The building was constructed along Island Road, the first wagon road and longest road still in use in Tennessee. Its physical location is just outside of Kingsport on TN 126, in between the historic sites of the Deery Inn and the Netherland Inn. Since its construction, the building has been used for several various purposes, including as a home, a tavern, a stage stop, a post office, a family farm, and a cemetery. The site was added to the National Register of Historic Places in 1973.
Images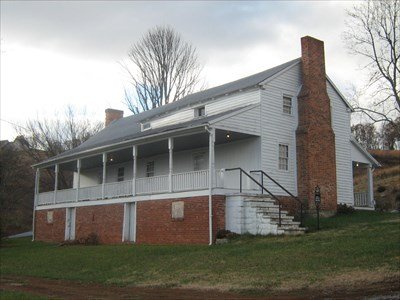 Yancey's Tavern with historical marker, 2012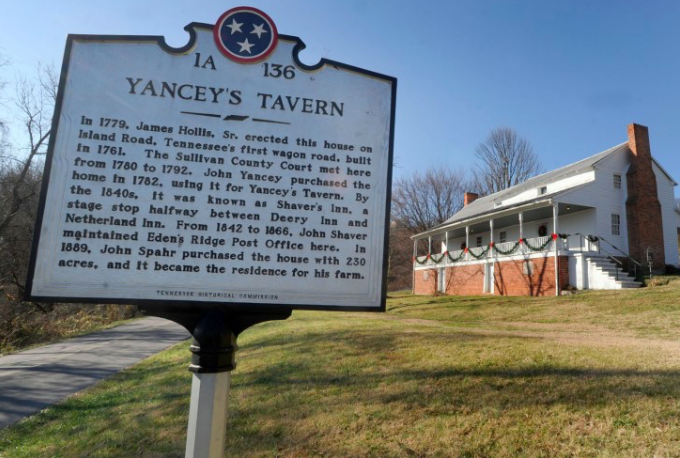 Backstory and Context
James Hollis built the structure around 1777-1779 and initially used it as his home. However, during this time, it was also utilized as the meeting place for the Sullivan County Court, as Hollis was the host of the meetings. Meetings continued to be held in the building and other local homes and structures until 1792. In 1792, the unincorporated community of Blountville was constructed and determined the Sullivan County Seat, as it remains today.
John Yancey, a tavern operator of Virginia, purchased the home from Hollis in 1782, and the building was subsequently renovated as Yancey's Tavern. It was not until nearly sixty years later, in the 1840s, when John Shaver had overtaken the tavern and transformed it into Shaver's Inn. Shaver's Inn was a popular place for travelers from Abingdon, Virginia, where Yancey was from, to stop along their routes for trading and rest. It was around this time the structure's location just ten miles from both the Deery Inn and Netherland Inn became a prominent force driving its increasing popularity amongst locals and stage travelers.
It was under Shaver's oversight that many of the most noticeable architectural features of the building today were added to its outer appearance. Some of these additions include hewn logs and hewn and pegged rafters on the upper-half of the structure being covered with poplar siding and poplar paneling being added to rooms inside. Though there is debate amongst historians, the large mantels which are also still visible from the outside of the structure today were also likely added during this period.
From 1842 until the mid-to-late 1860s, the building was also utilized as the Eden's Ridge Post Office, which was previously located at the historic Exchange Place just outside Kingsport. In 1889, the building was purchased from the Shavers by a man from Virginia named John Spahr. Spahr used the property and building for the Spahr family farm until around 1950, when the East Lawn Cemetery was founded on the site. Today, the cemetery still makes up most of the property and farmland surrounding the building. After Mary Spahr, the daughter of John, died in 1962, the building and remained vacant for nearly 45 years.
In 1973, after some maintenance and restoration efforts, the Spahr family's heirs—and nieces—Dorothy and Ruth Wexler reached out, successfully, to have the site added to the National Register of Historic Places. The most noticeable change of structure in the building under the Spahrs was the addition of a dining room connecting the structure to a previously unattached kitchen on one side. After Ruth Wexler died, the building was auctioned off and purchased by Rann Vaulx in 2004.
Vaulx purchased the building with plans to restore it to most optimally reflect its cultural and historical values and make it public for locals to learn from and enjoy. According to a 2012 Times News report titled "Yancey's Tavern springs back to life," Vaulx said he "couldn't bear to see [the building] destroyed."1 Today, the building is open for tours, meetings for historical preservation groups, and other community gatherings by appointment. For catering, luncheons, dinners, and other gatherings, the building is capable of seating a group of around forty individuals rather comfortable in three rooms.
Sources
Carter, W Dale. "Yancey Tavern." Historic Sullivan. 2004. July 2019. http://www.historicsullivan.com/archives_manuscripts_0062_box001_item002.htm. Revised 2012.

"History of Tennessee :: Yancey Tavern :: Kingsport." Discover Kingsport. July 2019. http://discoverkingsport.com/Yancey-Tavern.shtml.

"Island Road - Oldest Wagon Road in Tennessee." Latitude 34 North. July 2019. http://www.lat34north.com/HistoricMarkersTN/MarkerDetail.cfm?KeyID=082-099&MarkerTitle=Island%20Road%20%2D%20Oldest%20Wagon%20Road%20in%20Tennessee.

1 Lauhoff, Susan Kendrick. "Yancey's Tavern springs back to life." Times News. September 14, 2012. July 2019. http://www.timesnews.net/Community/2012/09/14/Yancey-s-Tavern-springs-back-to-life.

Shea, James. "Road planners work to rescue old tavern." Bristol Herald Courier. December 16, 2012. July 2019. https://www.heraldcourier.com/news/local/road-planners-work-to-rescue-old-tavern/article_27490b7a-4806-11e2-bdcb-0019bb30f31a.html.

"Yancey's Tavern." Appalachian Quilt Trail. July 2019. https://www.vacationaqt.com/trail/yanceys-tavern.

"Yancey's Tavern." Flickr. March 2013. July 2019. https://www.flickr.com/photos/amosmoses_tn/8536993740/.

"Yancey's Tavern - Kingsport, TN." Waymarking. November 25, 2008. July 2019. http://www.waymarking.com/waymarks/WM57ZN_Yanceys_Tavern_Kingsport_TN.

Additional Information