Fourth Avenue Methodist Episcopal Church (Fourth Avenue United Methodist Church)
Introduction
The Gothic Revival style Fourth Avenue Methodist Episcopal Church opened in 1888, with the rest of the facility completed in 1902. The church served a congregation that organized in 1878, just as Old Louisville, or Southern Extension as it was known then, grew increasingly popular with people of wealth looking to move away from downtown Louisville. The neighborhood is abounding in elaborate architecture William Dodd, Louisville's acclaimed architect, designed a host of buildings and churches, including the historic Fourth Avenue Church.
Images
Front of the Fourth Avenue Methodist Church in Old Louisville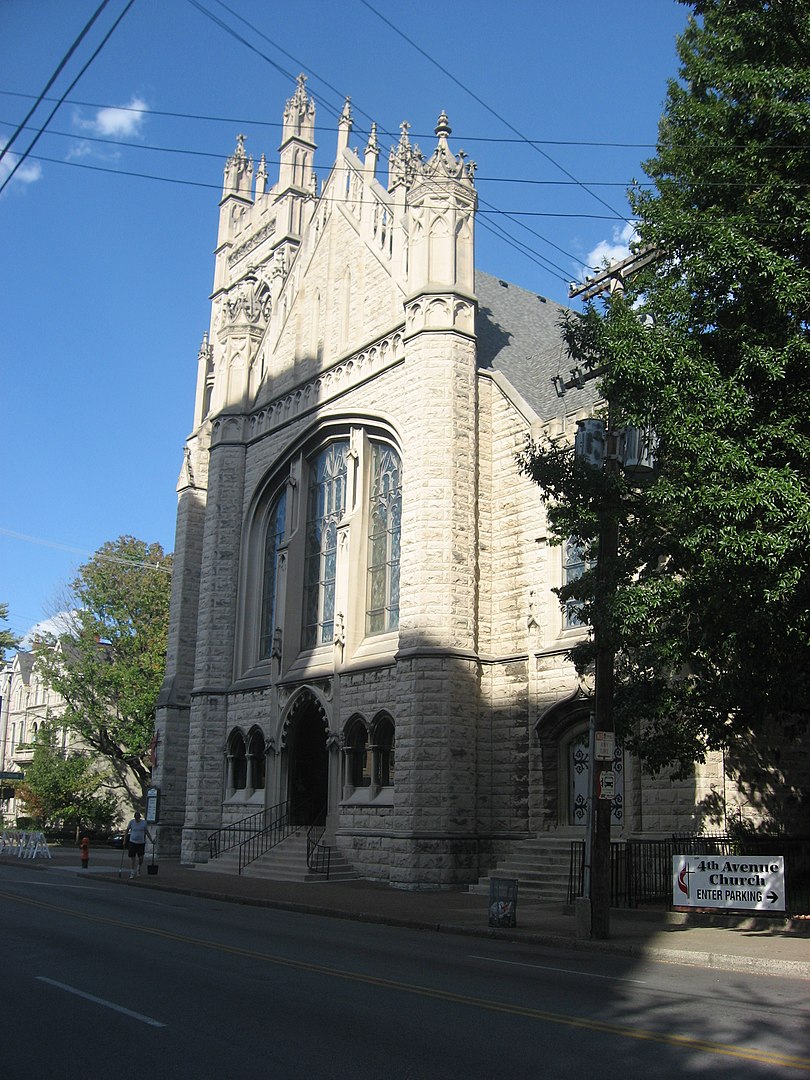 Fourth Avenue Methodist Church in Old Louisville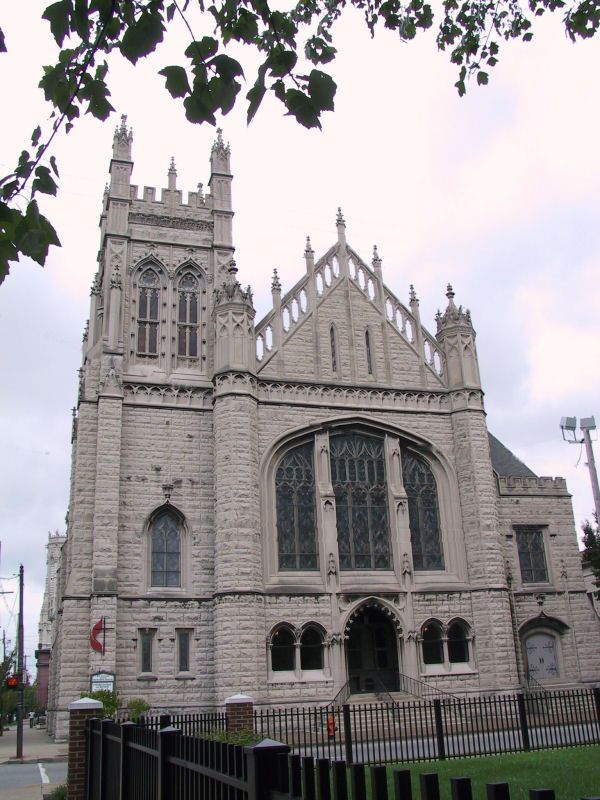 Backstory and Context
The Fourth Avenue Church, whose congregation dates back to its founding in 1878, constructed the Gothic Revival ecclesiastical chapel in two phases: 1888 and 1902. The church congregation and the church building's development coincided with significant growth for the Old Louisville area (then known as the Southern Extension), notably by wealthy residents who sought to move southward away from downtown Louisville. As such, an abundance of buildings emerged that exhibited elaborate architecture, including many churches that arose during the late nineteenth and early twentieth centuries. William Dodd, Louisville's acclaimed architect, designed a host of buildings and churches, including the historic Fourth Avenue Church.
Members of the Walnut Street Methodist Episcopal Church South and the Chestnut Street Episcopal Church came together in 1878 and established a congregation that eventually built The Fourth Avenue Church in 1902. The group initially purchased a lot at the corner of Third and St. Catherine (where the Walnut Street Baptist Church now stands) before selling that site and buying the land where the historic church now sits. The members built a chapel in 1888, which became part of the larger facility constructed fourteen years later in 1902.
Architect William J. Dodd and engineer Arthur Cobb designed the historic church. Dodd came to Louisville in 1884 from Chicago and went on to build several homes and businesses in Louisville with his first business partner, Mason Maury. In 1893, millions witnessed his design of the Kentucky Exposition Building for the Great Columbia Exposition (World's Fair) in Chicago. The elaborate, ornate building utilized classic motifs and existed as part of the "Great White City" built for the Exposition. The experience proved to be a significant influence on Dodd when he returned to Louisville, notably when he parted ways with Maury in 1895 and partnered with Cobb.  
In 1905 Dodd joined Kenneth McDonald, a well-known local and regional architect. The firm of McDonald and Dodd produced some of Louisville's finest buildings. Dodd left Louisville in 1913 and moved to Los Angeles, where he continued to work until he died in 1930. Still, he made his mark in Louisville as the chief architect for many historical buildings that still stand today, including the Fourth Avenue Church.
Sources
Garr, Robin. "Old Louisville: America's Victorian Neighborhood." Great American Country. greatamericancountry.com. Accessed April 13, 2021. https://www.greatamericancountry.com/places/local-life/old-louisville-americas-victorian-neighborhood.
Hedgepeth, Marty Poynter. "Nomination Form: Fourth Avenue Methodist Episcopal Church." National Register of Historic Places. nps.gov. 1979. https://npgallery.nps.gov/NRHP/GetAsset/NRHP/79001006_text. 
Kleber, John E., ed. The Encyclopedia of Louisville. Lexington: University Press of Kentucky, 2014. 
Wickenden, Homer E. "History of the churches of Louisville with special reference to slavery." Electronic Theses and Dissertations. Paper 1564. 1921. https://doi.org/10.18297/etd/1564.
Image Sources
By Nyttend - Own work, Public Domain, https://commons.wikimedia.org/w/index.php?curid=22564593

https://www.gpsmycity.com/attractions/fourth-avenue-united-methodist-church-48581.html

Additional Information