Tyler City Hall
Introduction
Designed by architect T. Shirley Simons, Sr. in the Art Deco style, this building has served as Tyler City Hall since its construction in 1938. It is three stories tall with two-and-a-half-story wings on the north and south sides. Notable features include Classical Revival ornamentation, fluted pilasters (columns), green marble blocks between the windows, and square blocks above the words "City Hall" that protrude from the wall. The building is also historically significant for its connection to the Public Works Administration (PWA), which provided the funding to the city to build it. The PWA was one of several programs the federal government established in the 1930s to provide jobs and support the national economy during the Great Depression.
Images
Tyler City Hall was built in 1938 and is a fine example of Art Deco architecture.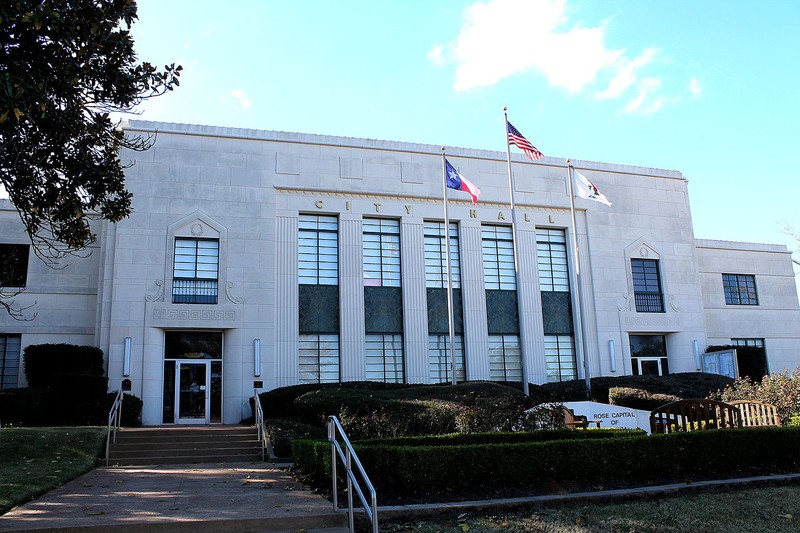 Backstory and Context
Unlike many parts of the country, Tyler, in general, did not suffer serious consequences from the Great Depression. Oil was discovered near Tyler in 1930, which jumpstarted the oil industry in East Texas and provided the city and region with economic stability and growth for the next few decades. This was the context in which City Hall (and several other civic buildings), was constructed.
Before it was built in 1938, the city and federal government erected other government buildings including the courthouse and post office, a new hospital, and additions to schools. The city prioritized these projects over a new city hall. When it was built, City Hall became the Tyler's first building that housed all city government departments. This situation continued until 1956 when more space was needed and some departments relocated elsewhere.
City Hall continues to be one of the city's enduring historic landmarks thanks to its Art Deco architecture and connection to Depression-era public works programs. It was added to the National Register of Historic Places in 2007.
Sources
Williams, Diane E. & Brinkman, Bob. "Tyler City Hall." National Park Service - National Register of Historic Places Nomination Form. March 7, 2007. https://catalog.archives.gov/OpaAPI/media/40969977/content/electronic-records/rg-079/NPS_TX/07000129.pdf.
Image Sources
Rene Gomez, via Wikimedia Commons: https://commons.wikimedia.org/wiki/File:TylerCityHall1.JPG

Additional Information