Town Clock
Introduction
The Town Clock is a large clock that stands in downtown Dubuque, Iowa. The clock, which is listed on the National Register of Historic Places, has stood over the city for over 130 years. The present clock is the second "Town Clock"; the first collapsed in the 1870s, killing three people.
Images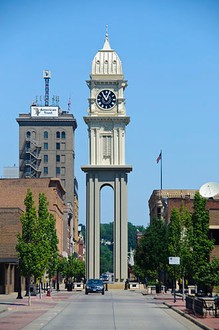 Backstory and Context
The original town clock was built in the 1860s. At 5:16 PM on May 25, 1872, both the clock and the John Bell store that housed the clock collapsed. The accident resulted in the death of a child and two women who were inside the store at the time.
Dubuque residents soon decided to replace the clock which began operation on April 17, 1873. A century later, Dubuque residents raised money to have the clock moved to a new tower downtown where it continues to serve as one of the "faces" of Dubuque.